Phones have come so far, they can be our personal assistants helping us with our day to day tasks and we can even talk to them and for the most part they'll obey. Those are smartphone though and not everyone wants or needs a smartphone do they? I've been using a smartphone for many years and I've come to enjoy them very much, but I don't exactly use them for business use as they are truly intended as I'm sure most people really don't either. I have one because I like what it can do. I'm sure I could be more than happy with a feature phone without all of the bells and whistles but I choose the smartphone for no real reason other than the fact that I want one and it has a few features I use from time to time that can't be found on a feature phone.  Up for review today I have the Pantech Link II which is what you would call a feature phone, it's not an amazingly high-tech assistant like other phones out there, but it gets the job done and sometimes that's all you really need. The Link II is more of a social centric phone and it does feature a full qwerty keyboard and the capabilities we've come to expect from our phones like Bluetooth. The phone is very user friendly along with being thin and lightweight and best of all it's very inexpensive.

The box is colorful with those bubbles on it that's for sure.  Opening it up you'll find right on top.
Not much comes in the box, user manual, quick start guide and some other information along with USB cable and AC to USB adapter.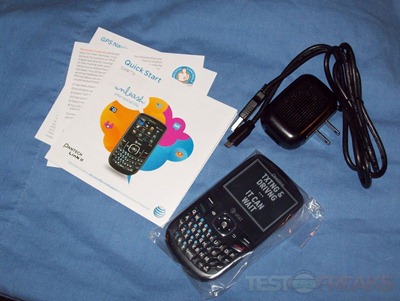 The USB cable has a micro USB connection on it and on the other end is the standard USB connector.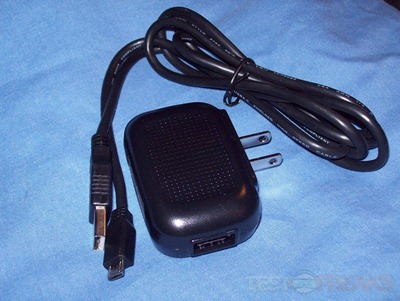 The Pantech Link II honestly reminds me of a BlackBerry, a very thin one at that.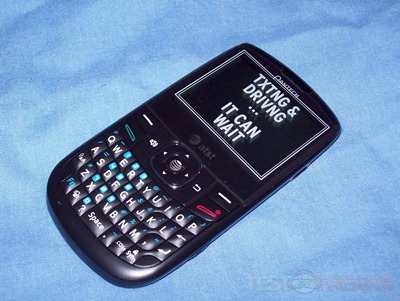 The Link II has a nice full QWERTY keyboard and above it you'll find a directional pad, call and end buttons along with sound and back and multi-function ones as well. The keyboard has raised keys, but the keys are a bit small for me. Those with larger hands or fingers might find  the keyboard a bit unfriendly really.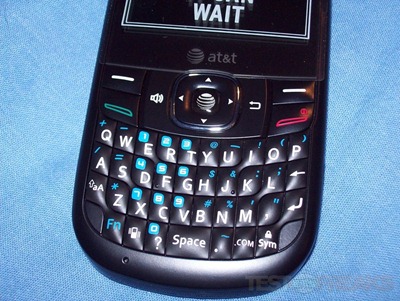 The back of the phone is textured and you'll find the camera along with the speaker.
On the back is also the back cover that comes off to reveal the battery, microSD card slot and sim card slot. The phone is thin so there's not much room for a huge battery in there as you might expect, but you should get at least three hours of talk time and about 250 hours of standby. I did expect a bit more talk time from a basic phone though.
On the right side of the phone is where the camera button is and the microUSB port.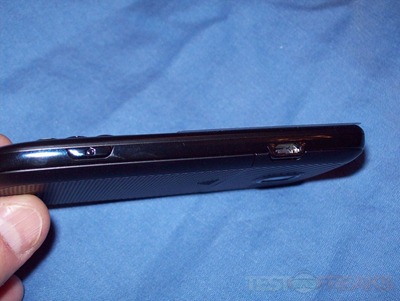 On the left side is just the volume control.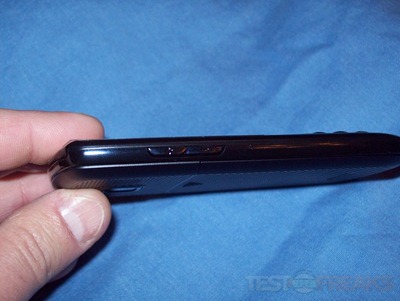 The Link II is very thin and lightweight with dimensions of 4.50″ (L) x 2.40″ (W) x 0.39″ (D) and weighing in at only 3.3 ounces.
Specifications:

Get the message out
So many people to talk to, so little time. If you're someone who needs to keep in constant contact with the important people in your life, the Pantech Link II provides the easiest and most efficient way to get the word out. With a full physical keyboard and easy-to-use messaging tools, the only thing holding you back is how fast you can type!
Thin is in
Why carry around more than you need? The Link II's ultra-thin profile and form fitting design make it a breeze to take with you anywhere. This slim and sexy little number fits easily in your pocket or purse. Easy access when you want it, out of your way when you don't.
Features
Brew Mobile
The operating system is the heart of any great phone, and the Link II has the heart of a lion. The BMP (BREW) 1.02 OS allows for a rich multimedia experience and a wide range of applications and personal customization options to help you work smarter and faster.
Exposed Full QWERTY Keyboard
If speed and ease of use are important to you, it's hard to overstate the importance of having a full physical keyboard that you can access instantly. The Link II makes it easy to grab your phone and start typing at a moment's notice.
Improved 2.0MP Camera
They say that a picture is worth a thousand words. With the Link II, your pictures will speak volumes. With a 2MP camera with a 4x zoom, you'll have no problem bringing your world into better focus.
Pocket Organizer
The Link II gives you instant access to a bevy of applications and tools designed to help keep you organized and informed, such as AT&T Family Map, AT&T Social Net, AT&T Navigator, AT&T Code Scanner and YPmobile. You can think of it like your own personal assistant, except pocket sized!
Affordable Rate Plan
Power, speed and flexibility don't need to cost an arm and a leg. With a reasonable starting price and affordable rates on email, messaging, browsing and social networking, you'll be able to keep more of your hard earned money where it belongs – in your pocket.
Specs:
BATTERY:
Battery Type: 1,000 mAh
Talk Time: Minimum of 3 Hours
Standby Time: Minimum of 250 Hours
SIZE:
Weight: 3.3 oz.
Dimensions: 4.50″ (L) x 2.40″ (W) x 0.39″ (D)
MEMORY:
External Memory: Up to 32MB
Memory Format: microSD card
DISPLAY:
Display Size: 2.4″
Resolution: 320 x 240
Color: 262 TFT
WIRELESS TECHNOLOGY:
GSM/GPRS: GPRS/EDGE Quad-Band 850/900/1800/1900MHz UMTS/HSDPA Dual-Band 850/1900MHz
3G
BLUETOOTH Technology: Bluetooth V2.1
Price: $9.99*
» After $30.00 Mail-in-Rebate via AT&T Promotion Card
*$39.99 prior to rebate
The Link II is what one would call a feature phone, meaning it's not a smartphone even though it might resemble one. Not being a smartphone is not a bad thing as some people want that in their phone.
The Home screen is basic, but it gets the job done. You can of course change the backgrounds to your liking. On the bottom of the screen is Go To and Menu which correspond to the button on the phone right below them.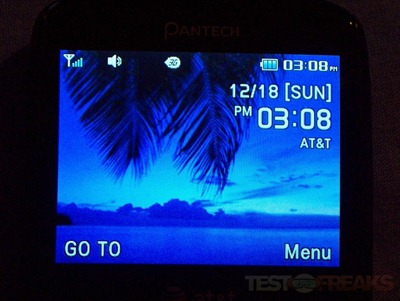 The screen is low res at 320×240 as you might expect but it's nice and bright and the colors are very good.
Pressing the Menu button you'll be greeted with a graphical menu with icons representing everything. Here you'll find choices for Messaging, Mobile Email, YPMobile, Web, Address Book, AppCenter, App manager, AT&T GPS, Tools, My Stuff, AT&T Music and Settings. I think most of those are self-explanatory but we'll take a closer look at some of them.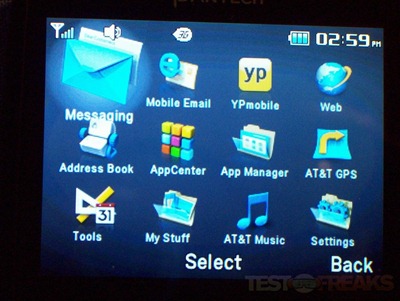 Under Settings you'll find 10 choices which you can see below, I don't think I have to list all of them really.
Under My Stuff you'll find your stuff, imagine that?!  There looks like there's a lot of it, but the menu only allows to show you two items at a time.
Under App Manager you'll find a few interesting things and some AT&T junkware.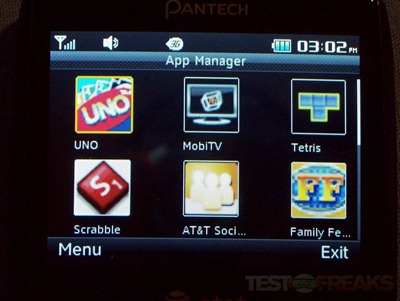 The next section to take a quick look at is Tools, and here you can read what's there. There's plenty that comes pre-loaded on the Link II.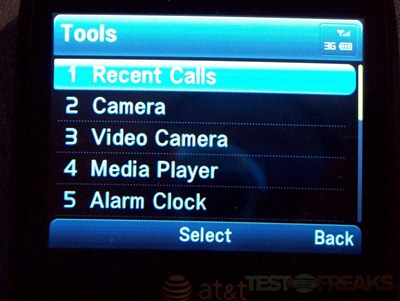 The web experience on the Link II is small to say the least but it's a small screen. Loading is actually very fast for 3G, I was surprised by how fast it loaded. On the screen you'll see a cursor to help you navigate web pages.
I did run into a small problem while using the web, the phone reset in the middle of it. That was the only time it happened though, it was strange.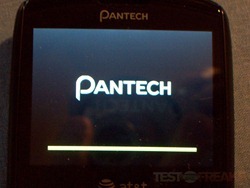 So now we've checked everything out let's move on.
The dialer is rather large on it's on screen, but it's nice I like it. You use the actual number keys to dial and nice large numbers appear on the screen.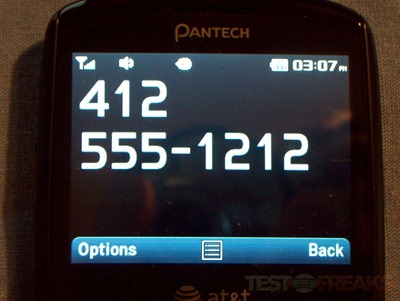 Call quality is actually very good though at times I was told I sounds like I was far away, it wasn't every call though so it might have been the network.
I touched on the battery earlier but the Link II gives you about three hours of talk time only and that's not exactly great for a basic phone is it? Standby time though can get you a little over ten days.
The menus and pretty much everything about this phone are very user friendly and everything is easy to access. Just a couple button presses and you're where you need to be.
The camera is your basic camera phone, there's no flash and it's only 2mp so don't expect amazing pictures.
That's about it really, the Link II is a basic phone so there's no much in the way of surprises.
Conclusion:
The Pantech Link II is a basic phone for sure, what see you se is what you get and not much more, but that's not a bad thing. People don't always want of need a smartphone, they want something that is basic that makes calls and helps them keep in touch. This phone does all that and a little more and for the price it's hard to beat the Link II really. It's a nice basic phone that does what it's supposed to.
The build quality is plastic but what else would you expect at such a low price point really?! The keyboard works great, but it is a bit cramped, those with larger fingers might not be very happy with it. Call quality and battery life on the Link II are very good which is something you want to see in a phone. The web browsing and multimedia functions are just passable, but that's not why you're choosing this type of phone, if you wanted all that you'd be getting an expensive smartphone.
Sadly you'll have to deal with all of the AT&T bloatware that you'll find, someday they'll stop with this stuff I hope or at least let us get rid of it.
Pros:
+Thin and lightweight
+Easy to use
+Decent battery life on standby
+Very inexpensive
+Nicely made
Cons:
-Phone restarted for no reason
-Talk time could be better
-Camera could be better
| | |
| --- | --- |
| Grades: | |
| Overall | |
| Design | |
| Performance | |
To learn more about our review policy please visit this page HERE.