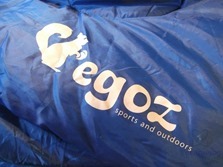 Up for review today I've got another sleeping bag from Egoz called the Peanut and this one is a standard rectangular style but it does have a hood that can be pulled shut to keep the cold air and elements out. The bag seems well made and it is warm and relatively comfortable overall, but it's not perfect, there are some small issues. Read on to learn more…
Specifications and Features
Peanut By EGOZ Easy to carry Blue Warm Adult Sleeping Bag Outdoor Sports Camping Hiking With Carry Bag Lightweight
This bag combines all the benefits of Cotton -high compressibility, superior warmth, and light weight- with unmatched performance in the presence of humidity, condensation, and sweat. It will keep you warm with lots of key features. The box baffle construction with ground-level side seams and differential cut maximizes warmth and eliminates cold spots while the top draft collar and zipper draft tube with anti-snag design will keep the cold air out of the bag. The efficient, form fitting hood is warm and comfortable, with captured cord lock for one-handed adjustment, makes it easy to adjust. The bag is also easy to get in and out of with the dual-slider locking zipper. Regular Cotton is treated with a molecular level polyester to create a hydrophobic finish on each individual Cotton plume. This finish allows it to stay dry longer, loft better, and dry faster than untreated Cotton, keeping you warmer in any environment.
PRODUCT SPECIFICATION
Style: EP300
Temperature Rating: 40°F / 4°C
Stuffsack Size: 9″ x 15″ (22 cm x 38 cm)
Total Weight: 3 lbs (1400g)
Internal Length: 83″ (211 cm)
Maximum User Height: 6'6″ (198 cm)
Price: $32.90 (from Amazon at time of review)
The Review
Let's start with a video unboxing or product tour:
The bag just comes in a plastic bag which is fine and it comes packaged in a drawstring carry bag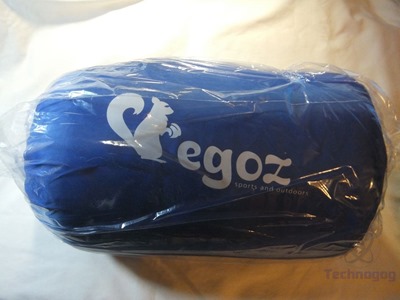 The bag has an S pattern on it which they call a box baffle and it's nylon outside I would assume, but the specs don't say, with a cotton filling that's treated to stay dry longer and keep it's loft and to dry faster, all of this is supposed to keep you warmer. The bag isn't very heavy overall, but it is puffy and fairly thick but it can compress quite a bit for storage and transport.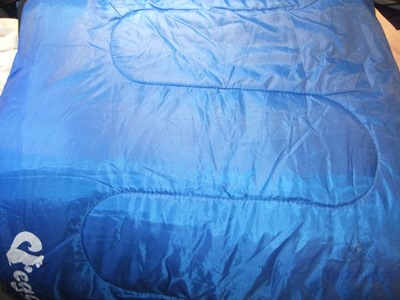 This sleeping bag is rectangular in shape but it has a hood on it which I find a little odd as most 'regular' sleeping bags don't have a hood. The hood does have a drawstring on it to close it up tight to keep the cold and elements out. One a personal note I really don't care for the hood, when I think of hoods I think of mummy style bags and this is a rectangular style of bag or a 'regular' sleeping bag that normally would not have a hood. I guess the hood can be useful but I would just prefer not to have one at all, but that's just me.
The bag has dual zippers, one at the top and one at the bottom so you can open it either way for easier access. On the top of the bad there's also a velcro strap to keep it closed. The zippers aren't any name brand that I could see, there are no markings or brandings on the pulls at all. The actual zippers or teeth are nylon and not metal, that's not that big of a deal but I found they get stuck often. Zipping and unzipping it gets stuck at least once every time, usually more than once, it just doesn't zip and unzip as smoothly as it should in my opinion.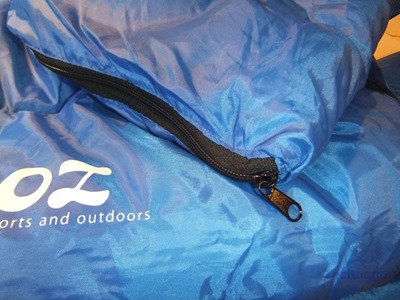 I didn't get a chance to actually take this sleeping bag camping but I got to use it at home. Long story short here, storm, lightning strike down the street, big fire, power outage for 16.5 hours, 26F outside. It was cold without the furnace running, it got down to 42F in my home overnight so I thought it would be perfect to use this sleeping bag. I'm 6 foot tall at 180lbs and I found I could comfortably fit in this bag with a couple inches to spare at the bottom. I normally sleep on my side and I could turn easily in the bag and sleep that way so in that respect it's fine. As far a keeping me warm it did, all I used was the sleeping bag and I had my regular clothes on as well and I found I was perfectly comfortable in this bag, not too hot and not cold at all.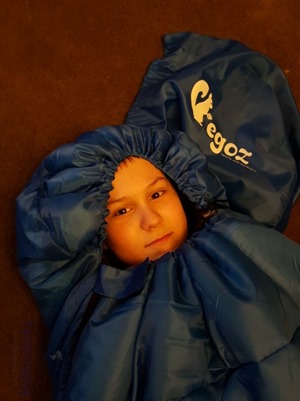 I have woods behind my home and I did take it outside to test it on the ground and I found it's not very comfortable, you will need some sort of pad under it as it is padded but you can feel rocks and twigs etc through the bag so it's not exactly comfortable without a pad.
The carrying bag itself is just a thin nylon material with a drawstring on it to keep it closed and I honestly don't think it will last very long. The material is just very thin, almost see-through really and I was actually afraid of ripping it while stuffing the sleeping bag back into it.
As far as getting the sleeping bag back into the carrying bag, it can be a chore for sure. When it arrived to me it was nicely folded and rolled and fit into the bag and I tried to replicate that and it took me six tries to get it right and even at that point it was still hard to get into the bag. The key is that you have to roll it very, very tightly and evenly and then it fits back into the carrying bag.
I also found that could just grab one end and start stuffing it into the carrying bag, at first I thought it wouldn't fit but I just kept stuffing and squeezing the bag and eventually I got it all in, yes it's a tight fit but it can be done.
Conclusion
The Egoz Peanut sleeping bag isn't bad for being budget priced, sure it's not perfect but I don't think you'll find a better sleeping bag in this price range.
Yes I had some issues with the zippers but it could be just the bag that I received, at least I hope that's the case.
The bag is warm and comfortable for the most, you will need a pad or something similar under it if you plain on using it to sleep on the ground.
The bag is rated for 40F and I think that's about right, I was warm and comfortable at around that temperature.
As far as size, for me it's fine, I'm 6ft and I could fit comfortably in it.
Pros:
+Inexpensive
+Warm and comfortable
+Packs small
Cons:
-Carry bag won't last long I don't think
-Hard to get repacked
-Zippers get stuck often
-Needs pad for sleeping on bare ground
| | |
| --- | --- |
| Grading | Scores Out of 10 |
| Overall | |
| Design / Aesthetic | |
| Value / Price | |
| Performance / Usage | |
To learn more about our review policy please visit this page HERE.