One of the great things about society is free stuff, all of the free stuff that's out there for anyone to have anytime they want. One of the great free things is TV, it's just out there for anyone to grab right out of the air. For many years that's what I did, my kids were young and they didn't care too much about TV, but as they got older they needed more, and honestly I missed it. I tried a few different antennas with mixed results. Today for review I've got an over the antenna that can be used indoors and outdoors, it's small and from what I've learned it works well.

The box has pictures and information on it as one might expect, it looks nice.
When you open the box you'll find quite a few things. Inside is the antenna, mounting kit, bracket, user manual, stand, coaxial cable and power cable.
The antenna doesn't look like any antenna I've ever seen, or at least not in the traditional sense that one thinks of an antenna. It's very lightweight and it's white plastic basically. The antenna can be used indoors and outdoors.
On the back is a thumbscrew used for the small stand, and then there's a hole for the mounting bracket. On the bottoms is the coaxial connection.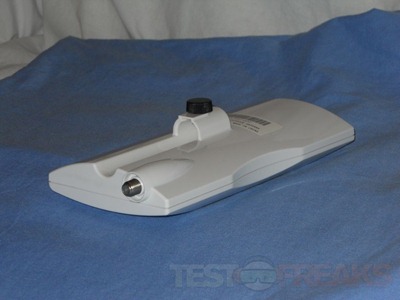 Here's the antenna with the little stand attached, it's just a piece of metal basically.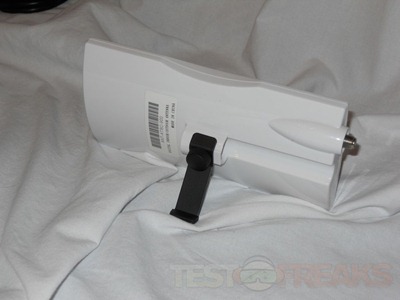 Specifications: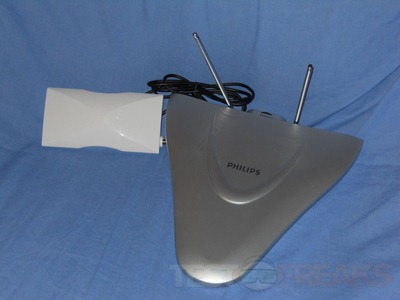 Installing and using it indoors is simple, just plug the cables in and you're set. Once you've got it hooked up you'll need to let you TV scan for channels. I did that and got the same amount of channels with the PI antenna as I did with the Phillips, so no better or no worse there. The channels came in nice and clear and I didn't have to fiddle with the telescopic antennas like I did with the Phillips. The channels actually seemed clearer or at least without as much skipping like with the Phillips. The PI Antenna seems much better performance wise than the Phillips does.
I didn't have a pole to mount the antenna to outside, or enough coax cable actually, but I would think it would perform well considering how it performs indoors.
The price is $19 on the PI Manufacturing site which I think is inexpensive for what it can offer, free over the air channels.
Conclusion:
So if you're one of those people out there that don't have cable for whatever reason then you'll need something like the PI Digital Indoor, Outdoor Antenna and for under $20 you really can't go wrong I think.
It works well for its small size, I'm impressed that it works just as well, if not better, than the much larger antenna I was using before.
The ability to be used both indoors and out is of course a bonus, but you'll most likely need to buy more cable for an outdoor installation.
Pros:
+Small and compact
+Includes all hardware for mounting
+Lightweight and seems well made
+Inexpensive
+Easy installation
Cons:
-None really
| | |
| --- | --- |
| Grades: |   |
| Overall | |
| Design | |
| Performance | |
To learn more about our review policy please visit this page HERE.