I've got a few monitors and I've been meaning to get a mount or arm for them so when I was contacted by PI Manufacturing about reviewing their products which included desk mounts I jumped right in. Today for review I've got a simple but very useful product that a lot of people overlook when it comes to setting up their workspaces and that's a mounting bracket for their LCDs. The one I have today can be used for either a TV or monitor up to 17.6 lbs and extend up to 17 inches in height. It swivels all around and allows the monitor to tilt up and down as well.

There's no fancy packaging as PI Manufacturing is more of a wholesale company, just a white box with the part number on it.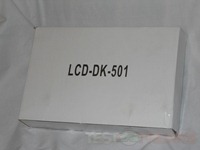 Inside you'll find the parts wrapped in bubble wrap for protection.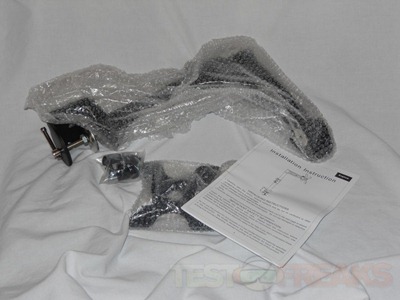 When you take it out of the bubble wrap you'll find the main arm piece, a bag of screws, the mount and the installation sheet.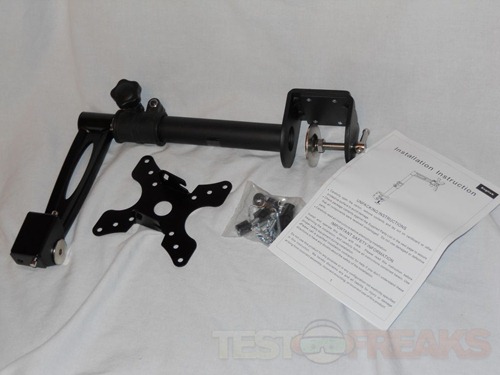 The main arm is made of metal and supports up to 17.6lbs. It extends up to 17 inches and the lowest is at 9.9 inches. It feels well made and strong enough to hold up a monitor or TV securely.
The bottom part is what attaches to your desk and screws in and out.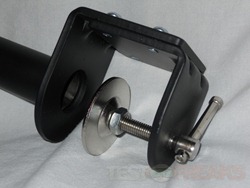 Near the top of the arm is the adjustment section a knob that you turn to tighten and loosen the extension arm.
On the end of the arm is where the monitor attaches.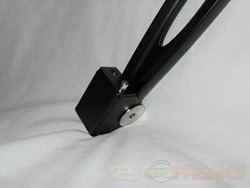 Specifications:
Single Desk Mount Bracket for LCD (Max 17.6lbs, Fits 13-30inch)
Part #: LCD-DK-501
Our single desk mount bracket for LCDs allows you to mount your LCD display onto a desk, freeing up space on your desk to put other things. A height adjustable desk clip and extendable tube allows you to adjust the height of your LCD display, making your viewing experience as comfortable and personal as possible. Our single desk mount bracket will fit 13-30 inch LCD displays and has a maximum weight capacity of 17.6 pounds.
Features:
* Maximum height: 17 inches
* Minimum height: 9.9 inches
* Height adjustable desk clip
* Newly designed tilting system
* Extendable tube to change the height of Monitors & TVs
* Optional VESA adapter available to mount the TVs with VESA 200 pattern
* Fits 13-30 inch LCDs
* Max Weight: 17.6 lbs
* VESA: 75×75, 100×100 Single Arm
Price: $22.08

I've got four monitor on my desk and was hoping to use this with one of them for this review, but I found my desk is too thick for the mount. Not a big deal as we've got five computers in the house so I decided to use the mount with one of them and the 19" monitor I'm using with it.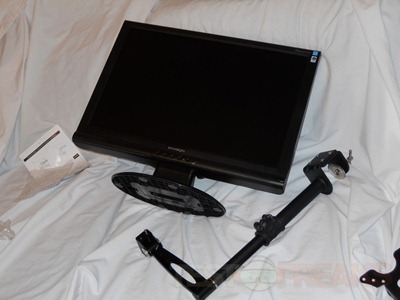 The first thing I had to do was remove the base, for mine it's in two pieces one just pops off and then the other has four screws. You monitor of TV will most likely be different.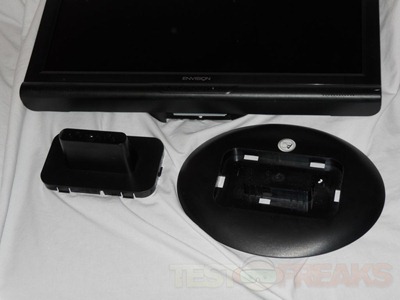 After you remove the base you'll need to attach the mount to the monitor back with four screws.
Then you'll need to attach it to your desktop and adjust it to where you need it. Since I have my monitor up higher I have it set down at an angle for better viewing. There are two thumb type screws that go on the side of the clips to hold the monitor at the angle where you need it.
In the one picture above things look a bit crooked but it's just angle I took the picture at, sorry about that. It is nice and straight.
You'll need to make sure your desk or shelf is strong enough to hold the weight of the arm and monitor.
Installation is easy just a few screws and you're done really.
Conclusion:
The PI Manufacturing Single Desk Mount Bracket for LCD is simple to install and rather inexpensive, or at least it's priced about he same as others are.
Installing it only takes a few minutes and it works well. The mount adjusts up and down and side to side so it will provide the optimal viewing angle for your needs.
Pros:
+Well made
+Simple installation
+Inexpensive
+Rotates and pivots monitor
Cons:
-None really
| | |
| --- | --- |
| Grades: | |
| Overall | |
| Design | |
| Performance | |
To learn more about our review policy please visit this page HERE.