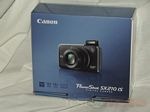 It's been quite a while since I've actually reviewed a digital camera, the still kind that is, camcorders yes I've looked at a few of those recently.
Today for review I've got the new Canon PowerShot SX210 IS that is not your typical point and shoot camera, at least not what you would consider a family camera. The SX210 IS is a feature packed camera that I think professionals and novices alike will appreciate and find easy to use. There's a ton of features that make it a family friendly, but underneath all of that lies a camera with professional features, so it's much more than just a point and shoot.

So we'll start this off with the video unboxing:
Inside the box we'll find the camera, battery, charger, documentation, software CDs, USB cable, wrist strap and a USB cable.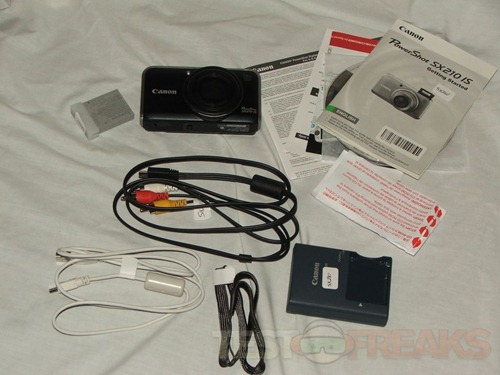 The camera resembles a small point and shoot style one, but inside it's much more than that, it's also fairly heavy for such a small camera.
The lens comes out pretty far when powered on, and off to the top right is the flash.
On the back is a nice large 3" LCD viewfinder, but there is no optical one, the LCD takes up most of the back really.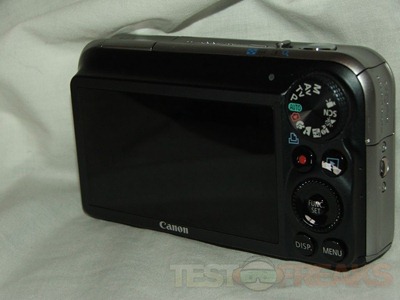 To the right of the LCD is a dial with photo settings, and beneath that is the play and record buttons, then below that you'll find a navigation pad that actually turns as well like a dial, then below that on the bottom are the menu and display buttons.
On the bottom you'll find the tripod hole, along with the battery compartment, inside the compartment is also where the SD card goes.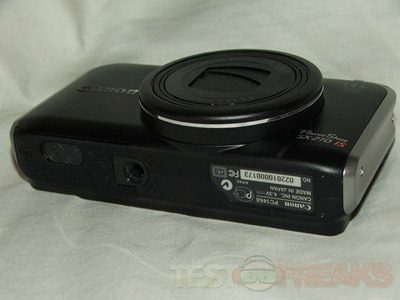 On the top of the camera you'll find the power button, shutter button and the zoom slider and the microphone.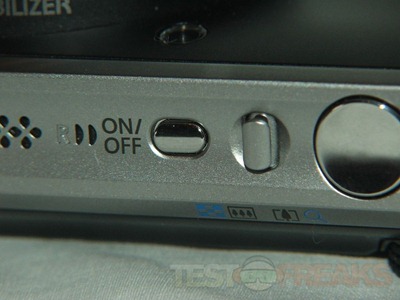 On the right side the hole for the wrist strap and a door, behind which is you'll find the USB connection, and HDMI. If you recall when we were looking at the contents there was no HDMI cable, but there is an HDMI connection.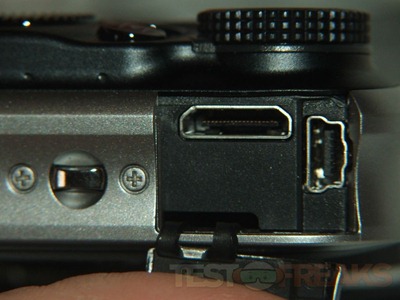 Specifications:
Feature-rich for All Around Value.
Decidedly slim and sleekly refined, the PowerShot SX210 IS packs a feature set that reads like a wish list. The 14.1 Megapixel CCD joins a 14x 28mm Wide-Angle Zoom for imaging power to spare. Frame your shots in the bright 3.0-inch widescreen PureColor System LCD, with the Low Light mode for sharp images in dimly-lit situations. It also captures stunning HD movies with Dynamic mode for enhanced image stabilization when shooting movies using wide-angle settings. Capture smooth HD video (720p) with stereo sound for a truly natural, high-quality HD experience. The PowerShot SX210 IS not only goes wherever you do, but takes your photography and video to a whole new place, too.
Features:
-Powerful 14x Optical Zoom with Optical Image Stabilizer.
-Improved Dynamic mode for enhanced image stabilization when shooting movies using the wide-angle setting.
-14.1 Megapixel resolution will generate 16.5″ x 23.4″ prints.
-28mm Wide-Angle Lens to capture more in your frame.
-Large 3.0-inch wide PureColor System LCD with high resolution (230,400 dots) and wide viewing angle.
-HD shooting capability at 720p with stereo sound plus HDMI output for easy playback of video and photos.
-DIGIC 4 Image Processor with evolved Face Detection Technology tracks the faces of moving subjects and lets the shooter enter the frame seamlessly with Face Detection Self-Timer.
-New scene modes for more creative shooting (Fisheye Effect creates a circular fish-eye appearance and Miniature Effect creates a graduated blur on outer edges of the subject).
-Smart AUTO mode (22 Scene) intelligently selects the proper settings for the camera based on the shooting conditions of the scene as well as Face and Motion Detection.
-Servo AF/AE continues to focus and track subject while pressing the shutter button halfway.
-Smart Flash Exposure produces natural looking photos when using the flash to photograph subjects in strong sunlight, at a close distance to the camera, or using fill flash.
Basic Specs:
Image Capture Device
Type: 14.1 Megapixel, 1/2.3-inch type Charge Coupled Device (CCD)
Total Pixels: Approx. 14.5 Megapixels
Effective Pixels: Approx. 14.1 Megapixels
<
Lens
Focal Length: 5.0 (W) – 70.0 (T) mm (35mm film equivalent: 28 – 392mm)
Digital Zoom: 4x
Focusing Range: 2.0 in (5cm) – infinity (W), 3.3 ft (1m) – infinity (T)
Macro: 2.0 in – 1.6 ft (5 – 50cm) (W)
Autofocus System: TTL Autofocus, Manual focus
Dimensions (WxHxD): 4.17 x 2.33 x 1.26 in./105.8 x 59.3 x 31.9mm
Weight: Approx. 7.58 oz./215g (including battery and memory card)
** Please see product page link above for full listing of specs and features.
Suggested Retail Price: $349.99
Price: $299.99 (From Amazon at time of review)

The display when turned on is minimal, just a icons on the screen.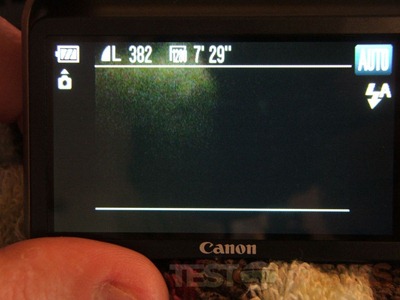 A quick menu can appear on the right side so you can change some basic settings like resolution, image quality and movie quality.
The main menu is broken into two parts, camera settings and then misc setting like time, date etc.
There is a set movie button as well that open another menu with opens for video recording:
The photo settings dial is rather self-explanatory, but it is nice that there's a description for each one when you select it.
The SCN selection is for much more than 'miniaturized' shots, you can select from Beach, Foliage, Snow, Fireworks, Fish-Eye, Color-Swap, Color-Accent, Low Light and Smart Shutter.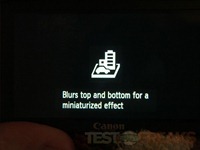 Most of the choices above are self-explanatory, but the Smart Shutter is a unique on in that is will automatically take a picture when a face is in focus, or something comes into frame. The Color-Accent will actually allow you to select a single color or object and then everything will be monochrome, makes for some very unique pictures for sure. So there's truly a lot of features here that can be fun to play with so this camera is point and shoot camera that's family oriented, but it can be a powerful camera in the right hands.
Through the second dial par you can quickly access the timer and flash settings:
So now we're through all of that…
There is one thing that I have to say about this camera and it's the size, I think it might because I'm accustomed to more of the DSLR style camera, but it was hard for me to hold, or find somewhere to hold it.  The lens is so big there's really nowhere on the front to put you hands or finger on the left side. For whatever reason I kept putting my index finger on the top, which is where the flash is so the flash wouldn't open if it needed to, and then when the flash was open there was nowhere to put my finger to hold the camera steady. Since the display is so large, which is good, but there's really nowhere to hold the camera from the back either, you essentially have to hold the camera with one hand and take pictures.
Other than that taking pictures is easy, just point and shoot really, but you can if you choose go in and change settings like you would with a DSLR camera for total control over your pictures.
The battery life seems great, I charged it and got a couple hundred pictures easily out of it. You're supposed to be able to get about 260 shots, and I can say that yes you will get that.
So let's take a look at some sample pictures, these were downsized from the original 14Mp in size of course of they would just be too big and it would take a long time to load this review.
The above pictures were taken without a tripod, while the three below were taken with the tripod.
The colors are nice and crisp and details are clear. The blacks seem nice and dark, except where the flash overtook things a bit. As you can see with the close up pictures the flash really whites things out a bit, but they're not bad.
With this picture here the flash fired when I would think it wouldn't, all of the pictures were taken in a well lit room with sunlight coming in the windows.
Now with this one the flash didn't fire:
Those were indoor photos, here's  couple taken outside:
Those taken outside are much nicer than those taken indoors really.
Now here's a picture taken of some shrubbery from about 25 feet away with no zoom. These plants aren't a real dark green to begin with, just so you know.
Here's just a selection taken from the same distance with full optical zoom: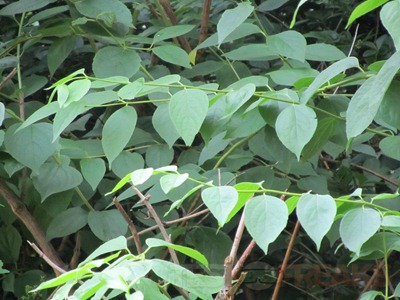 The optical zoom is very nice.. but the two pictures are taken with the digital zoom, one of the same plant and then some flowers that are actually about 10 feet higher than the original tree or plant:
Personally I hate digital zoom, and right there above is the reason why, I never use it for anything, I'll never go past the optical level. With pretty much any digital zoom you end up with grainy, blurry pictures really.
These next few pictures are ones were I was basically playing with my Spyder II laser and played with some of the setting to allow me to actually capture the laser:
I have to practice a bit more with my cursive writing but you get the idea, it's nice you can fully change most all of the settings to allow for pictures like this.
Conclusion:
The Canon PowerShot SX210 IS is a fairly decent point and shoot camera that will impress professionals and possibly overwhelm novices with all of the features it does have. Luckily though the PowerShot SX210 does have an easy mode for beginners and the Auto mode actually does a very good job at taking general purpose pictures.  With this camera you'll be able to do many of the things you can with a more pro-sumer level camera, but that's not to say that's what it is, it's still a point and shoot at heart.
Personally I'm not sure I would pay the $349 MSRP, but the price listed Amazon is $299, and that's about right I would think. This camera does offer a lot in a little package with little or no issues at all, it has decent battery life and a nice big, colorful display. Overall though I think it's a nice little digital camera.
Pros:
+Excellent pictures
+Simple and easy to use
+Tons of features
+Nice big LCD display
+Decent battery life
Cons:
-Don't care for design personally
-No optical viewfinder
-No HDMI cable included
-Auto flash fires when it seems like it shouldn't
| | |
| --- | --- |
| Grades: | |
| Overall | |
| Design | |
| Performance | |
To learn more about our review policy please visit this page HERE.