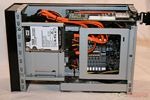 The introduction of the low voltage Intel Atom Processor has led to a new phase in the evolution of the Home Theater PC (HTPC). More specifically the Atom in combination with the NVIDIA GeForce 9400M chipset dubbed the Ion platform makes high definition video playback including BluRay a possibility with this otherwise moderately performing processor. Placing the Ion platform on a small form factor motherboard helps create a low profile, quiet home theater machine which uses very little power compared to Intel Core or AMD based HTPC solutions.
One of the first companies to take advantage of the Ion platform is Puget Systems. They are a boutique computer builder from the Northwest and may be best known for their PC built submerged in mineral oil back in 2007. Thankfully you will not find any cooking products in their HTPC – the Echo I which, we will be looking at in depth for today's review.
The Puget Systems Echo I is built upon the Zotac IONITX-F-E ATOM N330 Mini-ITX platform. It is housed within an Antec case and is slightly smaller in size than an Xbox 360. The base model comes with 2 GB of DDR2 memory, a slim line Sony DVD-RW Drive, Western Digital Scorpio 160GB 7200 RPM Hard Drive and Windows 7 Home Premium Edition. It is customizable when ordering with choices in OS, slim drive type, memory amount and hard drive size.
The review model we received was built with the following components: an Antec ISK 300-65 case, Hauppauge WinTV HVR-2250 Dual TV Tuner. Kingston ValueRAM DDR2 800 2048MB x 2, Microsoft 7 Home Premium OEM, Silverstone Blu-Ray Combo Drive, and Western Digital Scorpio Black 250GB 7200 Notebook Drive.
Customer service is one of the things that differentiate Puget Systems from their competitors. Before receiving your new PC they rigorously test all the components and benchmark them so that there will be no bad surprises when you first power up your machine. They keep the buyer informed during the entire build process via email and through their website. In fact they even send you an email with a picture of your newly built machine before they ship it to you.
Their reputation for quality control garnered their founder – Jon Bach a spot on one of my personal favorite video podcasts – Tekzilla to talk about component failure rates. Check out the interview it is very informative especially if you build computers.
The Echo I comes packaged in a cardboard box with padding surrounding the PC. Among the contents we find additional boxes containing left over system parts from the various installed components.
You will notice that Puget Systems reuses the Antec case packaging to ship the Echo I. I asked Puget if they use Puget Systems branded packaging and this was their response:
For most of our computers, we double box with customer Puget-branded packing materials.  For our SFF systems and our laptops, we've found the manufacturer box to actually work very well, so we ship in that box when using air shipment (which has a lower damage rate, and a higher cost dependence on box size).
Reusing packaging is environmentally conscious and something we at technogog always support.
Also included in the package you'll find an information booklet on your new PC with a cover letter from the president of Puget Systems. This booklet explains the connections found on the rear panel of the PC; as well as providing a quality control sheet which documents the build process from testing the power supply to benchmarking. Puget Systems lists the build components along with warranty and support information. These are some unique personal touches that I have never encountered before with a PC builder before.
The Echo I is a all black small form factor PC designed to work as a HTPC or even a desktop machine. It is housed in an Antec ISK 300-65 case designed to fit Mini-ITX motherboards. This steel case is a jet black with plenty of mesh vents to keep the system cool. One vent is found on the top panel adjacent to the slim expansion card slot and the other on the right panel next to the two 80 mm fans. The case measures 3 ¾" x 8 ¾" x 12 29/32" (9.6 cm x 22.2 cm x 32.8 cm) and should easily fit next to your home theater system or on one's desktop.
On the front of the case we find a panel designed to discreetly hide the slim bay drive bay which contains the Silverstone Blu-Ray Combo Drive. Pressing on the edge with the Antec logo opens and closes this door.
Below this drive bay we see two USB ports, an eSATA connector, microphone in and audio out jacks along with the power and reset switch. You will notice the two USB ports are in close proximity to one another meaning two larger USB devices can not be installed at the same time on the front USB ports.
The bezel surrounding the front of the drive is a honeycombed mesh pattern but does not seem to provide additional ventilation. The case can either sit horizontal or in a vertical position with or without the included stand.
Opening the Echo I reveals a ZOTAC IONITX-F-E Intel Atom 330 (1.6GHz, dual-core) CPU/motherboard with 4GB (2 MB x 2) of Kingston ValueRAM DDR2 800. Puget Systems does a nice wiring job within the limited space of the Antec case. There are three SATA connections on the motherboard with one attached to the Western Digital Scorpio Black 250GB 7200 Notebook Drive and another to the Blu-Ray combo drive. The expansion slot has the Hauppauge WinTV HVR-2250 Dual TV Tuner. Two 80 mm fans blow across the motherboard to keep things cool.
Unlike other PC makers, Puget Systems has no problem offering a Linux preinstalled version. Ubuntu is their Linux flavor or if you prefer they can send the system without an OS installed at all. There are numerous HTPC programs built around Linux such as Myth TV, so if you want to save a little more money on your custom build you can go the Linux route.
The Atom 330 CPU is the dual core version of the Intel CPU which is necessary to run the Echo I since single core Atom models lack the horsepower to playback high definition video. ZOTAC has a large passive cooler resting on the Atom 330 and Puget Systems includes an optional fan in the parts box if you choose to install it.
BIOS options are relatively unremarkable except for the Chipset option. From this menu screen the NorthBridge and SouthBridge Configurations can be adjusted. Under the NorthBridge Performance Options sub menu are the settings for overclocking the Echo I. Overclocking testing on the Ion platform was performed over at Anandtech and they saw modest performance gains. However if using this system primarily as a HTPC use then I don't believe the extra heat production is worth the overclocking gains.
For such a small machine the Echo has a lot of connections of the back of the machine including HDMI, VGA and DVI for video, eSATA, PS/2, six USB 2.0 ports, Gigabit LAN, analog, optical and coaxial audio. We also find an antenna for the 802.11n/g/b wireless card, an AC power connection and the connections for the Dual TV Tuner.
In case you were wondering where the standard PC power cord connection went; Zotac uses an external power source similar to laptops.
Expandability of the Echo I is limited by the size of the motherboard and case. There is only one expansion slot and one mini-PCI-E connector that is occupied by the WiFi card in the middle of the mobo. The spare SATA drive does allow for an additional hard drive but otherwise there is not much room for anything else.
In the parts package we see the Zotac Ion Manual, an OEM Windows 7 Install Disc, power supply, spare SATA cable, spare SATA power connector, Wi-Fi antenna, Heatsink fan, Zotac and Puget name badges, and a few spare case parts. The other parts box contains a Windows Media Center capable remote along with additional parts from the dual TV tuner card.
Specifications:
The Puget Echo I is designed to fit seamlessly into your home entertainment center or on your desk. It's optimized for digital media storage and playback, with the power of NVIDIA graphics but the incredible power savings of the Intel Atom processor. With NVIDA ION graphics, it supports PureVideo, for hardware accelerated video playback that includes Blu-Ray content at full 1080p resolution.
Specs – Base System
Zotac IONITX-F-E ATOM N330
Kingston 2 GB DDR2
Sony DVD-RW Drive
Western Digital Scorpio 160GB 7200 RPM Hard Drive
Windows 7 Home Premium Edition.

One nice thing about Puget's rigorous build and testing process is once the machine is started for the first time it is pretty much all set up. I had a user account with my name waiting on the Echo I. Surprisingly there was no antivirus preinstalled but Puget does offer a pre-build option to install AVG Free. With this in mind the first thing I did was put Kaspersky Internet Security 2010 onto the PC.
The Desktop has a Puget Systems background and we see icons for WinTV7 program from Hauppauge used with the Dual TV Tuner card and a trial version of Cyberlink PowerDVD9 for Blu-Ray playback. Puget offers PowerDVD9 BD (OEM, cheaper) and PowerDVD9 Ultra as a build options when ordering as well. Be aware that the PowerDVD9Ultra version will set you back about the same price as a new Blu-Ray player itself at around $140.
Here is the CPU-Z information on the machine. It has a Windows experience rating of 3.3 with the CPU being the weakest component. Thank goodness for the NVIDIA ION components or else this HTPC would be in trouble. All standard Windows functions are found including web surfing, word processing and email along with DVD/BD playback, surround sound processing and digital/analog TV tuner. Puget Systems provides a Windows Media Remote that comes with the Hauppauge Tuner Card package.
Some people may like to use the built-in Windows Media Center feature in Windows 7; I personally prefer using either Boxee and/or XBMC. Due to Microsoft lack of Blu-Ray playback integration into its media player and media center, using any media center alternative work just as well. To watch Blu-Ray discs you'll need to use the included PowerDVD9 program. An alternative to viewing Blu-Ray content would be ripping the disc and then playing it back using the MKV file format with something like Media Player Classic HomeCinema Edition.
Attaching the Echo I to a 52" Samsung LCD was simple via the HDMI connection. The only thing to note when using LCD TVs with Windows 7 is that you should turn off the LCD's overscan feature otherwise the sides of the Windows screen will be beyond the TV's bezel. On my HDTV I used the P-Size button on the remote to set it to the "Just Scan" mode.
Blu-Rays fired up in all their 1080P glory. Star Trek (2009) looked and sounded magnificent as the Echo handled playback without skipping a beat. Paired with the GlideTV mouse, watching media from the couch was a sheer joy. The Echo I did get sluggish when having to peruse large media libraries as it had to rely more on the CPU than the GPU.
The Hauppauge WinTV HVR-2250 Dual TV Tuner provides two individual tuners making the Echo I into a PVR. The card features built-in MPEG2 encoders sparing the Atom from doing any heavy lifting. It integrates into Windows Media Center and with it you can record two shows at once that are either analog or digital (including HD). It works with both ATSC and clear QAM signals. One caveat is that if you plan on recording a lot of HD programming make sure to invest in a large external drive or add some more storage inside the Echo.
To test out the Echo I's performance, we ran some benchmarks to get an idea of the machine capabilities.
Up first is the CrystalMark bench.
Next is the 3DMark Vantage score.
Cinebench 64 Bit came up with these scores.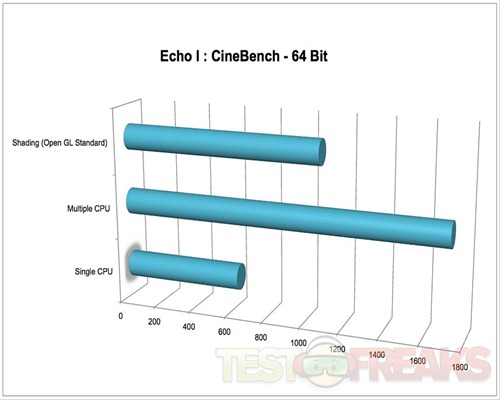 Here we have the DVD Ripping Speed of the Dual Core Atom 330 against a Core i7 920 with 3GB of DDR3 using DVDDecrypterFab 6. I'll let you guess which CPU was the winner.
SiSoft Sanda 2010 Portable USB Edition put up these results for the following benchmarks: GPGPU Memory Bandwidth, Multi-Core Efficiency, Power Management Efficiency, Processor Arithmetic, Cache and Memory and GPGPU Processing
Some benchmarks did not function properly as there was a driver problem related to the NVIDIA ION. 3DMark06 was one such benchmark that would not play nicely with the ION platform. Some of GPU benches in Sandra also failed for this same reason.
Finally we looked at the Power usage and heat production of the Echo I. Temperatures seem rather high but remember this is a passively cooled CPU. Temperatures were measured using CoreTemp 64 Bit. For power use I hooked the Echo I to a Kill-A-Watt meter.
In terms of power use the Echo I scores big. No one wants to have a electricity drawing behemoth running all the time as their HTPC. The Echo I solves this concern as it averages around 35 Watts when in use. The Echo I truly is a "green" HTPC.
Now for those wishing to play PC games on their HDTVs I have some bad news. The ION platform is not designed to handle more graphically intensive games at all. Moderately graphic intensive games are possible such as Left4Dead which played with an average of 15 FPS while Portal was able to run in the 30-40 FPS range.
The more graphical elements involved the weaker the performance; thus L4D fared worse than Portal. Team Fortress 2 was unplayable as it averaged under 10 FPS. Also the graphical resolution of these games will make you were using a GeForce 3 card. If you want to play the latest PC games I suggest you look elsewhere for something with more graphical horsepower.
So what can we take from this data. Well the Echo I's Atom CPU is not a computing powerhouse yet it gets the job done. As a home theater machine you will be using it for media playback and using the NVIDIA ION the Echo I does that well. If you wish to perform other computer intensive tasks then be aware that the Echo I will be more tortoise than hare. I would not recommend the Echo I as a desktop machine but am impressed with it as a HTPC.
Conclusion:
The Puget Systems Echo I is a virtually silent small form factor home theater solution. The sleek Antec case pairs nicely with most home theater equipment. The system is well ventilated to keep its components cool. It easily handles 1080P video output as well as high def audio. The low power Atom processor uses approximately 35 W meaning the system left running uses less energy than most light bulbs.
If bought separately the components would run 10-15% less than the cost of the pre-built Echo I. For that extra price you are getting a system designed to work out of the box and the Puget System's phenomenal customer service. Puget System makes sure your PC is thoroughly tested and issue free before it arrives to your door.
Now you will excuse me as I go watch another Blu-Ray movie.
Pros:
+Blu-Ray playback
+Quiet
+Small Profile
+Low Wattage
+Handles high definition video with ease
+Terrific customer support
Cons:
-Pricey fully loaded
-Limited to less graphically intensive games
| | |
| --- | --- |
| Grades: | |
| Overall | |
| Design | |
| Performance | |
This product was given to technogog for review by the company for review purposes only, and is not considered by us as payment for the review, we do not, and never will, accept payment from companies to review their products. To learn more about our review policy please visit this page HERE.