Pure Acoustics are a US company, starting up 20 years ago which has recently widened its reach to many other parts of the world (even Sweden). With an equally widening array of audio products on offer covering home and portable equipment they are worth keeping an eye (and two ears) out for.
Everyone likes a sing-a-long in our family, so today I'll be reviewing one of the portable karaoke / Bluetooth speaker systems from Pure – the MCP50. I'll also be taking a separate look at its big brother – the MCP100 very soon. The good thing about reviewing something everyone in the family can use it that I can give a variety of opinions. I've had the MCP50 for a couple of weeks now and it's been used in a variety of different situations so it's really been put through its paces.
Unboxing
What's in the box?
The MCP50 itself
Shoulder strap
AC Adapter
Wireless microphone
Instruction booklet – in English.
It's a square box measuring approximately 9.9 x 9.9 x 4.6 inches (25x25cm and 12cm deep). It's weighty at 4.2kg (9.25lb). There's a rubber carrying handle on the right hand side or you can hook up the shoulder strap if you're going walkies with it for longer distances.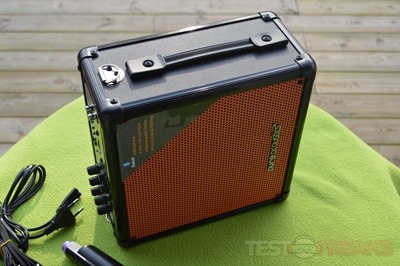 The front of the MCP50 is almost entirely a speaker grill with a Pure Acoustics logo glued on. There's a label in the corner which I peeled off very carefully and there were a few remnants left but nothing which couldn't be scraped off.
The reverse of the unit has nothing at all on it, I kept feeling for the power connector but of course it's on the left side instead. Alongside the standard power socket is the ON/OFF switch and another switch to select DC, AC or Charge.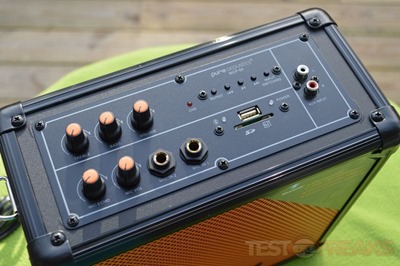 The top of the unit is where all the fun happens, the knobs, buttons, inputs and indicators. Knobs consist of Treble, Bass, Volume, Mic Echo & Mic Volume. There's two inputs for corded microphones, as well as an AUX L/R to connect up your external equipment.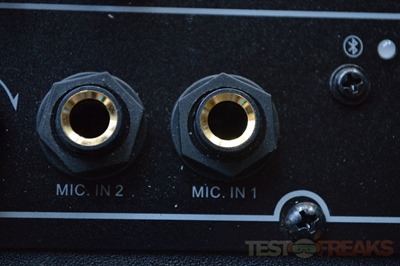 There's a SD memory card slot as well as a USB stick port.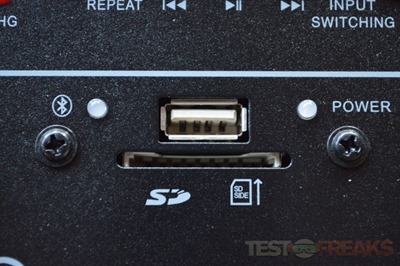 Buttons consist of Repeat, previous track, pause/play and next track. The final button switches the input between AUX, BT, USB & SD Card.
Finally there are indicators for Charge, Power and USB / SD signal. None of these controls needs much explaining.
The power indicator is a very bright blue – so bright it can make it difficult on the eyes looking at it in a dimly lit room. The charge light is red, and the USB / SD signal lamp is also blue.
The bottom of the unit has four feet to keep it steady. There are some screws which I assume would be the ones to remove if you ever needed to replace the 12V 2.7AH battery. The manual does give guidance on how to do this, but refers to diagram 5 which doesn't actually exist. The manual on the whole is adequate but obviously didn't originate in English and there are some odd terms and typos throughout.
Overall I'd say the look is quite rugged, I think it'll take a few knocks and bumps happily. The black plastic seems quite tough, and looks akin to a small guitar amp more than a karaoke machine. The orange grill on my unit is nice enough (once the sticker is removed), there are other colors available – blue, green and silver.
The MCP50 comes with a wireless mic which needs two AA batteries. It's a bit of a struggle to get them in at first. It's quite a long black mic, with a purple end and feels comfortable to hold. There's a switch which moves from off to mute to on. A small red LED lights up when the mic is on and has battery life. The mic is branded with the Pure Acoustics logo.