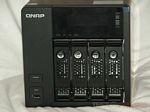 Today for review I've got another NAS or Network Attached Storage box from QNAP called the TS-459 Pro. This particular model can hold up to four hard drives and features an Intel Dual Core Atom D150 processor running at 1.66Ghz and it's got 1 gig of DDR2 ram as well. The TS-459 is truly a feature rich and powerful NAS box, you can do most anything with it from running a web server and FTP to sharing multi-media on your network, it can even be used in conjunction with IP cameras for a surveillance system. The TS-459 can also utilize QPackages that allow you to install all sorts of apps like WordPress, Joomla and many other things for a variety of uses making  it much more than just a vanilla NAS box.

No video today, we're doing it the old fashioned way..
The TS-459 comes packaged very well. Included with it is two ethernet cables, power cord, screws, keys, user manual and driver/software disc. One interesting thing about the TS-459 is that there is no power brick style power supply, it just plugs straight into the NAS box for power.
The NAS unit itself resembles other QNAP boxes, it's the familiar purplish colored metal housing.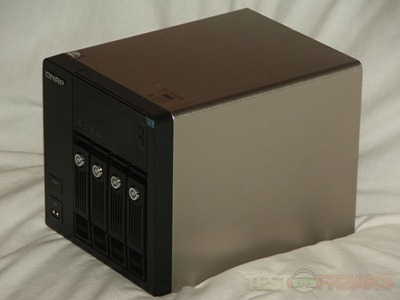 On the front you'll find four removable hard drive trays, these can be locked in place with the included keys.  There's also a power button, and USB port with copy button off to the left. Above the drive bays you'll find an LCD display, with two more buttons for navigation.
The TS—459 Pro that I received for review already came with four hard drives installed, three 750gb drives and one 1TB drive. The hard drive trays can accommodate either 2.5" or 3.5" drives also.
On the back on the box you'll actually find two fans, one large one for cooling the hard drives and one smaller to help keep the power supply cool.
On the back you'll also find four UBS ports, two eSATA ports and two ethernet connections along with a VGA port.
Specifications:
Modern businesses face the challenge of dramatic growth of digital data, including emails, documents and databases. Increasingly, IT managers are turning to networked storage to provide reliable, scalable storage, centralized network backup, and easy file sharing. QNAP's new Business Series Turbo NAS Servers offer affordable high performance storage for SMB, Corporate, and entry-level Enterprise customers.
The TS-459 Pro is the powerful 4-bay network attached storage (NAS ) server, which is designed to provide an affordable and easy-to-management solution with iSCSI service for virtualized and clustered environment. The TS-459 Pro also offers versatile business applications to maximize the efficiency of the data center in the business environment.
Incorporating the next-generation Intel® Atom D510 1.66GHz Dual-Core processor and 1GB DDRII RAM, the Turbo NAS delivers exceptional performance and maintains high reliability for multiple concurrent applications and intensive data transfer with guaranteed low power consumption.
Specifications:
CPU:Intel Atom Processor D510 1.66GHz (Dual-Core)
DRAM: 1GB DDRII RAM
Flash Memory: 512MB DOM
HDD: 2.5/ 3.5″ SATA x4
HDD Tray: 4 x Hot-swappable and lockable tray
LAN Port     2 x Gigabit RJ-45 Ethernet port
LED Indicators: Status, LAN, USB, eSATA, Power, HDD 1, HDD 2, HDD 3, HDD 4
USB: 5 x USB 2.0 port (Front: 1; Back: 4) Support USB printer, pen drive, USB hub, and USB UPS etc.
eSATA: 2 x eSATA port (Back)
Buttons: System: Power button, USB One-Touch-Backup Button, Reset button
LCD panel: Mono-LCD display with backlight
Alarm Buzzer: System warning
Form Factor: Tower
Dimensions: 177 (H) x 180 (W) x 235 (D) mm / 6.97 (H) x 7.09 (W) x 9.25 (D) inch
Weight: Net weight: 3.65 kg (8.04 lbs)
Gross weight: 4.65 kg (10.24 lbs)
Sound Level (dB): w/o HDD installed: 34.7 dB / Stand by: 34.1 dB / In operation: 36.8 dB (with 4 x 500GB HDD installed)
Power Consumption (W): Sleep mode: 19W
In Operation: 35W
Power-off (in WOL mode): 1W (with 4 x 500GB HDD installed)
Secure Design: K-lock security slot for theft prevention
VGA: Reserved VGA interface for maintenance
Fan: 1 x quiet cooling fan (9 cm, 12V DC)
Price: $899.99 (From Amazon at time of review)

Before I get into everything, here's the TS-459 powered on to show you the display. When up and running it will give you status updates etc. Below the display are green LEDs too for the hard drives.
To get it setup you'll need to run the QNAP Finder program and basically just follow the steps. It's fairly easy to do, and it's quick to get through that part of it, the part that takes the time is the actual formatting or initialization of the drives.
Once you get it all set up you can access it via the IP address, once there you'll be greeted with the nice graphical menu with many choices. The main choices are Administration, Web File Server and Web File Manager, the other ones are for Customer Service, QNAP Wiki and for QNAP Forum.
Here's a quick look at the Web File Manager:
The Administration section is broken up into two main section, there's the graphical icons in the main window and the expandable navigation tree on the left side. There's a bottom window that tells you the latest goings on with QNAP like firmware updates for example, and then there's a small search box off to the left of that.
Here's the navigation tree expanded to show you all of the options:
Then here's a few examples showing the icons for the sections:
For my testing I test the transfer speeds and times to and from my computer to the NAS boxes of three different things, Small Video File Transfer (900Mb), Large File Transfer (3.02GB), and a Files and Folders Transfer which is a total of 3.02GB with 874 files within 199 folders.
I have the Thecus N3200 Pro that I've been using for over a year now, it's been running 24/7 in Raid 5 configuration. So I've got that for comparison along with another QNAP box, the TS-259 Pro which is basically the little brother to the TS-459 pro.
The first test is the files and folders test, higher speeds are better of course and lower times would be better.
The TS-459 is fairly fast, while my Thecus is lagging behind a bit.
The next test is the single large file test:
Here the TS-459 lagged behind a bit in the transfer from test, but in the transfer to test is performed very well.
The last test is the small single file test: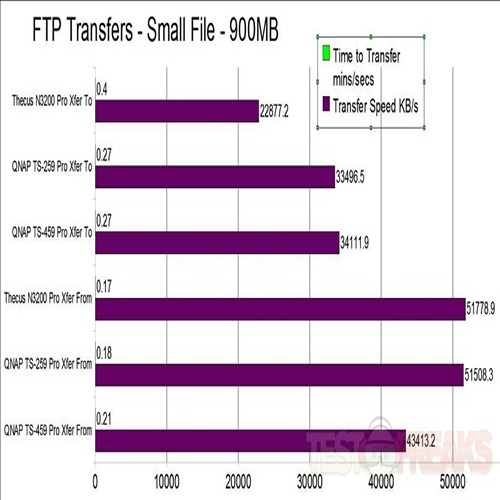 Again we see the TS-459 lags behind a bit in the transfer from test, not sure why…
The Thecus N3200 pro has an AMD Geode processor in it, while both of the QNAP boxes have the Intel Atom processors in them, and as you can see there is a very big difference in performance when it comes to the writing to the boxes..
So I checked Amazon for the price of the TS-459 Pro and it's listed for NAS, it's more for small to medium businesses which could most likely afford the expense. You can also get it from Amazon with four 1TB drives installed for $1,795, so yeah that's a bit high priced for home use.
For a home users this wouldn't be a good options truly, it's a bit overkill honestly and yes it's high priced, but for businesses looking for a powerful NAS solution then this is one they might want to take a serious look at.
As far as the sound, I was a bit worried having two fans running, but it isn't that loud really. The fan will speed up every once in a while to control temperatures, then yes it does get a bit loud. During my testing I have the TS-459 sitting on my desk about 1 foot away from me, so yeah it sounded loud. My Thecus N3200 Pro is under my desk, so I never hear it, most likely you won't be running a NAS box right next to you so sound shouldn't be too much of an issue.
Conclusion:
The QNAP TS-459 Pro Turbo NAS is a great product truly, it is aimed at businesses and that is where it will excel. The dual core processor not only improves the speed of the unit but it should allow the entire system to run more efficiently and quickly.
Yes the price is a bit high, and if you factor in the cost of hard drives it even gets more costly, but for a business this should not be a problem, and it would be a worthwhile investment in the long run I'm sure.
Pros:
+Easy, and simple set up
+Well made
+Built in power supply
+Tons of options
Cons:
-Expensive without drives
-Slow speeds transferring from when compared to others
| | |
| --- | --- |
| Grades: | |
| Overall | |
| Design | |
| Performance | |
To learn more about our review policy please visit this page HERE.