We all need more storage space, but with most computers there is only so many hard drives you can install, of course you could get an add-in card to enable more drive headers, but that can be a pain. When you've got your own network though it's nice to be able to have one place on the network where everyone can store and share files, that's where a NAS, or Network Attached Storage device comes in handy. NAS Boxes comes in many shapes, sizes and configurations with varying amounts of storage available to you, these can be a great place to allow everyone access to files, be it on the home network or even while they're away. In this day and age we've got tons of stuff that we need to store and a NAS box is something that allows us to store our things elsewhere as not to use up space on the computer's hard drives, but most NAS boxes are equipped with a plethora of other features as well that most people will find attractive and very useful.
I've got a fairly large review for you today, it's a rather small product but it's just packed with features. Today I've got the Thecus 3200Pro NAS box, and it's a powerhouse in a small package. The N3200Pro is equipped with an AMD Geode processor to insure everything from file transfers to streaming media will run nice and smooth. In the N3200Pro you can put up to three 1 Terabyte hard drives which can give you 3 Terabytes of storage, but you can also choose from several RAID options as well like the main feature, RAID 5, that allows you to have anything you put on the N3200Pro to be nice and secure. So read on to learn about what is probably the most fully featured NAS box on the market today…

The first thing I have for you is the video unboxing, watch the video and continue on:
The N3200Pro comes in a nice sturdy box with a handle for carrying it around.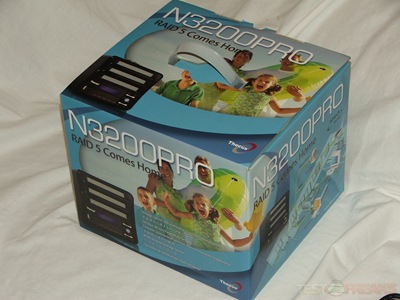 Inside we find the N3200Pro itself, power supply and cable, ethernet cable, driver/software disc and instructions.
The N3200 itself is very well made, it's actually fairly heavy when empty, add a few hard drives and it's even heavier.
The front of the N3200pro features a removable cover to access the drive bays, and LCM display, and basic navigation buttons along with a USB port.
With the cover off we can get a peek inside of the N3200Pro, we can see the drive rails and the SATA connections easily, but the actual inner workings are a bit harder to see without dismantling the entire unit.
On the back of the N3200Pro we find a cooling fan, can't miss it, two ethernet ports, one for LAN and one for WAN, along with another USB port, and eSATA port, reset button, power connection and an expansion slot.
Specifications:
RAID 5 NAS server Comes Home
Feature
* Upgraded 3 Bay NAS with Vastly
Elevated Performance
Committed to delivering the utmost performance and security, Thecus proudly introduces the revamped three-bay NAS, the N3200PRO. Powered by an AMD Geode CPU, the N3200PRO delivers the raw horsepower required to transfer files quickly and efficiently. With powerful RAID options (including RAID 5), a built-in LCM display, and vastly improved data throughput, the N3200PRO redefines the three-bay NAS once again with increased usability, functionality, and performance.
* Easy Disk Management
Thecus is known for making things simple, and the N3200PRO is no exception. With its uniquely-designed disk management system, installing and removing disks is a snap, which means that users can spend more time enjoying their digital media and less time setting things up.
* LCM Display
The handy LCM panel makes managing the N3200PRO easy, even in dimly-lit environments like a living room during a movie screening.
* Home NAS with RAID 5 Protection
Our most advanced home NAS yet. The N3200PRO is the first of its kind that offers RAID 5, offering a perfect combination of data security and performance. Enjoy the speed of a striped array with the security of complete data redundancy. What could be better?
* Home Application Oriented Features
The N3200PRO is perfect for the home. Its Media Server allows easy connections to DLNA-compatible devices. The iTunes Server offers music streaming throughout the entire home, while the Photo Web Server enables users to share their precious photos anywhere on the network. With the N3200PRO, the digital lifestyle can be fully realized.
* Wireless Ready
Optional wireless connectivity via compatible USB dongle allows users to access their media files all without the need for cumbersome wires.
* Stylish Design
Featuring clean lines and sophisticated styling, the N3200PRO is equally suited for the study or the living room. It's distinct design makes it an appliance that users will want to show off.
The N3200 from Thecus has been finding its way into living rooms and home offices around the world thanks to a ton of friendly features, large capacity, and RAID 5 security. Today, Thecus is pleased to announce a successor to this groundbreaking product: the N3200PRO. Featuring the power of an AMD Geode CPU, the N3200PRO takes everything you love about the N3200 and improves its performance even further.
Under its svelte 160 x 170 x 215 mm exterior, the N3200PRO is powered by an AMD Geode CPU for superb performance while maintaining low power usage. With its three SATA drive bays, the N3200PRO accommodates up to 3TB of storage, and gives users the option of RAID 5. With RAID 5, home users can enjoy the speed of a striped array with the security of complete data redundancy. The N3200PRO retains its completely tool-less design, which makes installing and removing disks is a snap and a handy LCD display informs users of system status, and enables easy system management in dimly-lit environments. Thecus' web-based management system makes a return to the N3200PRO, allowing users to configure and manage the unit through any browser connected to the network, and with USB wireless dongle compatibility, users can even connect to the N3200PRO without being tangled up with wires.
As a NAS for the home, the N3200PRO also comes with a selection of friendly features that enable the digital lifestyle. A built-in iTunes Server makes it easy to stream an entire music library over the network, while a Photo Web Server enables users to share and enjoy photos with friends and relatives. A DLNA-compatible Media Server is also included, making the N3200PRO an ideal device to stream digital content to DLNA-compatible devices. The N3200PRO can also keep an eye on things at home with its Web Surveillance Server. Just plug in a compatible USB webcam and the N3200PRO can take scheduled snapshots – all without having a PC turned on! Powerful features and performance makes the N3200PRO the ideal NAS server for the home.

Installing your hard drives in the N3200Pro is very easy, just attach the rails to the drives, they just push into the existing holes, and then slide them into the N3200Pro, of course you'll also want to tighten the screws to secure the drives in place. I used three 200gig drives in my setup.
To get it setup you'll need to run the setup utility aptly named Thecus Setup Wizard, it is included on the disc. The utility finds the N3200Pro on your network basically so you'll have the IP address to access it, it also allows you to change the password if you wish. There are other options but for some reason I couldn't access them, not a big deal though as they can be accessed directly though the N3200Pro on the Admin side.
Ok, coming up here I've got tons of screenshots for you, and I mean a lot of them, the admin interface is packed full of things you can manage.
Here's what the drives look like from the admin side, you'll notice two of them have warnings on them, not a good things really. Actually when you see the screenshots below the dates will be the 27th of February as I had one of those drives die on me so I had to re do everything with just two drives in the box, so you'll also see a smaller capacity there as well in some of the shots.
Before we get into the Admin side, here's the user side, it's small and accessed via the IP address of the N3200Pro, you just have to go in and create users from the admin side and they enter their information on the login screen. Users like friends or family can access the N3200Pro from your network or even from the internet if you have it setup that way. They can share and store, music, photos, videos and regular files as well. They also have access to anything that is attached like a USB drive, USB hard drive, or an eSATA drive if you have permissions set at default. The user side is a fairly straightforward and an easy to use interface, it sort of resembles a webpage really, most any level of user should be able to access and utilize it without problems.
Once in the admin side you'll come across many things, and it might seem a bit overwhelming at first, but it's all fairly easy stuff if you've got a little bit of knowledge, and if not you can always refer to the manual for help or even the Thecus Forums.
The first drop down menu is 'Status', and from the name you can find the status of the N3200Pro here along with setups for the WebCam, Printer Sharing, and Wake On Lan settings.
I don't have a compatible webcam so I couldn't test that feature out, and my printer is already on my network wirelessly. Having the ability to add a printer to your network via the N3200Pro is a very nice feature, this way you don't have to play around with configurations on your other computers to allow access to the printer. A note on the webcams, there is a list available of those that are compatible, but out of the five that I had on hand none of them worked, so I think the compatibility list should be expanded a bit.
The next drop down menu is titled 'Storage'  and as the name suggests here you'll find storage related items like SATA drives status, eSATA, USB, and RAID. You'll also be able to add Folders, and configure the Service Folders as well.
The Storage section is pretty much self-explanatory, not much else to say about it really.
The next menu is 'Network', obvious choices here, you'll find things related to network settings. WAN, LAN and DHCP configurations, DDNS Support, WebDisk or HTTP Support along with SMB/CIFS and UPnP. You'll also find Apple Network Configuration, NFS Support enable or disable, FTP configurations, iTunes configurations, Media Manger and finally your download tasks.
The Network section is the heart of the N3200Pro, here you'll take charge of everything related to your network and the services you want to run. DDNS is of course so you can access the N3200Pro while you are away from home, but it does require a bit more work than that though, you'll need to configure your router as well to allow outside traffic to access the IP or port of the N3200Pro. You can setup an FTP server with the N3200Pro, this is my favorite way to transfer files, it's not pretty but it's easy and direct, you can set limits, and have anonymous access if you want.
With iTunes being so popular Thecus included an iTunes Server, this allows you to share all music with every iTunes equipped PC on your network.
Next menu is Accounts, here you can access, create, edit and change accounts of your users.
Next menu is 'System', here you'll find things related to the system like the Time, Logs, Config Management, Module Management, Reset to Factory Default, Upgrade Firmware, Change Admin Password, Scheduling, options for Reboot and Shutdown and of course Logoff.
The last menu is short, just one option, change the language.
Conclusion:
The Thecus N3200Pro includes a plethora of features that anyone can appreciate, it is hands-down one of the most useful storage appliances on the market today.
The N3200Pro is also very easy to use and setup, it will allow you to be up and running in a matter of minutes, depending on what configuration you choose of course, building a RAID array can take quite a long time, but for JBOD it only takes a few minutes and you're all set.
There's really nothing wrong with the product, I could say it's expensive coming in at over $300, but really for what it can provide it's well worth the costs.
Pros:
Simple setup
Easy to use
Full of features
Well made
Quiet operation
Cons:
Cost is high
Webcam compatibility is lacking
| | |
| --- | --- |
| Grades: |   |
| Overall | |
| Design | |
| Performance | |