Sometimes you don't need a full sized keyboard especially with an HTPC or other smaller style computers, something wireless and compact will work just fine and it's actually what you would want in that situation. Bluetooth is nice but not everything comes equipped with it so the next choice is regular radio frequency or RF wireless which works just as well if not better sometimes than Bluetooth. Today for review I have the 2.4Ghz wireless keyboard from Rapoo called the E2700 which is from their Blade series. The E2700 is very thin at only 5.6mm and lightweight coming in at about 186 grams but it's a full keyboard with multi-media keys, internet keys and even a touchpad for easy navigation. I like the E2700 quite a bit, it's well made, and it just works great, so read on to learn more…
Unboxing
Let's start off with a video unboxing and then continue on for the regular style unboxing.
The Rapoo E2700 comes in a clear plastic box with a portion of the keyboard and the touchpad showing. The back has specs and features listed but not much in English.
Inside the box you'll only find the keyboard, user guide and the tiny 'nano' USB receiver.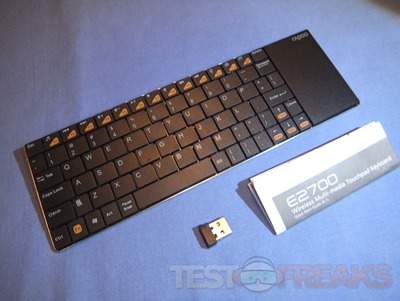 The keys are flat and they use scissor switches like those found in many laptop and netbooks. Across the top you'll find multi-media keys and internet browsing keys and function keys in orange. To use the orange keys you press the orange Fn or function key located in the bottom left of the keyboard. The multi-media keys are Music, forward, back, volume up and down, play/pause, stop and mute. The music key will open up whatever you have set as the default media player. The internet or browsing keys are forward and back, refresh, home and email. Home and email keys will open whatever you have the system default set for those programs.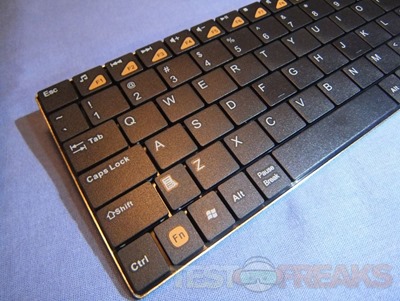 The cursor keys also do double duty with functions enabled by the Fn key for Page Up, Page Down, Home and End.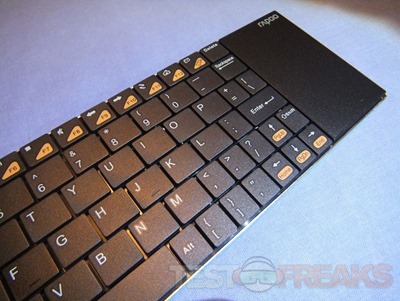 When I turned the E2700 over I was surprised to find a metal bottom, the keyboard is so lightweight that you'd think it was all plastic. The metal bottom makes the keyboard more stiff and solid I think and it just feels better to me.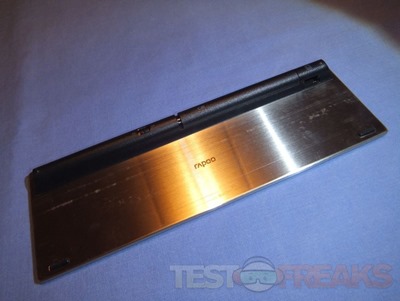 On the bottom you'll find the power switch and the battery compartment, the keyboard uses two AAA batteries.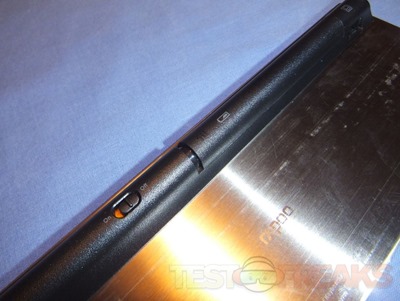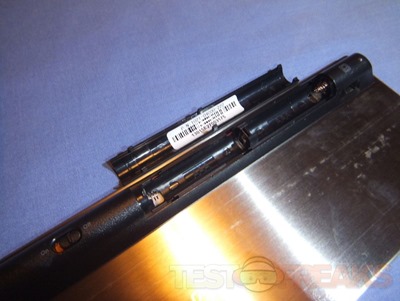 The E2700 uses 2.4Ghz radio frequency for transmission and receiving signals which means you don't need line of sight and this means you should get up to 10 meters or about 33 feet of range. The receiver is a tiny USB dongle that plugs into your computer and can be stored in a slot on the bottom of the keyboard when not in use.
Here's a side view for you, the keyboard is only 5.6mm at it's thinnest point. The top or battery compartment is thicker of course, but most of the keyboard is that thin. The battery compartment makes a nice hand hold and it puts the keyboard up and an angle for typing while sitting on a flat surface.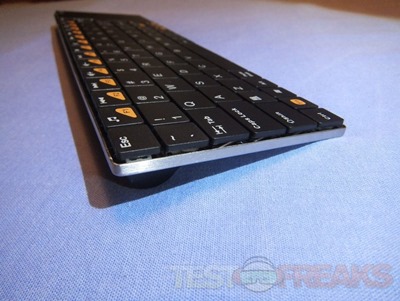 Overall the Rapoo E2700 feels sturdy and very well made
Specifications and Features
Rapoo Blade Series E2700 2.4Ghz Compact Keyboard with Touchpad
E2700
Wireless Multi-media Touchpad Keyboard
• Multi-touch and media control
• 5.6mm ultra-thin
• 10 meter wireless transmission
• Reliable scissor keys for the perfect key strokes
Multi-touch and media control
No extra mouse needed when you have the touchpad keyboard.And with the hotkeys, you can have all control on surfing and music enjoying.
5.6mm ultra-thin
The ultra-slim body is made of brushed metal material and is only 5.6mm thin. The scissor-key technology ensures perfect and accurate keystrokes.
10 meter wireless transmission
Reliable 2.4G wireless connection up to 10 meters.
Reliable scissor keys for the perfect key strokes
The accurate scissor-key mechanical structure distributes pressure on the keys evenly, making every keystroke natural, smooth and correct.
Weight: 186 grams
Dimensions: 10 x 0.5 x 3.2 inches
Range: 33-feet
Price: $50.22 (from Amazon at time of review)
Testing and Usage
I've been using an Enermax wireless keyboard with my Giada A51 mini PC with Windows 7 64 bit installed and it works but the keyboard is big, close to full size, and I wanted something smaller and the Rapoo E2700 works nicely. I should mention the Giada is hooked to my 47" HDTV as sort of an HTPC or home theater computer for streaming and things. The A51 does come with a remote but you can't do everything with it and the E2700 let's me control the mouse and type as I need to, it's much more useful than just the remote.
I also used the E2700 with my main computer also running Windows 7 64 bit, and the keyboard installed with no problems on either computer.
According to Rapoo the keyboard works with Windows 8 as well, but I uninstalled Win8 and went back to Win7 so I'll just take their word for it.
The touchpad acts as your mouse with one finger tap for grab and one finger double tap for left click or double click on the mouse and two finger tap for right click.
The multi-media and internet controls worked just fine.
You do have to remember this is a very small keyboard so you're not going to be speed typing on it. It's about the size of a keyboard you might find on a netbook really, so it's small. The E2700 uses scissor keys which are like those on most laptops and these are rather stiff, or the springs are tight and they do require some initial force when first pressing down. Having stiff keys is both good and bad, you do have to press slightly harder but then again it won't register if you accidentally brush up against a key.
Out of curiosity I plugged the receiver into my PS3 and it worked perfectly. I could even use the touchpad to navigate the home screen. I didn't think the touchpad would work on the PS3 honestly but it did.
I didn't test it but I've read from other reviews that the E2700 will work with Android based PCs like the little stick ones or the set top styles that are out, so that's a bonus there.
The E2700 uses regular AAA batteries which were not included but I believe they were supposed to be as on Amazon it says it uses 2xAAA batteries that are pre-installed, so I'm not sure what happened there.
I guess regular batteries are fine, but I don't see why they didn't go with a rechargeable battery built-in. I've seen other portable compact keyboards that charge via USB, even Rapoo has them so I'm not sure why they chose regular batteries for the E2700.
I'm not sure about battery life as it's listed nowhere in the specifications as to how long the batteries should last, but I would think they should last a while, but still it would nice to know an approximation from Rapoo.
The E2700 does not have any sort of indicator LEDs on it which I find odd as everything these days has some sort of LED on it. I would like at least one LED on the front to indicate power so you know it's on or so you know you left it on and you need to turn it off to save the battery. It doesn't need the LED but it would be nice I think so you know it's powered on. The switch is colored coded when you slide it on a green color appears and then when you slide it off a red or orange color appears, but that's on the bottom.
Conclusion
The Rapoo E2700 is a versatile little keyboard and it's close to perfect really, with some tiny details I might change about it.
The E2700 can be used with many products, but I think it would be it would be the perfect fit for an HTPC setup as it's small but yet it has multi-media controls, full keyboard and even a touchpad for navigation. It's a great little all-in-one gadget for the HTPC owner.
Supposedly batteries are included, but I didn't get any with mine, not sure what happened there, but you can expect to get batteries with yours if you order one.
It would be nice if the E2700 had some sort of power indicator on it like an LED but it's not a deal breaker since it doesn't.
The price averages about $50 most places and I think the E2700 is well worth it. The keyboard is very well made and simple to use.
As a bonus it will work with your PS3, just plug it in and it works, touchpad and all.
If you're in the market for a small keyboard that can do everything you need it to, then the Rapoo E2700 is what you want.
I know I'll be using it for sometime to come, in fact I think I need another one for my other computer so I don't have to switch.
Pros:
+Very well made
+Simple to install and use
+Works with PS3
+Integrated mouse/touchpad
+Very thin and lightweight
+Multi-media and internet hotkeys
+10 meter range
Cons:
-Batteries not included?
-No LEDs to indicate power or connection
-Not rechargeable
| | |
| --- | --- |
| Grades: | 9 out of 10 |
| Overall | |
| Design / Aesthetic | |
| Value / Price | |
| Performance / Usage | |
To learn more about our review policy please visit this page HERE.