One of the things will being the mobile society we are these days is batteries and never seeming to have enough power when we need it. I can't count how many times I've looked at my phone and realized it needs charged just when I need to use it. I try and make sure my phone is charged, and really I don't use it that much but yet when I do want or need to use it I find I'm low on power and there's not an outlet to be found for charging it. In my time I've reviewed quite a few external portable batteries but none as big as the one I have today, I don't mean that in physical size but capacity. Back in May I reviewed one that was 10,000mAh and that's fairly large but today I have one that's 14000mAh and can provide power to phones and tablets and it can do it for both at the same time and still have power left over to charge them again a few more times. The product is from RAVpower and it's simply called the Deluxe RP-PB13 14000mAh Power Bank. This battery pack has dual USB ports and there's even a built-in LED flashlight for emergencies and best of all it's small and very portable. Read on to learn more…
Unboxing
The Ravpower battery pack comes in two boxes actually, a clear plastic one over the cardboard one. The front is plain while the back has a bit of info for you to read.
When you open it up you'll find a clear plastic tray holding the battery pack, cloth carrying pouch and the user guide.
Inside of the pouch you'll find the USB cables and adapter tips. The bag is heavy duty cloth with a drawstring on it. I'm not sure about the carrying bag, sure it's great for the accessories and it will fit the battery pack but I wouldn't put it all together. Personally I would have rather have seen a large hard style case maybe with a pocket to hold the cables and tips.
The unit comes with two USB power cables, they are springy style with a USB connection on one end and a female connector on the other for the included tips.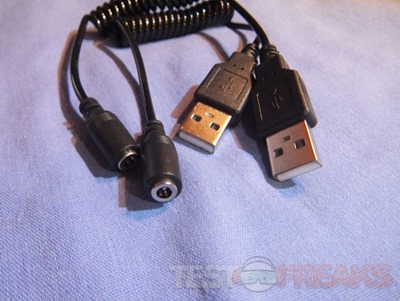 The tips included are miniUSB, microUSB, Apple, Samsung and Nokia.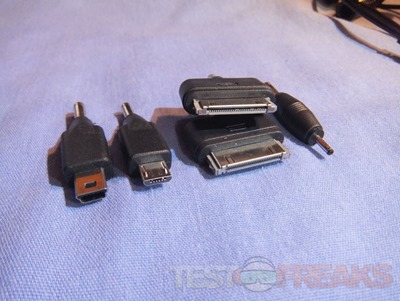 On the front is the Ravpower logo and then towards the bottom you'll see a single button and below that a clear strip which is actually LEDs to indicate power levels. The pack has a 14000mAh battery in it so it's not lightweight but it's not exactly heavy either, just under 10 ounces at 9.98oz according to the user guide. The casing is made from what they call molded aeronautic material and to me it feels like plastic but that's fine as it does help to reduce weight and plastic can be durable and rugged. I think it feels well made and sturdy, I'd be confident just tossing it in my bag and I think it would be just fine in there.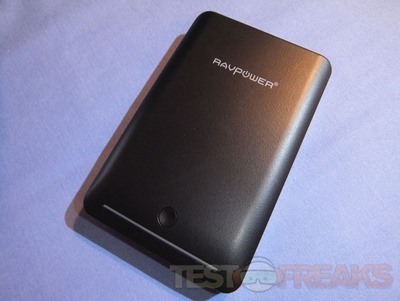 The back is rather plain, just black with basic specs listed. According to the specs inside is a Samsung lithium-ion battery and the unit features short-circuit and over-current protections with auto shutdown.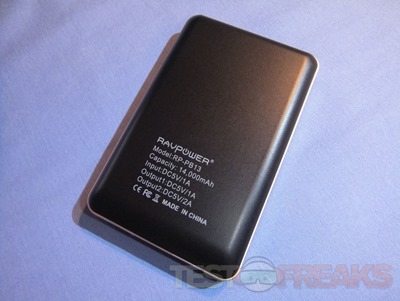 On the front edge you'll find two USB ports, one is 1amp and the other is 2amps, basically one for phones and one for tablets. You'll also find an LED and a microUSB port that it used to charge the Ravpower. Yes you can charge two things at once which can come in handy.