Not long ago I took a look at the Genius Energy Mouse which is a mouse with an external battery inside is charge your other devices and today I have something similar, or at least I think it is. The product for review today is from RAVPower and it's their new Luster RP-PB08 3000mAh external battery pack which is very small and portable making it easy to take with you. On one end of the Luster you'll find the standard USB port for charging but on the other is a very bright flashlight. To me this is a flashlight with a built-in battery pack so you can have light when you need but also have power when you need it as well. I've found it to be very handy and useful and I know it will be getting a lot of use by me, at least the flashlight part will anyway. So read on to learn about a great little product..

Unboxing
The Luster comes in a small box with pictures and specs listed on it which is actually a slip cover over a plain white box.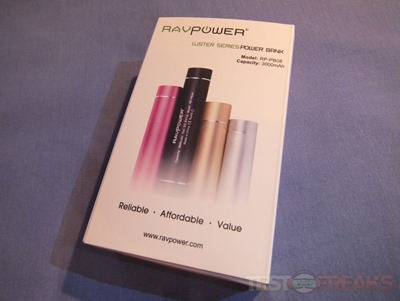 When you open the box you'll be greeted with the user guide and then under that is the Luster itself.j
Once you get everything unpacked you'll find the Luster batter pack, user guide, microUSB cable and a metal spring clip.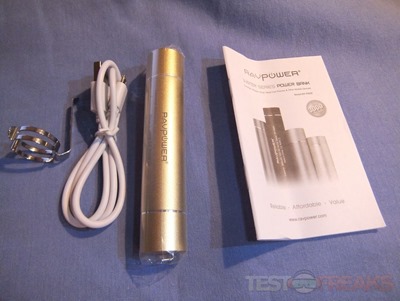 As of now it seems you can get the Luster in Gold or Black, I obviously got the gold for review. It's heavy as there's a battery inside but also the outside casing is metal. Overall it feels well made and sturdy I think. Personally I wouldn't pick the gold color, but whatever. Dimensions are 4.25" x .87" x .87 and it weighs in at 2.93 ounces.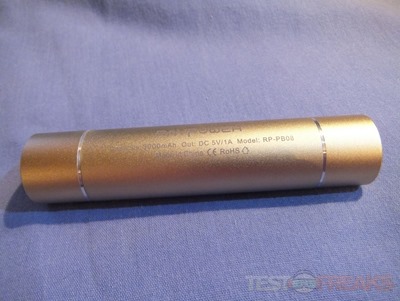 On what I call the bottom you'll find a standard USB port for charging your devices, a microUSB port for charging the Luster and a small button switch for the flashlight. Yes it has a standard USB port on it so there are no special tips of cables needed with it, as long as you have the cable that came with your device you can charge it from the Luster.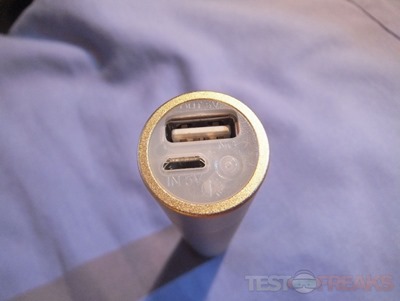 On the front end you'll find the flashlight, it's almost the entire front end. There is a clear cover over the light and it's not some flimsy piece of plastic, it's thick and doesn't bend inward when you push on it.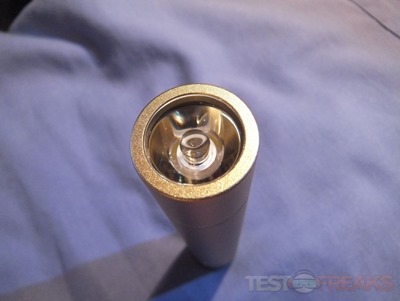 Specifications and Features
RAVPower Luster 3000mAh Compact External Battery Pack Backup Charger
Add 8 hours of talk time or one full charge to your iPhone 4 / 4S / 3G / 3GS; Add 80+ hours of audio playback or a full charge to the battery life of most mobile phone
Duo purpose design: Power bank and a flashlight.
LG Grade A cell and premium microchips ensure high quality.
Input: 5V 1A; Output: USB DC 5V 1A; Input charging time: 4-5 hours via USB or AC adapter (not included)
Ultra Bright Flashlight with High/Low/Strobe Modes
Package includes: Power bank, 1 micro USB to USB charging cable, and manual.
Price: $19.99 (from Amazon at time of review)
Usage and Testing
The first thing you'll need to do is charge it and that's done with the included cable and a standard USB port or really any other microUSB cable you've got handy. For me it took almost four hours to charge fully, time will vary of course depending on battery capacity remaining. There is an LED that lights up red to let you know it's charging and when it's complete the LED will turn blue.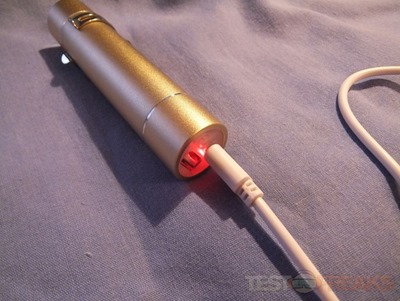 I showed you above that it comes with a clip and just clips onto the Luster. I like the clip but it doesn't permanently attach to the Luster which is something that I wish it would do. I'm thinking maybe drill a tiny hole for a tiny screw to hold it in place and that would work. I found that depending where you clip it on your body it can pop out of the clip and that's not a good thing. You could just put it in your pocket of course but there's a clip to use.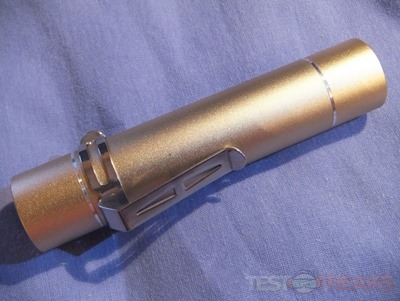 There is no on or off switch for the battery for charging, when you plug it into your device it powers on automatically and starts the charging process. One thing I noticed is that there is no LED to indicate charging on the Luster itself, just on your device. It would be nice if there was an LED to let you know it was actually doing something. There's something else missing as well, and that's a battery level indicator on the Luster. It's not a big deal but the description on Amazon says it has one so I was confused. I have batteries with level indicators and without, yes it's nice to have them, but it's the not the end of the world if it's not there.
So the Luster is like any other battery, charging seems just as fast as with the USB port on my computer so no surprise there at all.
The Luster has built-in security features like over current and short circuit protection and it can detect when your device is charge and will switch to a low power mode.
The flashlight is at least for me, the biggest feature. The light actually has three modes, high, low and strobe or flashing. When you first push the button it's on high, push it again and it's on low and then push it a third time it flashes. I should note the strobe is done with the light in the high mode, so it's a very bright flashing light.
I found the light to be extremely bright for any job, it can easily light up a dark room and cast the light very far. High is just fine for most anything and if you need to you can set it to low power to conserve battery life. Not sure what I'd use the strobe mode for but I guess it's nice to have.
The user guide says you can use the flashlight for 120 hours on a single charge which I think is just excellent. The manual doesn't say though if that's for high or low modes. Either way 120 hours on a single charge is very good in my humble opinion.
I have the Joby GorillaTorch Blade which is a rechargeable flashlight and it's always here at my desk ready to be used, now I have another one that's just as good.
A while ago I reviewed another RAVPower product, a large 14000mAh battery and it too had a light on it, but just a small LED, that was fine but I find the Luster to be much more useful in terms of lighting ability.
Conclusion
The RAVPower Luster RP-PB08 3000mAh battery is one of those things that I find extremely useful and valuable for most any situation.
I can see it being especially good in an emergency as it's a very bright light but it's also a battery to keep your phone charged so you're covered with light and power.
The Luster can be a great just everyday flashlight or as a battery to take with you for the day just in case you need some extra talk time.
So is it a flashlight or is it an external battery? Either or, it doesn't mater I guess as it's both and that's a good thing.
The light has three levels and can last for along time on a single charge, up to 120 hours. The light is extremely bright, it can easily light up a room and cast light very far, a good 20-30 feet I estimate.
Charge time of the Luster is about 4 hours or more, it depends on the remaining battery capacity, and that's pretty  good.
The Luster has standard USB port on it and comes with a microUSB cable for charging it and your devices. The standard USB port means now special cables or tips are needed, as long as you have the cable that came with your device you can charge it with the Luster.
The clip included isn't the best, but it works.
I'd like to have seen a charge indicator at least but sadly there isn't one on the Luster.
I'll be honest, this is probably one of my favorite products I've gotten for review in a while and I can tell you it will most certainly be getting a lot of use from me.
Pros:
+Can use as flashlight for 120 hours
+Small and portable
+Three levels for flashlight
+Very bright
+Standard USB port for charging
+Low priced for what it is
+Well made
Cons:
-No charge indicator
-Clip not the best idea
-No battery level indicators
| | |
| --- | --- |
| Grades: | |
| Overall | |
| Design / Aesthetic | |
| Value / Price | |
| Performance / Usage | |
To learn more about our review policy please visit this page HERE.