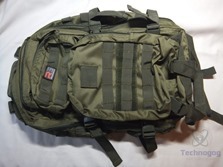 Today for review I've got another backpack which you could possibly use for school, but it would be a bit much, this bag would be great for camping and hiking and other outdoors activities though. The bag is from a company called Recon Gear and like the name suggests it's a military style bag complete with the Molle attachment system. The bag has plenty of pockets and places to attach things to carry them with you, the bag is very well made with double stitching and dual zippers and plenty of padding for comfort. It's just a great bag for outdoor activities. Read on to learn more…
Specifications and Features
Recon Gear Tactical Military Molle Laptop Backpack For Hunting Camping Trekking
RECON GEAR TATCIAL MILITARY MOLLE LAPTOP BACKPACK FOR HUNTING CAMPING TREKKING
PRODUCT PARAMETERS 10W x 19H x 10D in Capacity 30L, Weight 2.25 lb BUILT WITH WATER RESISTANT MATERIAL
MOLLE SYSTEM: MOLLE EXTERNAL EXPANSION SYSTEM DESIGNED TO BE USED IN COMBINATION WITH OTHER EQUIPMENT, YOU CAN LOAD POCKETS, WATER BOTTLES, BAG, ACCESSORY KITS ETC..
BREATHABLE BACK AND SHOULDER STRAPS WITH MULTI CELL BACK AND SHOULDER PADDING
3 MAIN COMPARTMENTS,WITH INTERIOR MESH ENCLOSURES FOR SMALL GEAR IN ALL COMPARTMENTS, SIDE AND TOP CINCHED DOWN GEAR SECURITY STRAPS
SECRET HIDDEN SECURITY POCKET, QUICK ACCESS SUNGLASSES POUCH, VELCRO STRAPS TO ATTACH PATCHES
BackPack features a large main compartment along with additional well placed small storage pouches. It is a highly durable well constructed bag which includes MOLLE system attachment sites at multiple areas around the bag. It is fully customizable for user comfort. Its light weight design allows it to be used for day to day use a day out hiking, shooting, paintball, hunting, and camping.
Attributes:
Multi Cell Ventilated Back Padding
Fully Adjustable Shoulder Straps
3 Main Compartments Small Medium Large Additional
Quick Access Sunglass Pocket
Slim Hidden Laptop/Water Pouch Storage
Inner Pocket Mesh Compartments
Sturdy Grab Handle
MOLE Attachment System on Three Sides
Compression Straps for Sides And Bottom
Rub Liner on Base for Extra Durability
Top Side Rifle port
Water Repellent
Price: $49.99 (from Amazon at time of review)
The Review
Let's start with a video tour of the bag, sort of a review actually and then move on:
The backpack comes packaged in a very nice and thick carrying bag which you could reuse for something else or keep the bag in it when you're not using it.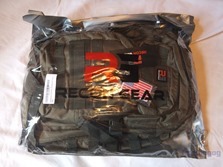 The bag comes with a US Flag patch, velcro patch actually and it's two parts, the flag patch and a backing as well.  The bag is 19x10x10 in dimensions and it has a 30 liter capacity. The bag is supposedly made of water resistant material which I would assume is nylon of some sort. The bag features the Molle attachment system on the front and left and right sides. Molle is an acronym for Modular Lightweight Load-carrying Equipment and it's used for NATO, US and British military backpacks or rucksacks. The material seems durable and everywhere I can see they used double stitching for all the seams and attachments.
This pack can very much expand to holds lots of stuff for your trip or outing, I was very much surprised by just how far this bag expands. It expands to about 14 inches tall from about 3 inches when flat and empty. That's just a rough estimate, when you stuff it with stuff it can expand even more I would think.
The top of the bag has a thick handle for carrying it, and then more buckles and straps to further adjust the bag as needed. Under the handle is a small rectangular patch of velcro that you can open to reveal a hole into the bag which can be used for a tube from a hydration bladder or headphones or whatever else.
All of the pockets are double zippered except for a small one on the front and a hidden one on the back. The zippers seem sturdy, I can't pull them apart with my hands once closed so I would say that you can safely stuff it and not worry about the zippers coming apart and your stuff falling apart. On the right and left side of the bag are compression straps with plastic buckles that can be adjusted as needed.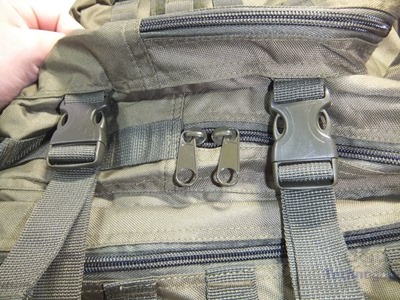 There are two smaller zippered pockets on the front of the bag. The smaller one has a single zipper and it's about 6.5x4x2 inches in dimensions, it's good for phone, sunglasses or other small items for quick access. The pocket below that one has dual zipper and when you open it you'll find four small pockets for pens or pencils etc, and then one behind those which is about 6×6 inches in sizes. There's also a strap with a plastic clip that you can attach your keys to or whatever. The whole pocket is about 9.5x6x2.5 inches in dimensions. The plastic clip is fine I guess, but I would have much rather seen a metal one.
Behind the two front pockets you'll find another larger pocket with two mesh pockets and a larger one behind those. The entire pocket is about 17x8x2.5 inches in dimensions.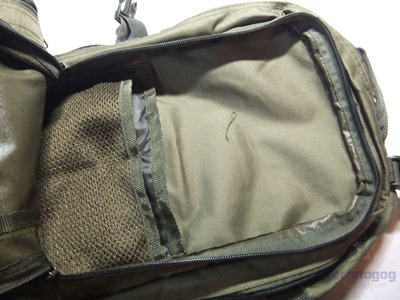 The main compartment is large with two sides, there are dual zippers and you can actually open up the entire bag and half is set flat in half. On the front side is an 8×8.5 inch mesh pocket and then on the back side is a zippered mesh pocket that's about 6×9 inches but it's tapered from the top to the bottom, so it's wider at the top where the zipper is. The main compartment is about 18x10x3.5 inches in dimensions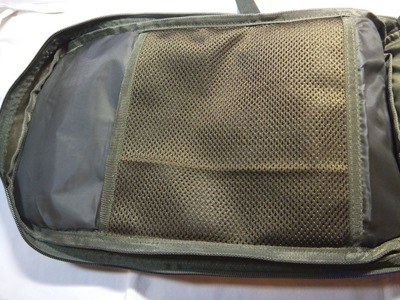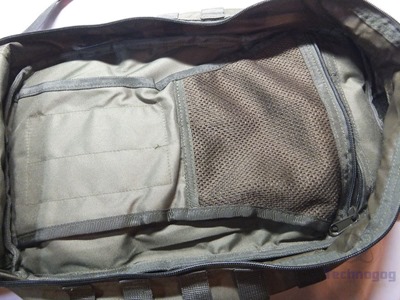 On the back is another sort of hidden pocket with a single zipper that goes from halfway across the top to halfway down the side. The pocket is the entire back of the backpack, so it's as big as the pack itself. They mention you can use this back pockets for a laptop or water bladder but there is no opening I could find for the bladder hose, so I'm not sure how that would work. You would have to put the water bladder in the main pocket as that does have a hole with a velcro cover over it.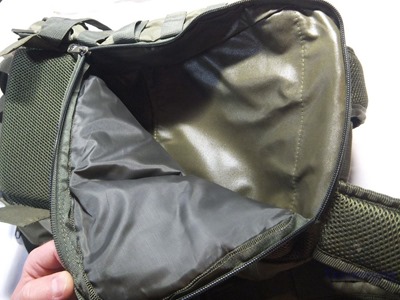 The bag has two thickly padded shoulder strap with mesh for ventilation on the insides and the straps have D-rings and the Molle system attachments on them. The is no waist strap but there are buckles at the bottom of the straps for one. The straps are heavy duty and seem more than capable of carrying the weight of the backpack once full of your stuff.
The back of the pack has six thickly padded cells for back support and comfort, the whole back has the same mesh material for ventilation.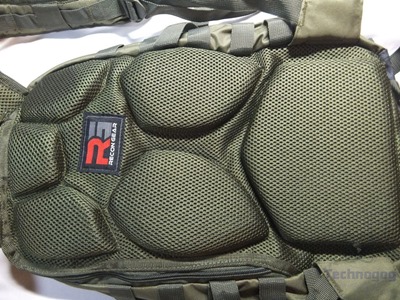 On the bottom of the bag you'll find a leather like pad for durability and there are also two more adjustable straps that could be used for a sleeping bag.
Conclusion
The Recon Gear backpack looks like a military backpack but I should note it's smaller that a regular military one is but it is very well made and should be more than big enough for hunting, camping or hiking I'm sure. This bag would be fine for a day or even weekend trip and it has more than enough pockets for all your stuff. My son is in Boy Scouts and this would be great for him to use I'm sure but there is no inner frame inside of the pack,which may or may not matter to some.
All in all I'm very impressed by the quality of this bag, I'm very happy with it and I can highly recommend it.
Pros:
+Very well made and sturdy bag
+Plenty of pockets for your stuff
+Padded back and straps for comfort
Cons:
-No hole for water bladder hose in back pocket
| | |
| --- | --- |
| Grading | Scores Out of 10 |
| Overall | |
| Design / Aesthetic | |
| Value / Price | |
| Performance / Usage | |
Disclosure: This product was given to me for review by the company for review purposes only for free or at a discounted price.
To learn more about our review policy please visit this page HERE.