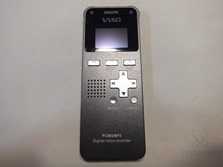 Up for review today I've got a little gadget from Vaso, it's the VM690 digital voice recorder and it's small, well made and it's simple to use. The VM690 can not only record but playback MP3 files, you can take your music with you and record what you need to as well. The VM690 comes with 8gb of storage but it can expand via a microSD slot. It's basic and simple, but it's decent overall. Read on to learn more…

Specifications and Features
VASO VM690 Portable Ultra Thin PCM HQ Digital Voice Recorder Easy to Use LED Screen for Meeting Class Indoor Outdoor, use as USB Flash Drive, MP3 Player,Micro TF SD Card, AUX 3.5mm Line In – 8GB Grey
"Want A Durable, Powerful, Crisp Clear, MINI Size HQ Recorder With Rich Sound So You Can Enjoy your Recording Anywhere? Done Sick of muffled, low quality recording?
Like the idea of having a durable mini size recorder? It's time to get this so you can see what you have been missing.
Highlights:
-HQ Recording: Support PCM Up to 1536Kbp
-High Quality Mic: Built-In Omni-Directional Condenser Stereo Microphone
-Support Plug In Microphone for Professional Use
-Easy to Use with OLED Screen and Front Buttons
-Long Recording Hours: Up to 20 Hours When Fully Charged (HQ 128Kbps)
-Can Be Use As USB Flash Drive and MP3 Player
-Password Lock Function: Prevent Unauthorized Download or Delete
-Super Portable: Slim and Thin Aluminum Alloy Case
-Great Compatibility: MP3, WAV Output Format
-ALC Supported: Automatic Level Control, Automatic Gain Control Range Lossless
-Expandable Micro TF SD Card Slot Support Up to 32GB (Built-In 8GB Memory)
-Auto Recording After Setting the Start Time
-A-B repeat function.
-Voice Active Recording when Surrounding Sound is Loud Enough
-LPCM Compression Recording Technology.
Material:
-Case Material: Aluminum Alloy Case
-Microphone: Built-In Omni-Directional Condenser Stereo Microphone
-Screen: OLED with Resin Glass
Specification:
-Battery Hours: Up to 20 Hours Recording (HQ 128Kbps)
-Case Color: Grey
-Case Dimensions: 3.86×1.54×0.3 Inch / 9.8×3.9×0.75 cm
-Case Thickness: 0.3 inch / 0.75 cm
-Product Weight: 1.59 oz / 45 g
Price: $49.99 (from Amazon at time of review)
The Review
Let's start with a video unboxing and then move on:
The recorder comes in a white box with the Vaso logo on the front. When you open the box you'll be greeted with the user guide and then the recorder wrapped in plastic for protection. Once you get everything unpacked you'll find the recorder, user guide, headphones and a microUSB cable for charging and transferring. I should note the headphones are not very comfortable, they're hard plastic and there is no kind of covering on them, I couldn't get them to stay in my ears without forcibly jamming them in.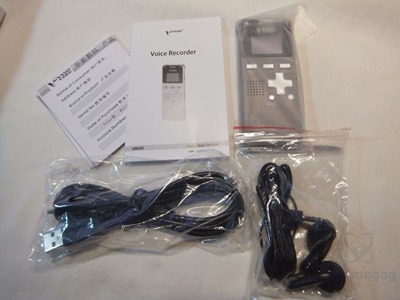 The VM690 is gray in color and it has 8gb storage built-in. The recorder is small and portable, it's about 4×1.5x.3 inches in dimensions and weighs about 1.5 ounces. The recorder does have a small screen and then under that you'll find several buttons for play/pause, stop and record. There's also a navigational pad to move around in the interface and then mode and menu buttons beneath that. To the left of the navigation pad is the built-in speaker. I should also note the play/pause buttons is also the power button. it's very hard to see but there is a tiny LED that lights up red when recording near the top right corner of the display.
On the right side of the VM690 is a mciroSD card slot for expanded storage, a hold slide switch and a microUSB port for charging and transferring.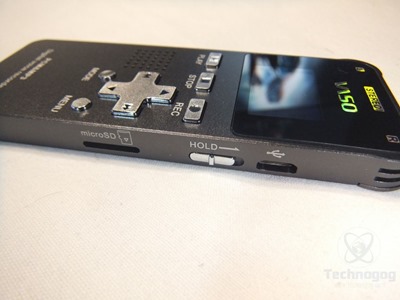 On the top of the recorder you'll find 3.5mm jack for headphones and an external microphone. The VM690 has built-in stereo microphones at the top right and left corners.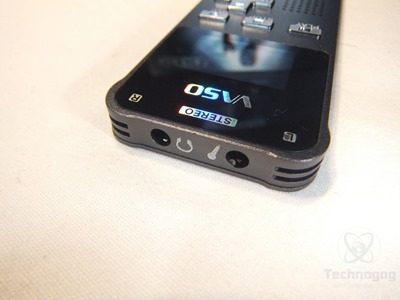 The back is just rather plain, but there is a tiny hole which is the reset button if you ever need to reset the recorder.
The screen is OLED but it's just black and white basically and it looks fine for what it needs to be and do. The main menu just has three options for Recording, Music and Settings. The Setting menu has many choices for Time Settings, Schedule Auto Record, Record Settings, Storage, Power Off Time, Backlight Time, Language, Information, Factory Settings, Password Settings, and Firmware Upgrade.
Conclusion
The Vaso VM690 is a fairly basic voice recorder but that's not a bad thing, it's simple to use and you can even use it as an MP3 player when you're not recording.
Battery life is very good, at up to 20 hours on a full charge. The VM690 has 8gb of storage built-in but you can expand it with a microSD card.
I've owned other voice recorders and I've noticed this one didn't come with much in terms of accessories. Others I've owned and seen come with more accessories, for example an external microphone and a phone tap, but this one doesn't.
The headphones aren't the greatest, but I'm sure people have pairs of headphones they can use instead of these.

Pros:
+Small and portable
+Decent battery life
+MP3 player
+MP3 and Wav formats
+Seems well made
+Simple to use
Cons:
-Headphones not the greatest, uncomfortable
| | |
| --- | --- |
| Grading | Scores Out of 10 |
| Overall | |
| Design / Aesthetic | |
| Value / Price | |
| Performance / Usage | |
Disclosure: This product was given to me for review by the company for review purposes only for free or at a discounted price.
To learn more about our review policy please visit this page HERE.