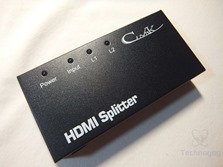 I've got some audio/video products in for review and we'll start off with an HDMI splitter from a company called CiNgK. This little box can take one signal and split it into two so you can take the signal from your cable box for instances and watch it on two TVs, or from your computer and basically do the same thing. The box is small and well made as it is metal, it's very simple to use, plug and play really. Read on to learn more…

Specifications and Features
CiNgK 4K HDMI Splitter 2 Way Signal Amplifier Distributor – Active Compatible With PS3/PS4 Xbox DVD Blu-ray Apple TV Fire TV Roku 4 etc, US Adapter v1.4 Powered Certified for 3D Support
Ultra HD 4K x 2K and Full HD 1080P. This Cingk 1×2 HDMI Splitter(splitter hdmi 2 port hub Powered Amplifier Ver 1.4 Certified Amplifier Repeater)
Easy to Use: Install in seconds, no need of setting
SAVE about 70$ /month of your basic or premium cable if you have more than 1 TV at home
1×2 HD splitter also has the ability of buffering and amplifying to achieve longer transmission distance of HDMI signal. Compatible with HDTV, projector, monitor, cable/satellite receiver, Blu-ray, PS 3/4, Xbox etc.,
This 1 input 2 output HDMI splitter is suitable for dual display application such as data center control, information distribution, conference room presentation, school and corporate training environment.
Specification:
-One HDMI 1.4b input signal split to two HDMI 1.4b sink devices
-Support 3D
-Support 4K*2K resolution/24/30fs/2160P, 24/50/60fs/1080p/1080i/720p/576p/576i/480p/480i
-Support deep color 24bit.30bit, 36bit
-Support Blue-Ray 24/50/60fs/HD-DVD/xvYCC
-Digital audio format, as DTS-HD/Dolby-trueHD/LPCM7.1/DTS/Dolby-AC3 /DSD/HD(HBR)
-Max bandwidth:320MHz
-Max baud rate:10.2Gbps
-Input/Output TMDS signal: 0.5-1.5Volts p-p(TTL)
-Input/Output DDC signal:5Volts p-p (TTL)
-Support signal retiming
-Support input up to 12metres AWG26 HDMI standard cable length, output up to 20metres AWG26 cable length(when the resolution is 4K,input up to 8M,output up to 10M)
-No loss of quality
-Installs in minutes
-Max working current:500mA
-Power adapter format..Input:AC (50HZ, 60HZ) :100V-240V; Output: DC5V/1A
-Need DC5V/1A power supply
Price: $19.99 (from Amazon at time of review)
The Review
The CiNgK HDMI splitter comes in a small brown box with just a label on the bottom of it. Inside of the box you'll find a plastic tray with the splitter itself wrapped in plastic for protection. Once you get everything unpacked you'll find the splitter, power supply and user guide.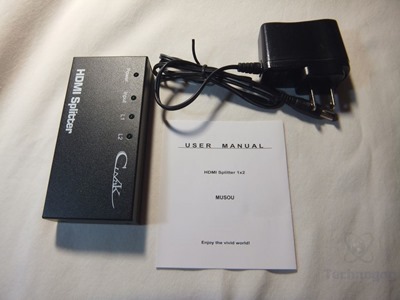 The splitter box itself is small about about 4x2x1 inches in dimensions and it has a metal housing making it durable but the metal helps dissipate any heat as well. On the top of the box is the CiNgK logo along with LEDs for power, input, and the two outputs. The bottom of the box is bare except for some certifications, there are no rubber feet to keep it from sliding around.
On the front side of the box is where you'll find all the connections for power, and the HDMI input and two HDMI outputs.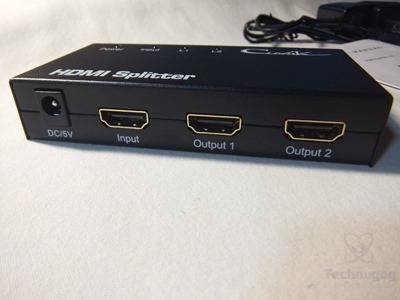 The four LEDs are rather bright. The red LED stays on as long as there's power and the green input and output LEDs come on when they sense a signal. It depends where and when you'll be using this splitter I guess, but the LEDs are bright and if you're using it at night of in the dark they might be disruptive depending where you have the box. A piece of electrical tape though can easily fix the bright LED issue.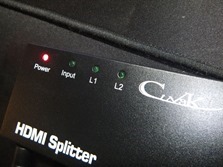 As far as usage the box couldn't be any easier to use, really it's just plug and play. Plug your source into the input and then plug your two monitors or TVs into the outputs and that's it.
Conclusion
The CiNgK 2 Way HDMI splitter couldn't' be any easier to use really, it's just plug and play and that's it.
The housing is metal making it durable and it looks fine so it should fit in with your entertainment center if need be, and it's small enough to be hidden out of site as well.
The box does have four rather bright LEDs on it that might be considered disruptive in a dark setting.

Pros:
+Small size
+Well made metal housing
+Very easy to use
Cons:
-Rather bright LEDs
| | |
| --- | --- |
| Grading | Scores Out of 10 |
| Overall | |
| Design / Aesthetic | |
| Value / Price | |
| Performance / Usage | |
Disclosure: This product was given to me for review by the company for review purposes only for free or at a discounted price.
To learn more about our review policy please visit this page HERE.