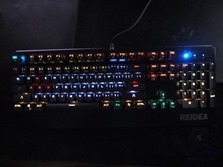 The mechanical keyboard, I've learned that I cannot live without one, I've been using them for years and hate using anything else, I guess I'm spoiled. Up for review today I've got the KM06 mechanical gaming keyboard from a company called Reidea which has plenty of features gamers and non-gamers can appreciate. The keyboard is backlit with LEDs and you can change the colors of each individual key. The key switches are the red style and they are the Otemu brand which aren't bad in my opinion. Read on to learn more…

Specifications and Features
REIDEA KM06 Mechanical Gaming Keyboard with Red Switch and Full RGB Backlit Keys
Introducing the REIDEA KM06
When gaming with the best, every millisecond counts. That's why our KM06 keyboard was designed with speed and durability in mind. We went through every detail and created what we thought would give you, the player, the biggest advantage. And while other players are bottoming out on cheap membrane keyboards, you know better. A mechanical keyboard will win every time.
Red switches with 50g of actuation
These super-responsive key switches feature a light 50g linear press and tactile bump that gives you a distinct activation feel. And while this switch has a satisfying audible click, it won't be loud enough to annoy anyone in the next room. The heart of every keyboard is the switch and these switches won't let you down.
Per key color customization
Every individual key color can be changed to give you almost limitless customization of your keyboard. Or just use one of the pre-programmed backlight effects. The possibilities are endless when it comes to creating a unique look. Set your heals to blue. Set your ults to red. Or find that color combo that shows off your style. Make it your own, one key at a time.
Assign macros to ANY key
We didn't just stop at color customization. We even gave you the ability to assign macros to any key. Our macro key editor makes it easy to execute keystrokes fast.
Splash-safe and easy to clean
Suspended keycaps make it quick and simple to avoid sticky keys. Use the included puller to remove a cap and even change keys out with ease.
Full key rollover
Guarantee accurate gameplay every time with 100% anti-ghosting across all 104 keys. Gaming has never been better.
Price: $69.98 (from Amazon at time of review)
The Review
Let's start with a video unboxing and then move on:
The Reidea KM06 keyboard comes in a black and purple box with the keyboard inside wrapped in thin styrofoam for protection. The box arrived to me slightly damaged but the keyboard inside was perfectly fine thankfully.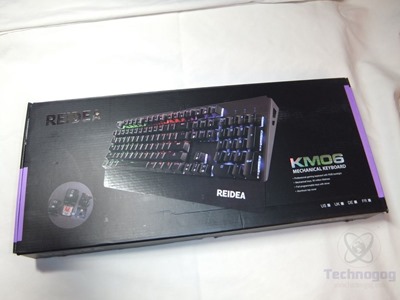 Once you get everything unpacked you'll find the keyboard, user guide, software disc and a small bag which contains a key puller and four replacement key switches. I've reviewed several mechanical keyboards over the years and this is the first one that included extra key switches.
The KM06 keyboard is black in color with the Reidea logo in the bottom corner. The top of the keyboard is metal making it very sturdy and the keys are actually set above the top plate and not inset into the keyboard like most are, I've come to like this style, it's easier to clean and just looks nicer. The keyboard is slightly over 18 inches wide and about 6 3/4 inches from back to front. The KM06 is heavy and it feels very well made and durable like it should last for a long time.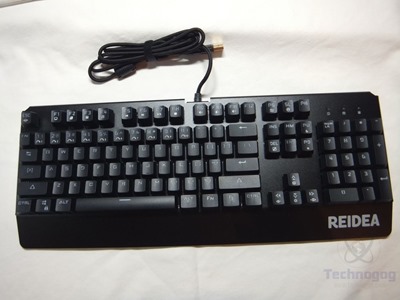 The function keys are labeled with multimedia functions as well as access to music, calculator, browser,and computer. The ESC key can turn the LEDs off and on. The delete key is used for programming the keyboard without the software. The page up and down keys are for 6 key non-conflict and N-key rollover on and off. All of the keys with extra letters and symbols on them are activated by pressing them in conjunction with the Fn or Function key located at the bottom right of the keyboard. The number keys across the top are used to change the pre-programmed modes, except for 0 which is for your own customizations, these are activated with the Fn key as well. The cursor keys enable you to change brightness and speed of the LEDs. The included key puller tool makes it very easy to remove the keycaps to get to the switches below. The keys are red mechanical switches and they are Otemu branded which aren't bad keys overall, I've had good experiences with them. Since they're red keys they're not very loud, they do have an audible click, but not as much, it's more of a subdued or subtle or maybe muffled sounding click as opposed to the sharp click of other styles. The do not take a lot of pressure to activate them and you don't have to bottom them out to activate the keys, so you can touch type fast if that's your style.
The bottom of the KM06 is rather plain except for the ID label and then there are feet there to raise the back of the keyboard up if you wish. The keyboard is USB powered and the cable is braided and rather stiff, it seems durable and rugged.
Both sides of the KM06 have an angled piece coming off of them, it sort of looks like small wings, but they're just decoration but it looks good.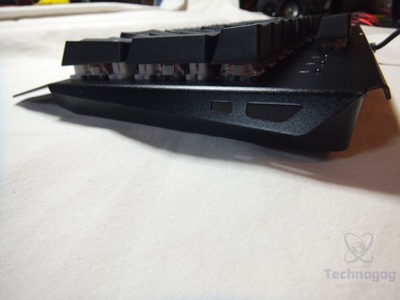 If you really want to get the most out of the KM06 keyboard you'll need to install the included software on the disc. The software is basic yes, but I think that's a good thing as it makes it easier to do what you want to do with it which includes assigning colors to each individual key or even reassigning individual keys with whatever you want or multimedia functions. The software allows you to create your own macros for games and then you can go back and edit them as well.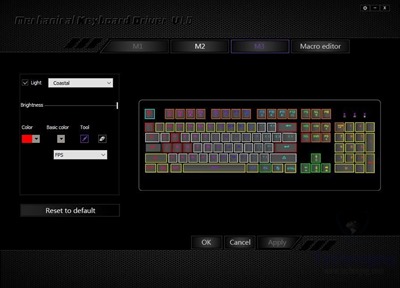 I very much like LED backlit keyboards, there's not really a function to it but it looks really nice and I love the ones like the KM06 that allow you to customize the individual key colors. I do have a problem with the keyboard though as the LEDs are not very bright at all unless you're in a vary dark room, the picture below was taken with all the lights out and just my monitors on. I have a nice LED desk lamp, the Benq WiT, that I use and if it's on high or full brightness you can't really see the colors at all. My lamp does have an ambient light sensor where the lamp lowers itself, but the point is when the lamp is lower I can see the colors of keys, but they're still rather dim. It's just a personal thing I guess, but I just wish the LEDs were brighter. I should also note that you don't need the software at all to program the individual key colors, you can do it manually via the keyboard and pressing the keys until you find the color you want.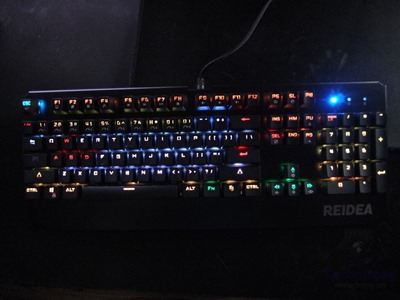 Conclusion
I've been using the KM06 for a little over two weeks now and typing on it is fine, I was using a mechanical keyboard before this so there wasn't much of a learning curve to using the KM06 thankfully.
I used it for my everyday typing and for gaming and found I'm very happy with the keys, but I think I miss the sharp click of my previous keyboard as reds are more subtle sounding, but these aren't very loud overall.
All in all the KM06 is a great keyboard for gamers and non-gamers but I just wish the LEDs were brighter.
The keyboard offers plenty of customization options for games and office work and you can use the software or not.

Pros:
+Very well made
+Inexpensive
+Multimedia keys included
+Basic software included to customize keys and macros
+Comfortable to type on
+Can change individual key colors
Cons:
-LEDs not very bright
| | |
| --- | --- |
| Grading | Scores Out of 10 |
| Overall | |
| Design / Aesthetic | |
| Value / Price | |
| Performance / Usage | |
Disclosure: This product was given to me for review by the company for review purposes only for free or at a discounted price.
To learn more about our review policy please visit this page HERE.