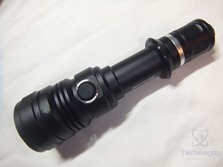 I've got another flashlight for review today from a company called Revtronics and it's a light that I'm very impressed with as it's very rugged and well made and of course it's bright. The light comes with a battery and charger along with a carrying case and even extra rubber o-rings. Read on to learn more…

Specifications and Features
Revtronic LED Tactical Flashlight, Ultra Powerful Tactical Rechargeable Flashlights with Dual Switch and Memory Function Technology, 960 Lumens CREE LED Flashlight, 18650 Battery and Charger Included
Revtronic MT20 Flashlight
The Compact, Super Bright and Easy to Use Tactical Flashlight
From Revtronic, the Leading Outdoor Sports Lighting Manufacturer
– Decades of Industry Experience
– Industry Leading Technology
– Worry-Free Warranty
Dual Switch Technology
The tail-cap switch provides momentary or constant-on functionality, and the head-mounted switch select lighting modes: Turbo / High / Medium / Low / Strobe (Press and hold for 1.5 seconds).
Memory Function Technology
The flashlight will remember the last used mode, next time you turn on the flashlight, it will light up at the last used mode. You do not need to cycling through flashing modes to adjust the brightness.
Bright and Powerful LED
With optimized electronics that provide regulated intensity, CREE technology provides powerful illumination that around 960 lumens brightness and creates an intense beam that pierces darkness.
Built to Last
The innovative Revtronic MT20 flashlight is constructed of machined 6000-series aluminum with a tough anodized finish and non-slip rubber grip. It's IPX-8 water-resistant and 1-meter impact resistance tested.
Worry-Free Warranty
At Revtronic, we believe in our products. That's why we back them all with an 12-month warranty and provide friendly, easy-to-reach support.
Price: $39.95 (from Amazon at time of review)
The Review
Let's start with a video unboxing and then move on:
The MT20 comes in a sturdy brown box with a label on it and inside you'll find two compartments with the flashlight and accessories.
Once you get everything unpacked you'll find the flashlight, charger, battery, user guide, extra rubber o-rings and a carrying case.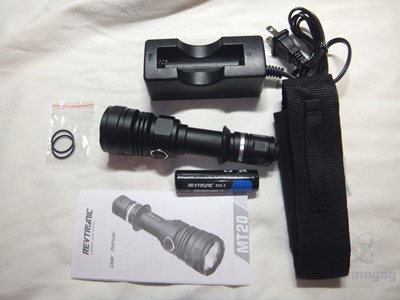 The charger is very nice and well made. The battery is the common 18650 and it's 2600mAh in capacity.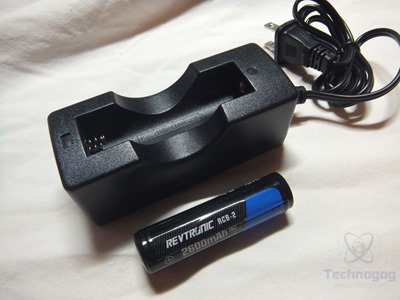 The MT20 flashlight is very nicely made, it's very sturdy made of aluminum and it's IPX-8 rated for water resistance, but I think it's waterproof personally which I'll explain shortly when I take it apart. The light also has one meter impact resistance so you can drop it be rough with it and it should be fine for sure. The light is just under six inches long from the front to the power button. The front is about 1.5 inches across or diameter, and the back tail end is just 1 inch across. This light has two buttons on it which is a configuration that I very much like. The tail button is just for power, on and off is all it does. Behind or below the front at about the middle of the light you'll find another rubberized button which is used to change the modes of the light, there is Turbo, High, Medium, and Low which you cycle through just by clicking the button and the MT20 does have a memory so it remembers what mode you were last in when you turned it off. The MT20 also has a strobe function but you have to hold the button in for 1.5 seconds to activate it which I like as you can't accidentally activate it. In the middle section of the MT20 is rather thick rubber ring that goes around the shaft to help with grip. The only thing missing is a wrist strap which I'm kind of sad about as I very much like having a wrist strap. There isn't even a place to attach a strap either so I can't even add one if I wanted to.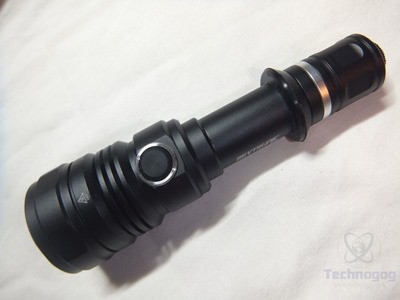 On the tail you'll find the power button, it's rubberized and it's fairly large making it easy to find in the dark just by touch or feel alone. The tail section screws of to reveal the battery compartment but you'll also find a rubber o-ring inside to keep the elements out.
The front section, where the LED is, can be removed by twisting it and inside you'll find the Cree LED and reflector. I wanted to note here that the lens is glass, but more importantly you'll find two rubber o-rings inside of the front section. One of the o-rings is in front of the glass lens inside of the cap, and the other is below the threads, so there are three rubber o-rings in total making the MT20 sealed very well I think. This is the first flashlight I've found that had three o-rings in it. I'm impressed.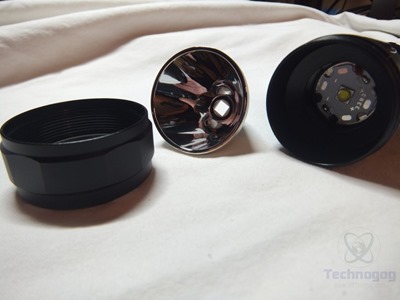 The included carrying case or sheath is made of nylon and has a belt loop on the back and velcro on the front to secure the light inside. The carrying case is nice, but I still would have liked a wrist strap as well.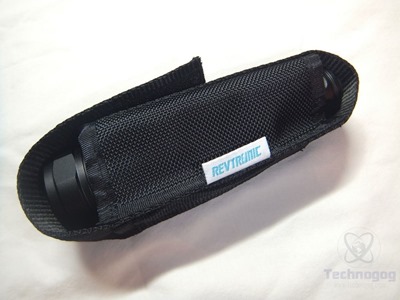 The specs claim the light is 960 lumens at maximum which I have to say is very close as I have a 1000 lumen light and this one is very close if not the same.
Throw distance is decent, I can easily light up the length of my yard and up in to the trees and hillside.
I've been using this light every night for the last two weeks and I've still not had to charge the battery, so I would have to say battery life is decent.
Conclusion
I'm very much impressed with the Revtronics MT20 LED flashlight, it's very bright and just very well made overall.
The light is very bright and easy to use as it has two buttons, one for power and one for mode.
The only issue I have is that there is no wrist strap, but it's not that big of an issue I guess.
I can easily recommend this light to anyone who needs a reliable and sturdy flashlight.
Pros:
+Very well made light
+Rugged and sturdy
+Bright
Cons:
-No wrist strap or place to attach one
| | |
| --- | --- |
| Grading | Scores Out of 10 |
| Overall | |
| Design / Aesthetic | |
| Value / Price | |
| Performance / Usage | |
Disclosure: This product was given to me for review by the company for review purposes only for free or at a discounted price.
To learn more about our review policy please visit this page HERE.