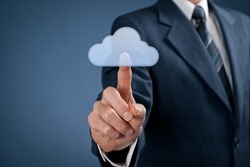 In recent years we've heard a lot about the benefits of cloud computing. In layman's terms, cloud computing is nothing more than regular computing that can run online instead of relying on a physical server. This, however, can be immensely beneficial to companies that are looking to increase their efficiency, with the following five benefits being especially attractive:
1. Protection from disasters
No matter the size and power of your company, disaster can strike at any point. From theft to hardware failure to malicious hacking attacks, there are plenty of things that can do considerable damage to your infrastructure and cause you to lose valuable assets as a result. However, if your assets are backed up in the Cloud, you can rest easier knowing that everything is under control. The best sync software companies ensure that your enterprise never misses a beat even in case of major disasters.
2. More flexibility
Businesses need to be able to adapt on the fly if they are to make it in this competitive environment. This makes cloud-based services a great match, as their general level of agility permits things like rapid scalability and fast operating times. That's because a cloud service allows you to send large files fast, overcoming any connectivity problems you may encounter along the way.
3. Increased collaboration
Collaboration is more important than ever when it comes to this increasingly globalized world we're living in. With businesses often operating on several continents and in several time zones, allowing everyone to access the information they need from a single data point is crucial. Cloud-based computing can help all your team members be on the same page at the same time, thus allowing them to work together in a better and more efficient manner.
4. Better document control
Speaking of collaboration, the old system of sending attachments back-and-forth between employees often lead to plenty of errors due to the conflicting systems employed by everyone involved. By moving your business to the Cloud, however, all your files will be centrally-stored in a one-size-fits-all manner. This streamlines your business and makes it easier for your employees to fulfill their tasks in a transparent and orderly fashion.
5. Environmental friendliness
It's important to note that moving your entire enterprise online isn't just a smart choice business-wise, it's also an environmentally-conscious one. By sending everything in the Cloud where you know it will always be secure, you eliminate the need for costly paper-based back-ups as well as the need for any operational servers. This saves energy and helps reduce your company's overall carbon footprint, thus making it a win-win scenario for all parties involved.
That concludes our quick rundown of the main reasons why adopting a cloud-based solution for your business is the right thing to do. Keep in mind that choosing a trustworthy company to help you move your assets into the Cloud is paramount to successfully integrating this technology into your everyday workflow. Everyone, from the smallest businesses to the largest corporations, can stand to benefit from this rapidly emerging technology, which is why you shouldn't hesitate to make the leap as soon as possible.