Gaming is all the rage with the kids these days! Who am I kidding I game as often as I can so I'm in that category as well. I have kids and they're young and I like to game when I'm alone without distractions and that means at night when they're sleeping so I need a decent set of gaming headphones. Today for review Roccat has sent over the Kave 5.1 Surround Sound Gaming headset that obviously features 5.1 surround for a truly immersive gaming and movie experience. Roccat makes some excellent products and if you're looking for new gaming headset you really can't go wrong with these, so read on…

The Kave headset comes in a large display style box with a window on the front showing the headphones themselves.
When you open the box you'll find the headphones and remote attached to the packaging.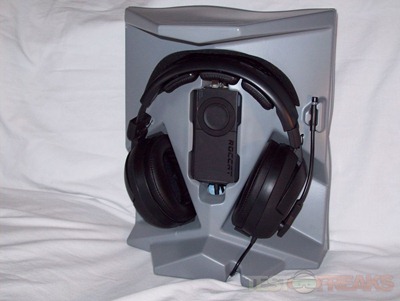 Stuck to the back is where you'll find the user manual and software disc.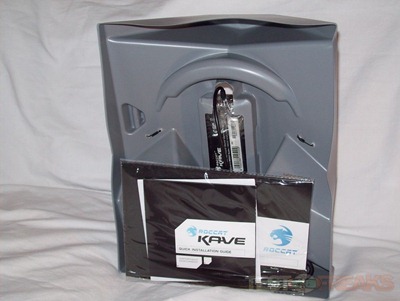 Here's everything unpacked for you to get a better look at things:
Here's the headphones themselves: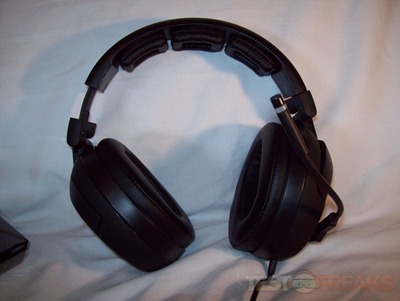 On the top of the band you'll see the Roccat logo.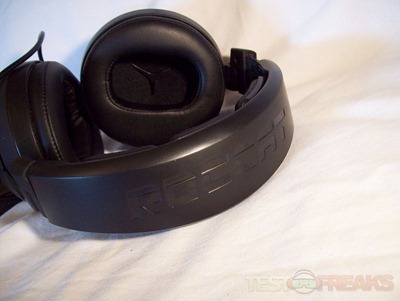 On the underside of the headband you'll find three square pads that would rest against the top of your head.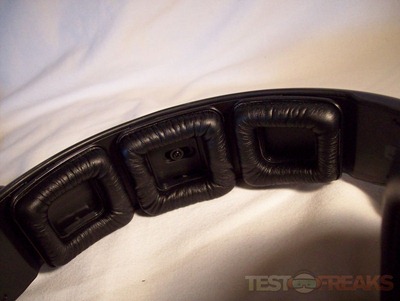 The headband is adjustable on both sides with numbers so you can match the fit to the other side for a more comfortable and even fit.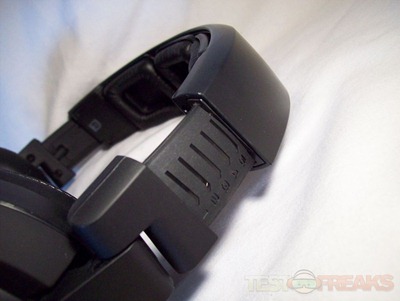 The earcups are very well padded for comfort, nice large thick pads really.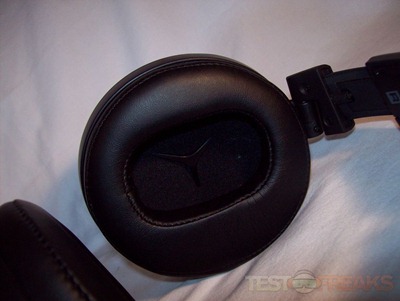 The speakers or earcups have the Roccat Kave logo on both of them and a microphone on the left side.
The microphone is boom style and it can easily be removed if you don't need or want to use it. The microphone is also very flexible so it can be put into any position you need it to be.
Inline is the control panel. There's a large dial on the left side and a button in the center for muting the main volume. There's a door to the right with slider that control Center, Front, Rear and the Subwoofer independently of each other. There's also a small microphone muting button on the bottom edge.
There's nothing on the bottom except an identifying label.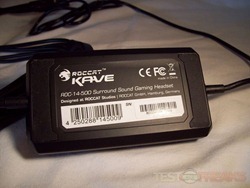 Coming out of the control box is the set of audio cables with separate connectors on it for the corresponding jack on your sound card, there's also a USB connector that's used to power the headphones.
The headphones can be folded for storage or transport.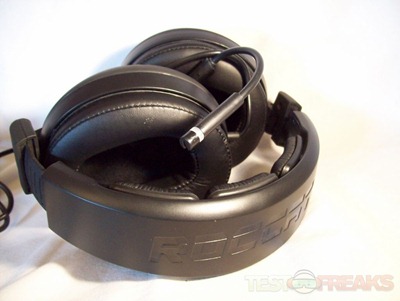 Specifications:

Comfort:
As far as comfort, this is a bit of an issue for me at least. The Kave headphones are padded very well but they're heavy and I found that for long periods of time they seem to be too heavy. The Kave headphones are padded well but that doesn't exactly help after a couple hours of wearing them. Personally I found them to get a bit uncomfortable after a couple hours or so and I could feel the strain on my neck. I wear contacts most of the day but in the evening or later I take them out and put my glasses on so I did wear the Kave headphones with them as well and I found them to be comfortable with glasses.  The padding on the earcups is thick so it is comfortable on the ears even with glasses on.
Sound Quality:
The sound quality is excellent using the Kave headset, of course you need to have a computer equipped with surround sound or you'll need to buy an audio card for your system.
Using them as a regular stereo headset wasn't what I would call exciting or remarkable at all, sound was good but I could get that out of cheaper headset surely. The Roccat Kave shines truly when using for full 5.1 sound, there's huge difference as you'd expect.
-Gaming:
These are 5.1 so the gaming experience is very much enhanced when using the Kave headset especially when it comes to games where you may rely on sounds for positions of enemies or anything else really.  I have a 5.1 speaker setup for my computer and I always find myself listening for sounds to hear what's going on. A regular speaker setup works but when using the Kave it's truly an immersive experience. Explosions vibrate the speakers when you have the volume turned up.
-Movie:
For movie testing I popped in a blu-ray and watched and I have to say it was amazing really. The directional sound was just excellent, I could tell where voices and crashes and explosions were coming from. The bass is excellent, the explosions made the earcups actually vibrate when it was turned up high.
-Music:
Yes these are very good for music but they're not made for it. I do consider myself somewhat of an audiophile and I'm very picky about my headphones when it comes to music. Overall these aren't bad for music, there's good bass and treble but there's just something lacking. I personally wouldn't use these for music unless I really had not other choice. Don't get me wrong, they're not horrible for music, it's just my personal preference here.
Microphone:
I'm not one for online or multiplayer gaming, but I did some test recordings and yes I did some online gaming for testing and the results I got were clear voice quality with no real issues to report.
Conclusion:
The Roccat Kave Gaming Headset is an amazing product when it comes to gaming and movies, using this headset you'll truly be immersed in the experience. The headphones are very well made overall with lots of padding on the headband and the earcups. The microphone is very flexible and it will stay where you put it and it's easily removable if need be. The headset itself can be folded up and transport or storage. The cables are very long which should allow you to get far away from your computer and let you plug it in no matter where your computer is. The audio control pad is very helpful and it's easy to use, it's nice to have the controls for everything right in line and handy.
I found the headphones to be comfortable for the most part, but after a couple hours of use they did start to feel heavy. That's just my personal experience though.
Pros:
+Excellent quality
+Inline controls make use easier
+Very good sound
+Long cables
+Simple to use
Cons:
-Rather heavy
| | |
| --- | --- |
| Grades: |   |
| Overall | |
| Design | |
| Performance | |
To learn more about our review policy please visit this page HERE.