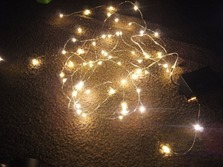 Today I have the last set of micro LEDs from RTGS Products, these are warm white micro LEDs and there are sixty of them on a twenty foot long strand. The LEDs are very bright and they're weather proof but the best thing I think is that they come with a remote control and they're inexpensive. Read on to learn more…

Specifications and Features
Rtgs Micro LED 60 Super Bright Warm White Color Indoor and Outdoor String Lights Battery Operated on 20 Ft Long Silver Color Ultra Thin String Wire with Timer with Remote Control [NEWEST VERSION] + 100% RTGS Products Satisfaction Guarantee
-60 Super Bright Warm White Color LED Lights on 20 Feet Long Ultra Thin Silver Wire with 4 Inches Distance Between LED Bulbs and 20 Inches Clear Cable Between Wire and Battery Box. TOTAL STRING LENGHT OVER 21 FEET !!!
-Lights Have Over 20 Years of Life Span and Use Fraction of Energy Needed by Regular Light Strings. They are also much brighter than Starry Lights or Fairy Lights.
-Newest Indoor and Outdoor Weatherproof Black Battery Box with ON / TIMER / OFF Feature that is Easy to Hide and Requires 6 AA Batteries (Not Included). It Has Locking Clips (NO MORE SCREWS!!!) to Easy Open and Close the Box. Remote Control Operates Like ON / TIMER / OFF Button on the Battery Box.
-Ultra Thin, Bendable but Sturdy Wire with LED Lights is Totally Submersible
NEW FEATURES: [NEWEST VERSION] These 60 Micro LED Battery Operated String Lights are perfect for use as a lighting addition to any decorative project. Very thin wire hosts 60 very small LED bulbs that are about size of the rise grain and are intensely bright. With steady 360 degree viewing angle they illuminate in every direction. They are easy to hide, give beautiful true color and use fraction of energy needed by regular light strings. Newly designed battery box (NO MORE SCREWS!!!) with locking clips is water proofed and very easy to hide.
TIMER FEATURE: When used with new batteries they last for over 48 hours on constant "ON" mode and Over 14 Days on "TIMER" mode (6 Hours ON and 18 Hours OFF). Battery Box has 3-MODE OPERATION. TIMER MODE – Press the Button Once to Activate Timer Function at the Time You Want Lights String to Come On Each Day. Your Lights String Will Glow for 6 Hours Then Turn Off Automatically For 18 Hours. It Will Turn On and Turn Off at The Exactly Same Time You Set It For 6 Hours On and 18 Hours Off Again Every Day. CONSTANT ON MODE – Press Button 2 Times to Turn On Constantly. CONSTANT OFF MODE – Press Button 3 Times to Turn Off. REMOTE CONTROL WORKS LIKE ON / TIMER / OFF BUTTON ON THE BATTERY BOX.
Price: $12.95 (from Amazon at time of review)
The Review
We'll start with a quick video unboxing and then move on:
The packaging for the RTGS micro LED lights is just a clear plastic box but it works to protect them just fine.
Once unpacked you'll find the battery box with strong of light attached, remote and an insert with some info on it.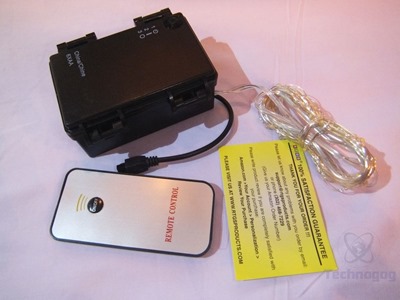 The remote is small enough to fit in the palm of your hand, there's just a single button on it labeled on and off.
The battery box is waterproof and seals closed with two strong flip style clips. Coming out of the side if a short black cord, about four inches, and on the end is the IR receiver for the remote control.
On the top of the power box is the power button with three modes for timer, on and off. The timer mode works six hours on and 18 hours off and can last over 14 days with the timer function used.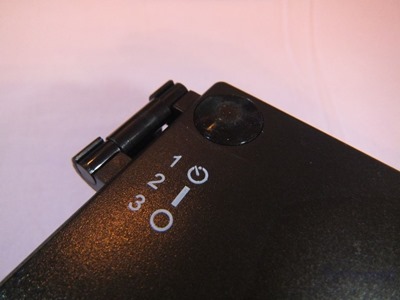 The string of micro LED lights is twenty feet long with four inches between each micro LED and then there is a clear section of wire that measures about twenty inches between the string of micro LEDs and the battery box. The strong of LEDs and the battery box are both waterproof so you can put it all out side and not worry and thanks to the remote you won't even have to go outside to turn them on and off.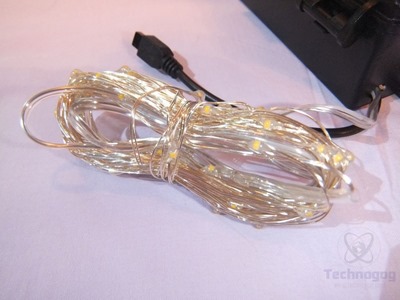 The RTGS lights use six AA batteries but I found that you can use just three and it will power on, the only thing is the battery life will be short with less batteries.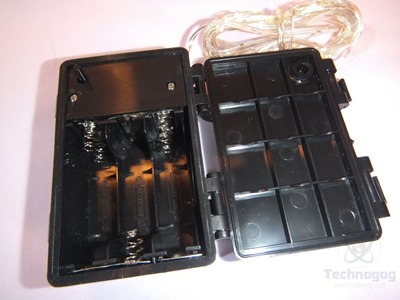 The micro LEDs are a warm white color which means they have a slight yellowish tint to them but they are very bright.
Conclusion
Every RTGS product I've owned or reviewed has been excellent, they're great quality and they work exactly as described.
If you need micro LEDs then go to RTGS as they're inexpensive and they work great.
The added remote is a nice and I love the fact that you can use three batteries instead of six.
Micro LEDs can be used for all sorts of things, it's just up to your imagination really.
Pros:
+Very bright
+Timer built-in
+Decent battery life
+Waterproof
+Remote control
+Can use three batteries instead of six
Cons:
-None really
| | |
| --- | --- |
| Grading | Scores Out of 10 |
| Overall | |
| Design / Aesthetic | |
| Value / Price | |
| Performance / Usage | |
Disclosure: This product was given to us for review by the company for review purposes only, and is not considered by us as payment for the review.
To learn more about our review policy please visit this page HERE.