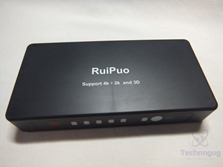 Everything is HDMI these days but my Sony stereo system only has a limited amount of HDMI ports so I've been looking for a switch to add more ports and RuiPuo asked me to review one of theirs and of course I said yes. The HDMI switch has one input and five output ports and it comes with a remote control so you can easily switch between devices. The box can also sense which device is on and switch to it automatically which is convenient. Read on to learn more…
Specifications and Features
The remote is small at about 1.5 by 3.5 inches and it has seven buttons on it. The top two buttons are left and right arrows to just scroll between the ports, below are numbered buttons to directly select the HDMI port.
The box is small and made of metal. The top has the RuiPuo logo on the it and the bottom has holes for ventilation along with rubber feet. The box is 5.25 inches by 2.5 inches and it's about .75 inches tall.
The front of the box has number one through five to indicate the ports and they'll light up when active. The IR sensor is located to the left side and then there's a large round button on the right side which is for power and for switching ports. To turn off the box you need to hold the button in for 3-5 seconds.
On the left side of the box is the output HDMI port and then on the back is the five HDMI input ports along with the power connection.
I've been using the box with my home theater for my gaming systems and cable box and it works perfectly fine. The box can automatically sense which device is on first and you can manually select between devices if you have more than one on at a time which I sometimes do when updating or downloading games on separate systems, switching between them is nice and easy.
Conclusion
I don't have enough HDMI ports on my home theater so this box from RuiPuo is perfect for me.
The HDMI switcher box is well made of metal which also helps to keep it cool.
The box can automatically sense which device is turned on and switch to it or you can use the remote to manually switch which port is active or you can use the button on the box itself to switch between ports.
The RuiPuo HDMI switcher is a great choice, I've been using it everyday for a few weeks now and it works exactly as it should.

Pros:
+Small and easy to hide if need be
+Automatic sensing
+Well made metal box
Cons:
-None that I could find
| | |
| --- | --- |
| Grading | Scores Out of 10 |
| Overall | |
| Design / Aesthetic | |
| Value / Price | |
| Performance / Usage | |
Disclosure: This product was given to me for review by the company for review purposes only for free or at a discounted price.
To learn more about our review policy please visit this page HERE.