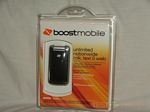 Today I've got another cell phone for review, the Sanyo Mirro which is a pre-paid phone on the Boost Mobile network which is part of Sprint basically. The Mirro is your basic flip phone, but it's well made and I've found that the Boost Mobile network is very reliable and works well, at least for phone calls. The data usage on the network is a bit slow, and the browser doesn't exactly render web pages that great. The phone itself is easy to use, and call quality is excellent along with battery life. Read on to learn more…

We'll start off with the unboxing video:
It comes in a plastic pack, along with the phone you'll find documentation and a charger.
The name of the phone is the Mirro, which is short I would guess for Mirror as the front of the phone is like a mirror: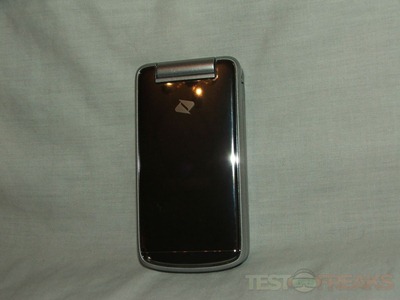 On the back of the phone you'll find the camera, speaker and of course the battery cover.
It's a basic flip phone, inside you'll find the screen and a nice large keypad.
Specifications:
Sanyo Mirro
SCP3810
Price: $79.99
The SCP-3810 delivers an elegant take on simplicity. With the easy-to-read 2.4-inch display, a user-friendly keypad, and a large menu font option, it's never been easier to connect, talk, and text – everywhere you go.
User Friendly:
* Big, bright 2.4" QVGA LCD display
* Large keypad buttons with easy-to-read numbers
* Normal or large font option for menus
* Long battery life (up to 5.8 hours)
* Speaker-independent voice dialing
* Speakerphone with dedicated access key
Megapixel Camera:
* 1.3 Megapixel camera with digital zoom
* Supports PictBridge with optional USB cable
* Sprint Picture Mail capable – allowing quick access to publish pictures to FaceBook, MySpace and Photobucket
* Supports geo-tagging
Classic Style:
* Mirrored finish with external glow through OLED display
* Popular flip design
Excellent Battery Performance:
*Talk Time – up to 5.8 hours
Dimensions & Weight:
*Unit Dimensions (H x W x D): 3.8" x 2.0" x 0.7"
*Unit Weight: 3.9 oz.

The outside of the phone has an OLED display that shows the time and other messages.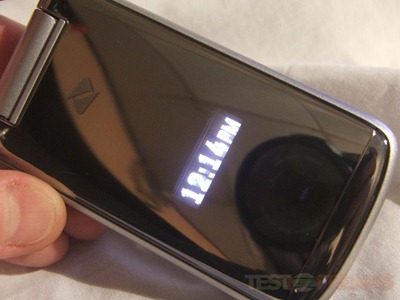 When you open up the phone the keypad actually lights up orange and it's nice and bright: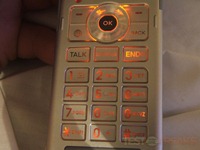 Since it's a basic phone one wouldn't expect the interface to be advanced, and it's not really, but it works well.
Under settings and tools you'll find quite a bit:
There is GPS built-in but it's $9.99 for 30days or $2.99 per day, not of a deal there really is it?!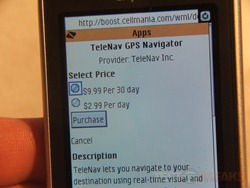 Under MY Stuff you'll find games, ringtones, applications, wallpapers and something called 'Chat Flirt Fun'.
Browsing the web with the Sanyo Mirro is a unique experience, we pages don't exactly render correctly and they're fairly slow to load. I hate using a numeric keypad to type letters honestly, that's why all of my phones have QWERTY keyboards.
I used the Mirro for both local and long distance calls and they were perfect, people said I was clear and could be heard fine. No dropped calls or interference, reception on the Boost Mobile network seems very good.
Bluetooth worked well also, no problems there.
The phone itself works well, it's nicely made, and it's easy to use.
Battery life is excellent, I've only charged it once since I got it over a week ago and it's still going strong.
So let's take a look at the camera, there's not many samples because getting the pictures is rather challenging and time consuming. There is a USB port on the side, the phone dos not come with a USB cable but I grabbed one and tried it, my computer only sees the phone as a modem and not a storage device. I found that the only way to get the pictures is to email them to myself, then click the link in the email, then click retrieve picture and then click download picture. it's then sent as a zip file, yes one picture in a zipped file which you'll have to unzip.  There's just way too many steps involved in getting the pictures from this phone..
Here's a few samples taken outside and indoors in bright light:
Those taken indoors are not good at all really, those outside aren't bad except you can't get close to the subject and they're very bright.
Conclusion:
This review was about not only the Sanyo Mirro phone but about the Boost Mobile network as well.
I've found that the network in my area, Pittsburgh, PA is great, perfect reception and excellent call quality. I really have no issues there, I did mention about the web browsing being slow, part of that is their network and part of that is the phone itself as the browser just didn't seems to work correctly for me when it rendered web pages.
The Sanyo Mirro is a nice little phone that works well at making phone calls and doing what phones do. I wouldn't use this phone for web browsing or taking pictures indoors though, or even for taking any pictures as they can be difficult to retrieve.
Pros:
+Very good call quality
+Excellent reception
+Simple, easy to use phone
+Nicely made phone
+Great battery life
Cons:
-Poor picture quality
-Must email pictures to get them
-Rather slow browsing
| | |
| --- | --- |
| Grades: | |
| Overall | |
| Design | |
| Performance | |
To learn more about our review policy please visit this page HERE.