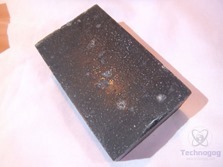 Black charcoal soap kind of defies logic when it comes to getting clean doesn't it? When you think of clean you don't think charcoal that's for sure. Today for review I've got something a bit different, one for the home and bath, it's Sapo Bamboo Charcoal Soap and it's an artisanal and all natural soap that's handmade. From what I've read bamboo charcoal has been used for a long time for getting clean, hundreds of years in fact, I didn't know this, but it's supposedly very beneficial to you and your skin. The bamboo charcoal is an all natural acne cure as it's more absorbent and thus gives your skin a better deep cleaning than traditional soaps. The soap also eliminates bacteria and it can absorb toxins and impurities from you skin and it's a natural exfoliator. I've been using it daily and I love it, it's got a great scent and you really do feel cleaner after your shower. Read on to learn more..
Specifications and Features
SAPO Bamboo Charcoal Bar Soap – All Natural USA Handmade & Certified Organic – Helps with Acne, Psoriasis, Eczema – Gentler Than African Black, Dead Sea, Castile Soaps – Honest Ingredients: Coconut Oil, Oatmeal, Shea Butter
100% ALL NATURAL – Have Peace of Mind with USDA Certified Organic Ingredients Handmade Right Here in USA.
GENTLE & MOISTURIZING – Leave Your Skin (Face & Body) Feeling Fresh, Clean, Soft, Supple, and Moisturized. Lathers Well and Washes Away With No Residue. Great For People With Sensitive Skin.
HELPS WITH SKIN CONDITIONS – Acne, Breakouts, Psoriasis, Eczema (Due to Ingredients Such as Oatmeal Powder, Sea Salt, Bamboo Charcoal, and Shea Butter)
ACTIVATED BAMBOO CHARCOAL – This Special Ingredient Gently Exfoliates and Detoxifies. It Gets Rid of Dirt, Debris, Impurities, and Dead Skin. Bamboo Charcoal Has Been Used In Asia for Thousands of Years to Make Soap.
SATISFACTION GUARANTEE – One Year No Questions Asked Money-Back Guarantee.
**Helps with Acne, Psoriasis, Eczema
Everyone's skin is unique, and you should consult your doctor if you have serious skin conditions. However, many of our customers have reported SAPO Bamboo Charcoal Soap helps with their acne, psoriasis, or eczema.
**Handmade in USA + USDA Certified Organic
Have peace of mind knowing that all of our ingredients are USDA Certified Organic, and made right here in the United States.
**Honest Ingredients (that you can actually read and understand)
Activated Bamboo Charcoal, Olive Oil, Coconut Oil, Palm Oil, Sunflower Oil, Safflower Oil, Shea Butter, Sea Salt, Oatmeal Powder, Grapefruit Essential Oil.
**100% Satisfaction Guarantee
We're so confident you're going to love the product that we offer a 1-YEAR no question asked money-back guarantee.
**Limited Quantity
There is limited quantity because every single bar of soap is handmade by an artisan. Get your SAPO Bamboo Charcoal Soap before we're out of stock
Price: $10.99 (from Amazon at time of review)
The Review
Let's start with a quick video for you, it's soap, so it's a real quick video but it can give you a better idea on what it looks like:
The package for the Sapo bamboo charcoal soap is a just a small brown box with a nice looking label on the front with the ingredients listed there for you which are all natural.
When you take it out of the box the first thing that strikes you is the look of it, it's rough, it's course and it's black in color. It does have an scent of grapefruit that is immediately noticeable. The soap is made from only a few ingredients: activate bamboo charcoal, olive oil, coconut oil, palm oil, sunflower oil, safflower oil, shea butter, sea salt, oatmeal powder and grapefruit essential oil. No hard to pronounce chemicals in that list of ingredients at all.

Sapo soap is artisanal or handmade so it's not smooth like commercial soaps. The soap has lots of bumps and bubbles in it, it's not a perfectly formed block. Yes it's a block but what I mean is that it doesn't look like soap you would buy in the store, you can tell it's handmade.
The soap is about 3.5x2x1 inches in dimensions and it's about 4 ounces in weight.
We have five people in our household, me, my wife and three kids and we all tried it.
My wife didn't like it, she said she didn't like the smell, my wife is picky though, she only like what she likes and it's hard to get her to try new things at all.
My three kids loved it, they thought it was neat to use black soap to get clean with.
I personally love this soap, I love the scent and I really did feel cleaner after my shower.
The soap does seem to produce more lather than other bar soaps. I normally use Irish Spring soap, and the Sapo soap has much more lather than that does.
It is kind of odd at first when you lather up your rag to see a black tinge to the rag and lather. I was half expecting to see the black charcoal color on my skin honestly.
I was also expecting the soap to be gritty but it's not, the lather is smooth and almost soft really. The lather has a different and softer texture and feel to it than my normal commercially made soap, it's lighter and more fluffy really.
Conclusion
The Sapo Bamboo Charcoal Bar Soap is a great soap in my opinion, I love the scent and I really did feel cleaner after my shower.
The only complaint I might have is that the bar is rather small, it only lasted week, but then again five of use were using it everyday.
All natural and organic is a good thing I think, it had to be better for you than all the chemicals we expose ourselves to.
I can highly recommend the Sapo soap, once you try it you'll love it. I think I need to order some more.
Pros:
+Lots of lather
+Great scent
+Organic
Cons:
-None really
| | |
| --- | --- |
| Grading | Scores Out of 10 |
| Overall | |
| Design / Aesthetic | |
| Value / Price | |
| Performance / Usage | |
Disclosure: This product was given to us for review by the company for review purposes only, and is not considered by us as payment for the review.
To learn more about our review policy please visit this page HERE.