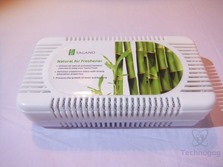 So we're back to the kitchen today, sort of, at least the refrigerator part of the kitchen anyway. Odors in your refrigerator can be annoying as they'll transfer to other food in there and you don't want that. The traditional way of cutting down on odors is a box of baking soda, but that can get messy and it's not the best really. There is a better way to eliminate odors and that's using activated charcoal like what's in the product I have for review today from a company called Sagano. The Activated Charcoal Odor Absorber and Air Purifier by Sagano is a simple product, essentially just a bag of charcoal in a plastic housing. It's inexpensive and it can last up to two years or more if you take care of it, that's much longer than any box of baking soda will last you. Read on to learn more..
Specifications and Features
Best Activated Charcoal Odor Absorber and Air Purifier By Sagano – Effective Refrigerator and Closet Deodorizer – Removes Unwanted Odor – Prevents Mold and Bacteria – Lasts up to Two Years
All natural activated charcoal odor absorber keeps your home fresh! Prevents mold and odors with the strong adsorption qualities of activated charcoal. Great for use as a Refrigerator Deodorizer, Closet Deodorizer, Bathroom Deodorizer, and more. This all natural air purifier can help keep the air in your home fresh and clean and help keep you healthy by improving the quality of the air you breathe. It's all natural so you will be doing good for the environment compared to other materials used for odor absorption like baking soda. Your activated charcoal odor absorber can last for up to two years! If you notice the power of your activated charcoal purifier dwindling, just remove the activated charcoal from the center of the container and place it outside in the sun for a few hours. The natural power of the sun will reinvigorate the activated charcoal to keep it powerful for up to two years!
ELIMINATES ODORS: Utilizes the strong absorption properties of Activated Charcoal to eliminate odors in your refrigerator, closet, bathroom and home. Activated charcoal is an extremely porous material that attracts odor and mold spores to keep your home smelling fresh and mold-free.
KEEPS FOOD FRESH: Activated charcoal effectively filters out mold spores, contaminants, and other toxic substances that spoil food easily. So, your food will stay fresh longer with the Sagano Refrigerator Deodorizer working for you in your home!
ALL NATURAL: Activated Charcoal is an all natural ingredient used for centuries across the world to remove odors and filter air. Activated charcoal is renewable and does not pose any threat to the environment. You can dispose with ease and know you aren't hurting the environment.
LONG LASTING: This activated charcoal odor absorber can be naturally recharged using the power of the sun. Just pull out the activated charcoal packet inside the container and lay out in the sun for a few hours. This naturally restores the power of the activated charcoal so you can use it for up to two years!
BETTER THAN BAKING SODA: Baking soda is a poor alternative to activated charcoal odor absorbers because it spills easily making a mess in your refrigerator, bathroom, closet and home. It also eventually crusts over when in contact with water, losing its absorbing ability pretty easily; hence needs to be replaced more often.
Product Dimensions: 5.2 x 1.5 x 2.8 inches
Price: $7.95 (from Amazon at time of review)
The Review
Let's start with a very quick video of this product and move on from there..
The Sagano purifier just comes with clear plastic over it, not special packaging but it's very lightweight and it's not breakable at all.
When you remove the clear plastic you'll get to the white plastic housing the purifier. The first thing I noticed when I unwrapped it was there was no scent at all really, but that's the way it's supposed to be as it absorbs odors and it's not an air freshener. I don't think I would want something that has an odor in my refrigerator anyway. The plastic housing isn't a hard plastic, it's soft and not easily broken. Dimensions are about 5.2 x 1.5 x 2.8 inches so it should fit fine in the refrigerator and not take up much space.
The two white plastic halves just snap together and can be easily taken apart. Inside you'll find essentially a bag of charcoal, not much to look at, but it works.
The charcoal inside can be reactivated by putting it out in the sun for a few hours. You can use it for up to two years just by putting in the sun every once in a while.
Conclusion
I've been using the Sagano charcoal odor absorber for about two weeks now in my refrigerator and it does seem to work fine at cutting down the odors.
It's small so it doesn't take up any room really, I just have it on the top shelf off to the side and out of the way.
One of the great things is the longevity, it can last up to two years if you take care of it and it's inexpensive as well.
The Sagano air purifier is very simple to use, you just set it and forget it really and it will do it's thing.
I think it's a great product in my opinion, it works, it's inexpensive and it will last a long time.
Pros:
+Inexpensive
+Lasts up to two years or more
+Works as advertised
Cons:
-None really
| | |
| --- | --- |
| Grading | Scores Out of 10 |
| Overall | |
| Design / Aesthetic | |
| Value / Price | |
| Performance / Usage | |
Disclosure: This product was given to us for review by the company for review purposes only, and is not considered by us as payment for the review.
To learn more about our review policy please visit this page HERE.