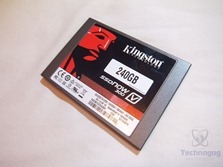 So my wife was complaining, as wifes do, that her computer was slow. I upgraded it to a quad core CPU and doubled the ram but yet it was still too slow for her so I decided to get her an SSD which should be a drastic improvement over the mechanical drive that was in there. I picked up a Kingston V300 240GB SSD for a good price but I was curious as to really how much of a difference it might make going from a mechanical hard drive to the SSD. The difference was as excepted, night and day really, but I thought I would make a quick review out of it and share the results with you. Read on to learn more…
Specifications and Features
Kingston Digital 240GB SSDNow V300 SATA 3 2.5 Solid State Drive (SV300S37A/240G)
Get more life out of your computer and maximize your existing investment by replacing your old hard drive with a Kingston SSDNow V300 solid-state drive. It's the most cost-efficient way to dramatically improve the responsiveness of your system–and it's less disruptive than migrating your data to a new system.
Kingston's SSDNow V300 is:
Faster–improves speed of loading applications and system boot up
Reliable–with no moving parts, solid-state drives are less likely to fail than traditional hard drives
Economical–design is optimized to make migrating to an SSD more affordable
Convenient–all-in-one kits are available with all the components needed for a fast and easy installation
Multiple capacities–up to 240GB, to fit your workload
Silent–runs silent and cool
Dependable and durable
SSDNow V300 features an LSI SandForce controller customized for Kingston and optimized for next-generation Flash memory to deliver the utmost in quality and reliability from two leading SSD brands. Because it's made with solid-state components and has no moving parts, it's shock-proof and withstands drops and bumps.
Read Speed: Up to 450MB/s
Write Speed: Up to 450MB/s
Price: $76.99 (from Amazon at time of review)
The Review

No packaging for the SSD, it was a bare drive purchase, I didn't need anything else though as I know a little a bit about what I'm doing. The SSD is fairly plain looking, but that's fine as all the 'magic' happens on the inside. There's a just a label on the front and then the SATA connectors on the back or bottom.

The Kingston SSD was bought to replace a Western Digital 750gb Caviar Black hard drive, which for its time was rather fast.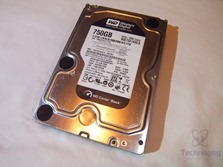 Before I installed the drive I was curious as to how much of a difference there would really be in terms of performance so I ran some tests.
My system I'm testing on is an ASUS 797-A/USB 3.1 motherboard with an Intel Core i7 4790K CPU.
I also have the Kingston HyperX 3K 240gb SSD that I tossed in for some better comparative testing, SSD vs SSD as it were.
The first test I ran was using the benchmark called AS SSD, and as the name suggests it's a test just for SSDs.
According to this test the V300 is rather slow, very slow actually which doesn't seem right to me. Sure it's a bit faster than most mechanical drives but still slow for an SSD. According to the test the HyperX is also slower than rated as well. Not sure what's going on there.
The next test I ran was CrystalDiskMark on all three drives, the HyperX 3K, V300 and the Western Digital 750gb mechanical HDD.
So according to CrystalDiskMark the V300 isn't that much faster than the WD mechanical drive in terms of write speeds, and the V300 is about 85mb/s faster than the WD drive for read speeds. Again got some odd results that I wasn't expecting.
The last test I ran was Atto Disk Benchmark, which is the most common test everyone uses and it's the one that I always turn to for my testing so it's the one that I trust the most, companies use it as well for their testing.
So here's the max speeds that Atto reported:
Write: in MB/s
WD: 102652
HyperX 3K: 523776
V300: 510091
Read: in MB/s
WD: 106946
HyperX 3K: 552841
V300: 527637
In this test the V300 performs as expected, better than expected really as the specs say up to 450mb/s for read and write and both show results over that.
I was more curious as to the odd results so I also ran SiSoft Sandra Physical Disks Benchmark on the SSD drives and got similar results to Atto.
HyperX 3K : Drive Score : 512.4MB/s (with a maximum of 531.62MB/s)
V300 : Drive Score : 513.13MB/s (with a maximum of 523.88MB/s)
Conclusion
I would have to say that the Kingston V300 SSD is a nice upgrade over the Western Digital Caviar Black surely.
The test results I got were odd sure, two say similar things and the other two say something similar as well but totally different from the first two. Who do you believe? Atto is used by most everyone so I would have to trust that I would think.
I can tell the SSD is much faster than the mechanical drive. Once I cloned the drive to the SSD I immediately saw an improvement in boot time and in overall system quickness or responsiveness. Despite what some of the tests say there is a big difference between the mechanical drive and the SSD and you can feel it when you use your computer.
I'd have to say the SSD is good upgrade, but we knew that already anyway didn't we? SSDs are always faster than mechanical drives.
Pros:
+Inexpensive
+Decent performance overall
Cons:
-Odd results from testing
| | |
| --- | --- |
| Grading | Scores Out of 10 |
| Overall | |
| Design / Aesthetic | |
| Value / Price | |
| Performance / Usage | |
Disclosure: This product was given to us for review by the company for review purposes only, and is not considered by us as payment for the review.
To learn more about our review policy please visit this page HERE.