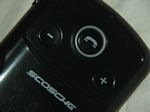 So I'm back with another review for you. After getting hammered with over 21 inches of snow and losing the power for almost 24 hours, I'm still here, and I discovered that someone stole my snow shovel…
Today for review I've got a green accessory for your cell phone to make you life a bit easier maybe. If you're into using a speakerphone while driving then the Scosche solCHAT II might be right up your alley, it's nicely made, loud and easy to use. It even talks to you in a sort of sexy female computer generated voice to guide you through pairing, usage and she can even let you know who's calling by name.

We'll start with the video unboxing and then a bunch of still pictures for you as well:
Specifications:
solCHAT II – Solar Powered Bluetooth Speakerphone
CBHSOL2
Price: $99.99
– Solar powered handsfree speakerphone
– Integrated solar panel continuously re-charges the lithium ion battery
– Includes windshield and visor mounting options
– Voice announce caller ID says the name of up to 1000 contacts
– DSP echo cancellation ensures a crystal clear conversation even in noisy vehicles
– One-touch voice dialing with most Bluetooth cell phones
– Includes windshield and visor mounting cradles
– Includes USB charging cable and car adapter for directly charging the unit

Here's a picture of it installed in my car, it was taken with the Palm Pixi cell phone that I used with it.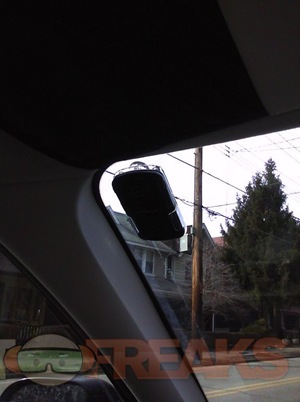 Pairing was easy, the female voice prompts your through everything, and usage is easy as well.
Here's a brief demo video of the pairing process:
that's about it for the pairing.. she's got a British accent I believe..
One thing nice about the solCHAT II is that you won't really have to worry about ever charging the battery as it's solar, so as long as you've got it attached to your window it will charge. Supposedly you can get 12 hours of talk time on a charge, which should be more than enough for most people. Solar charging does take a long time though, but who's in their car for really extended periods of time though?
Call quality is decent, it's loud and clear, I could hear them and they could hear me easily and clearly. Some but not all callers did mention that could hear a slight echo though.
When you get a call, and if the number is in the memory the name will be read, if not the incoming call number will be read to you. If you phone support voice dialing you can dial through the solCHAT II for handsfree operation basically.
You can use it with the included suction cup mount or you can use with the visor clip as well. The problem with the visor clip is that it will not be getting any sun to charge the battery, and I don't see a reason to use the visor clip as it holds very firmly to the windshield.
Conclusion:
The Scosche solCHAT II solar powered bluetooth speakerphone is a unique and useful product overall. The fact that it's solar powered is bonus I think as you won't have to worry about charging it all of the time. The solCHAT II is well made and easy to use, I think if you're someone who uses a speakerphone in the car then you should certainly give this one a serious look.
Pros:
+Small, portable and well made
+Easy to use
+Voice prompts, voice dialing and voice caller id
Cons:
-Solar charging is slow
| | |
| --- | --- |
| Grades: | |
| Overall | |
| Design | |
| Performance | |
This product was given to technogog for review by the company for review purposes only, and is not considered by us as payment for the review, we do not, and never will, accept payment from companies to review their products. To learn more about our review policy please visit this page HERE.