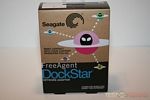 When I first came across the FreeAgent DockStar at last year's Pepcom show I thought it was a unique device with lots of potential. Now after testing it out and playing with it I am even more impressed. This device uses the Pogoplug technology to allow any USB drive to become an Internet connected storage device.
So how does it work and what the heck is Pogoplug? It is a technology from a company called Cloud Engine that created a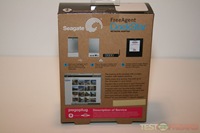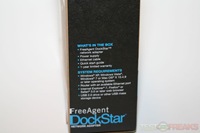 Opening up the package reveals the Dockstar, a LAN cable, AC adapter and a quick start guide. The FreeAgent DockStar is composed of white plastic and looks pretty much like its sibling the FreeAgent Go Dock. While there are no other available colors this still better than the latest incarnation of the PogoPlug line which only comes in pink. Ugh.
In the front is a central area for docking a FreeAgent Go drive with an indicator light that sits below this area. On the back there are two USB ports, an AC connector and an Ethernet port. On one side we see an additional USB port and the reset button. You'll also notice around the periphery of the device are numerous slot vent openings to provide cooling.
Although Seagate lists only Windows XP or higher and OS X 10.4.9 or higher as system requirements, you can also use the FreeAgent DockStar with Linux as it supports these file systems. Since underneath the hood, the FreeAgent DockStar runs Linux naturally it would support that OS. Supported files systems include: NTFS, FAT32, Mac OS Extended Journaled, Mac OS non-Journaled (HFS+), ext2, and ext3.
The Pogoplug has a underground hacking community for its version; unfortunately when trying to log into the FreeAgent DockStar version via ssh you will need to enter the password which is unknown at the moment, so hacking will have to wait.
Specifications:
When you first use the Dockstar you'll need to go to the Seagate activation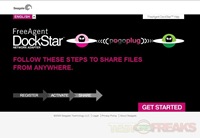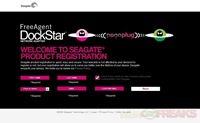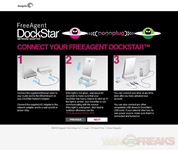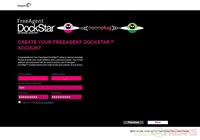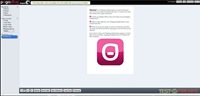 From within the web application you can explore the contents of any attached hard drive, transfer, create shares for other users, play videos and music or look at your photos via a built-in slideshow program. You can explore files via detailed or icons view; for photo viewing there is a photostrip type interface also.
There are numerous ways to browse the contents of the Dockstar attached drive(s). Besides this web application you can also interact with your storage using a free Seagate iPhone app or by downloading the desktop program from the Pogoplug website. This program allows any connected drive to appear on the Mac or Windows machine as a drive in OS X's Finder or Windows Explorer making the network drive look and feel like it is directly attached to that particular machine.
From the Account Settings screen the user can change General, Payment, Media and Social Settings.
You can also create Windows Workgroup share by heading to the Settings section on the web interface and going to the WFS (Windows File Sharing) section. Here you can rename the Workgroup of the device and check the sharing option to turn it on. Just be aware that this share is not password protected so if you leave it with Read/Write privileges you can have anyone on your network access it and make changes on the connected drives.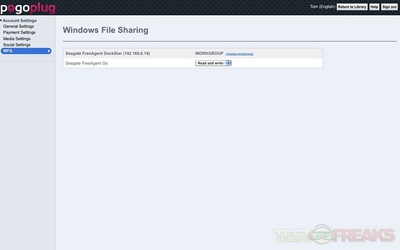 Besides acting as an Internet-based file server, the Dockstar is capable of transcoding video, stream audio and video as well as view photos remotely. For instance one can use the iPhone app to stream music while on their 3G networks.
Sharing files involves selecting a folder to share and then emailing the person you wish to provide access to. You can allow read only or read/write access to this person. Not to be left out of the social networking party, Seagate implemented Facebook, Twitter and MySpace sharing. This is done through the settings menu and once enabled shared folders will appear on your profile page and will change with update to the folder; a really simple way of posting photos for family and friends.
The beauty of the FreeAgent DockStar is the ability to have unlimited cloud storage. As opposed to online services such as DropBox and MobileMe, which becomes cost prohibitive, as you require more storage capacity. For example if you run out of room on your attached Seagate FreeAgent Go drive then you could easily add an external USB hard drive with additional capacity to the FreeAgent DockStar.
My main issue with the FreeAgent DockStar is that Seagate charges a $30 yearly subscription fee after the first year of use. This model differs from the Pogo plug version where they include the service for the lifetime of the product. Other packaging there is a Pogo plugged sticker describing the service with the final line stating a "additional fees may be required after initial subscription period." Hopefully Seagate will eliminate this fee if they get enough complaints.
Now if you are looking for a lightning quick NAS experience than the Seagate FreeAgent DockStar may disappoint as it certainly is slower than a dedicated NAS box such as the Synology DS209II+. When transferring a 1.5 GB file over my home network, the Dockstar was running around 4 MB/s while the Synology went to around 11 MB/s. The overall speed and functionality of the Dockstar is fine for everyday use, but definitely slower than dedicated NAS boxes.
Conclusion:
The FreeAgent DockStar is the perfect solution for those not wanting to deal with online storage sites or the hassle of setting up a a dedicated NAS box. Transfer speeds are definitely slower than other networking solutions, but this is a trade off for ease of use. The Pogoplug function makes using the FreeAgent DockStar idiot proof as the system can be easily managed via the web application or directly on one's home computer.
For the person wanting to set up their first NAS device, the DockStar is a great entry device. If you have an external USB hard drive or two on hand then the Dockstar is inexpensive NAS solution. It is simple to setup and use and lets you share files with friends and family just by clicking a button.
Its advantage over other cloud storage solutions is the ability to expand your overall storage as you go. Theortetically you could have four two terabyte external drives, let's see MobileMe or Dropbox provide that! This subscription fee is one of the main differences between the Pogo plugged branded version and a Seagate one. Pogoplug owners have remote access for free for the lifetime of the device. I don't know if Seagate implemented the subscription fee for additional revenue or it was mandated by Cloud Engines for licensing the technology and to keep the docs are from cannibalizing the market for their device. So keep this cost in mind when deciding whether to get the Seagate FreeAgent DockStar.
Pros:
+Simple setup
+Expandable storage (up to four USB drives)
+Affordable
+Easy to use
Cons:
-Requires yearly subscription for Pogoplug service after first year
-No printer support
| | |
| --- | --- |
| Grades: |   |
| Overall | |
| Design | |
| Performance | |
This product was given to technogog for review by the company for review purposes only, and is not considered by us as payment for the review, we do not, and never will, accept payment from companies to review their products. To learn more about our review policy please visit this page HERE.