Today at technogog we ponder the question — how much RAM is too much? During the days of Windows XP two gigabytes was considered a boatload of memory; as Windows Vista made its way onto the scene, 4 gigs became the standard. With the recent release of Windows 7 more people are adopting 64 bit iterations of the newest Microsoft OS. One advantage of 64 bits systems is the ability to use massive amounts of memory; thus memory manufacturers are starting to take advantage of this capacity by offering larger size memory kits.
Kingston one of the premier names in memory business has released the HyperX 1600MHz 12GB Triple Channel Kit (KHX1600C9D3K6/12G). This set is designed for those using an X58 LGA 1366 motherboard in conjunction with the Core i7 series. The kit is composed of six 2GB sticks of DDR3 memory designed to operate at 1600 MHz.
Another nice feature with this kit involves the ability to run Intel's Extreme Memory Profiles (XMP). If your motherboard can take advantage of XMP then getting your system running at 10-9-9-24 800MHz is as easy as changing a BIOS setting.
The Kingston review kit we received arrived in a plain brown cardboard package with an adhesive label indicating the model number and memory size on the box. Inside the box we find the HyperX 1600MHz 12GB Triple Channel Kit resting in two plain plastic memory protective cases. For the consumer a protective label sticker will cover the cases as seen with previous HyperX Ram models. In general Kingston tends to avoid fancy packaging and prefers to focus on creating quality performance memory.
Now the obvious question is why Kingston didn't just use three 4 GB sticks instead of six 2 GB modules? The answer is economics; the production of 4 GB memory would make a 12 GB set very cost prohibitive. But if you are interested in such a set Kingston does make a 3 x 4GB set. Just be prepared for some sticker shock.
Taking a closer look at an individual module we see the familiar blue and silver HyperX heat spreader. On one side of each memory stick is an information sticker with the Kingston logo that lists the model number, serial number and memory voltage. Since the lines inception, HyperX memory has had a distinctive look with its electric blue and silver heat spreader. So if you have a see through panel on your case you can proudly show off your slick looking RAM.
Kingston designed these as well as other triple channel HyperX modules with low-profile heat spreaders. The reason is DDR3 memory used with X58 motherboards requires lower voltages for safe operation. Intel restricts the memory used on these motherboards from running higher than 1.65 V due to the memory controller being located on the Core i7 CPU itself. Thus higher RAM voltages run the risk of damaging the CPU itself. We certainly don't want that to happen.
With these lower voltages comes decreased heat production meaning large obtrusive heat spreaders are not required. If you are still concerned about the temperature of your memory you can always pick up the Kingston HyperX Fan, which we have reviewed in the past. Another advantage of these low profile modules is that they can easily fit under most CPU heatsinks, even the gargantuan ones.
Specifications:
Kingston HyperX 1600MHz 12GB Triple Channel (KHX1600C9D3K6/12G)
Specifications
-Capacity 6 x 2GB (12GB Total)
-Speed DDR3 1600 (PC3 12800)
-XMP Profile
-Model Number KHX1600C9D3K6
-240-Pin DDR3 SDRAM
-Cas Latency 9
-Voltage 1.65V DRAM 1.4v QPI
-240-Pin DDR3 SDRAM
-Hexa-Channel Kit
For testing the memory we used the following test platform with a fresh installation of Windows 7 Professional (64 bit) running the latest patches and updates.
System:
Motherboard: Asus P6T Deluxe
CPU: Intel Core i7 920
Memory: Kingston KHX16000D3K3/3GX – 3GB
Video Card: MSI n260GTX
Hard Drives: Western Digital 250GB 7200RPM, Samsung 1 TB 7200 RPM
PSU: Ultra X-Finity 1000 Watt Power Supply
Cooler: Noctua NH-U12P SE1366
DVD Burner: ASUS DRW-22B1LT and LG GH22NS30
OS: Windows 7 Professional 64 Bit
Thermal Interface: OCZ Freeze Thermal Extreme Conductivity Compound
Cooler: Noctua NH-U12P SE1366
Case: NZXT Zero2
To put the memory through its paces we tested the Kingston HyperX 1600MHz 12GB Triple Channel kit with the following software:
Cinebench R10, 3DMark06, SiSoftware Sandra 2010 Portable USB Edition and Crystalmark.
As a frame of reference we ran this HyperX kit against Kingston HyperX DDR3 3GB 2GHz Memory Kit KHX16000D3K3/3GX using the XMP Profile #1 running 2000MHz-9-9-9-27-1T @ 1.65V.
So here are some fancy graphs with the results.
First up is Crystal Mark where we looked at the total "Mark" score and the Memory Score.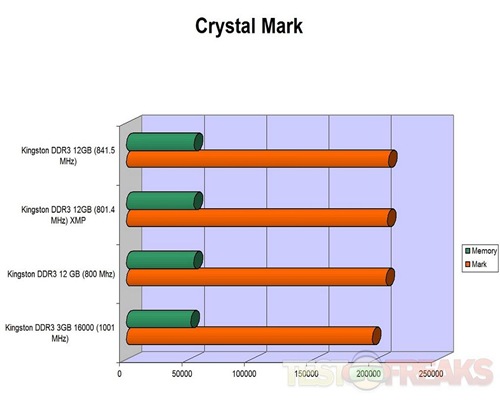 Next we have the Futuremark benchmark well known to most gamers – 3DMark06 Ver. 1.1.0
Here we see how the HyperX matched up with Cinebench R10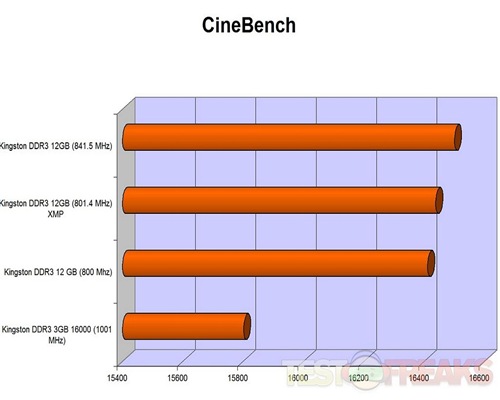 Last but not least is the utility no benchmarker should be without – Sandra 2010
Processor Cache and Memory
Benchmark the processors' caches and memory access (transfer speed).
Results Interpretation:
Cache/Memory Bandwidth (MB/s) – higher results are better, i.e. faster memory bandwidth.
Speed Factor (MB/s) – lower results are better, i.e. less difference between processor cache speed and memory speed.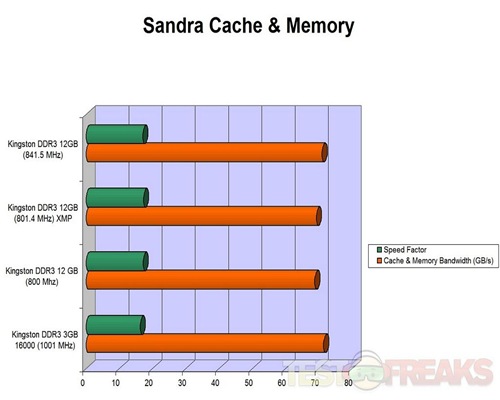 Processor Arithmetic
Benchmarks the ALU and FPU processor units. Shows how your processors handle arithmetic and floating point instructions
Results Interpretation: Higher index values are better.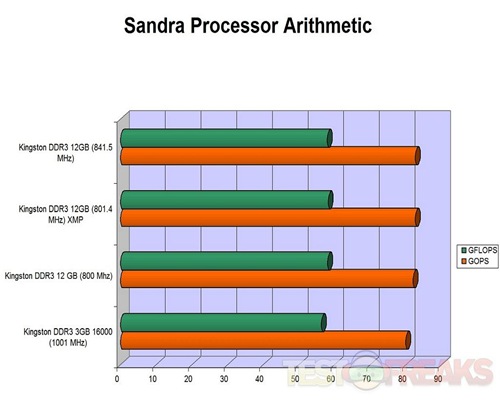 Memory Bandwidth
Benchmark the memory bandwidth of your computer
Results Interpretation : Higher index values are better.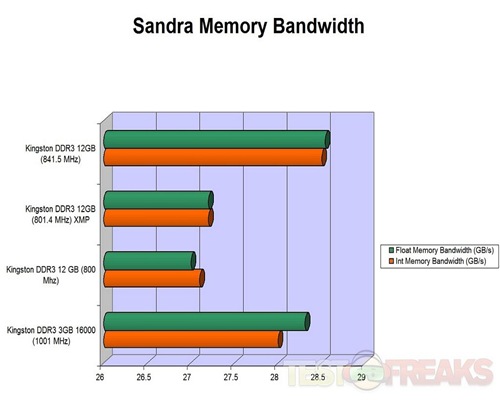 Memory Latency
Benchmark the latency (response time) of processors' caches and memory
Results Interpretation : Lower index values are better.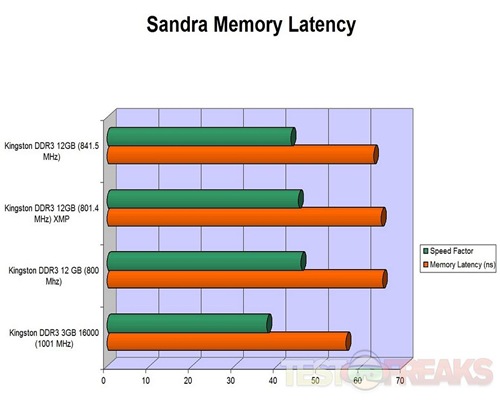 Since this kit is composed of six sticks of memory, we knew going in that overclocking would not yield tremendous gains. Luckily it was rather simple to get a modest overclock from this kit of Hyper X. By increasing the BCLK we achieved respectable gains with very small increases while keeping the 9-9-9-27 2T timings. Let's face it, 12 GB of DDR3 is expensive, so trying to squeeze the last drop of overclock juice out of these sticks is not worth the risk of FUBARing the memory or one's nice Core i7 rig.
We were able get a top overclock of around 1700 using a timing of 9-9-9-27 1T with it passing Memtest and a few rounds of Prime95 without any glitches. Decreasing these timings led to lock ups and crashes.
So what do all these fancy graphs reveal? Well for starters Kingston easily achieves their 1600 MHz rated speed and still have room for some overclocking by increasing the memory ratios and BCLK.
Conclusion:
Kingston is renowned for the quality memory and this kit is just another in the long line of great HyperX memory. While Kingston tends to be more conservative in what their performance memory can handle in respect to overclocking; they still provide sufficient performance for most folks looking to squeeze out some extra oomph from their systems.
Running 12GB of memory on a home system is probably overkill and will be so for a little while longer. If you run a workstation and need stable well designed memory, then look no farther than the HyperX 1600MHz 12GB Triple Channel Kit. If you desire to have the most memory in town and want to overclock the heck out of it too, then you may be better off with a three stick kit; of course this will cost you a pretty penny. Since this kit features six sticks of memory overclocking gains will not be tremendous, so you should keep that in mind if looking for bragging rights.
The Kingston KHX1600C9D3K6/12G package is awesome memory and if you are looking for the most memory for your shiny Core i7 system then this is the one to get.
Pros:
+Low profile heat spreaders
+XMP profiles
+Lifetime Kingston Warranty
+Excellent performance and stability
+Much less expensive than 3 stick kits
Cons:
-Unless running workstation type system, may be overkill
-Overclocking hampered by six sticks of memory
| | |
| --- | --- |
| Grades: | |
| Overall | |
| Design | |
| Performance | |
This product was given to technogog for review by the company for review purposes only, and is not considered by us as payment for the review, we do not, and never will, accept payment from companies to review their products. To learn more about our review policy please visit this page HERE.