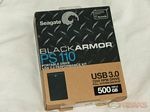 Happy Monday to you all!
Today for review I've got another USB3.0 enabled product, this time it's actually a kit from Seagate. This kit includes the new BlackArmor PS110 500gb 2.5" portable hard drive that is equipped with a 7200RPM drive inside and of course a USB 3.0 interface. The kit also includes a USB3.0 ExpressCard so you can have your laptop or netbook USB3.0 enabled. It's a nice kit overall, it includes everything you need to add USB3.0 to your computer. I reviewed the original BlackArmor PS110 last year and I figured why not compare the two to each other especially since the original BlackArmor only had a 5400RPM hard drive in it.

We'll start off with the unboxing video:
Then the still pictures.
Everything is included in this kit to get you up and running with USB3.0 on your laptop or netbook.
The USB3.0 expresscard or PC adapter as they call it only has one USB3.0 port on it and a connection for power from another USB port. It's small as you might expect, not much really special about it…
The BlackAmor PS110 itself looks exactly like the first generation drive. It's black with the Seagate logo on it, and a blue LED that indicates power.
The main difference is the new mini-USB3.0 interface on the back.
Specifications:
BlackArmor PS 110 Kit 500-GB USB 3.0
The fast and secure portable hard drive with USB 3.0 performance
* Delivers transfer speeds up to 3x faster than USB 2.0 drives
* Includes software that backs up your entire system including OS, programs and settings
* Protects backed up files with AES 256-bit encryption
* Includes everything you need to upgrade your laptop to USB 3.0
Looking for a fast portable drive with plenty of storage?
Then look no further. The Seagate BlackArmor PS 110 portable drive USB 3.0 kit makes quick work of even the biggest files, so you can transfer or back up your videos and other critical files without waiting forever. In fact, you can transfer a 25GB HD movie in just 4.2 minutes, compared to 13.9 minutes with a USB 2.0 drive.
* Transfers files fast thanks to a 7200 RPM BlackArmor PS 110 portable drive and USB 3.0 connectivity
* Lets you carry and transfer your biggest files and back up your PC on the go because of its slim form factor
* Includes a complete USB 3.0 laptop upgrade kit with a PC card adapter and all the cables you need*
* Ensures reverse compatibility with USB 2.0
*Laptop ExpressCard adapter port is required
Securely back up and restore your digital files with ease
The BlackArmor PS 110 USB 3.0 lets you automatically back up your files. And don't worry if you accidently delete or lose a file due to a computer crash, because restoring any file is easy, too.
* Automatically backs up your entire system including files, programs, operating system and settings
* Protects backed up files with AES 256-bit encryption
* Restores your files—even your entire system—to a previous point in time with included SafetyDrill+ recovery software (Bare Metal Restore)
* Features a "Try & Decide" tool that lets you try out new programs and different system settings before making them live—without affecting your system, or endangering your files
Specifications:
Model Number: ST905003BPA1ES-RK
Interface: USB 3.0
Capacity: 500GB
PHYSICAL:
Height: 12.5mm (0.49 in)
Width: 80mm (3.15 in)
Length: 130mm (5.12 in)
Weight (typical): 178g (.39 lb)
Shipping Weight: .36kg (0.794 lb)
PERFORMANCE
Spindle Speed: 7200 RPM

I used the  express card with my OCZ Neutrino Netbook and it worked fine, no issues at all with installation. To get it to work however you must use the USB power cable so you'll lose a USB port when using the card. My netbook only has two USB ports, so I'm not too happy about that personally. There's an LED on the card that lets you know it's ready or it has enough power in case you forget to plug in the power cable, green when ready and red when not.
I reviewed the original BlackArmor PS110 last year, it's a USB2.0 product with a 5400RPM hard drive in it. This new versions is obviously UBS3.0 and it has a 7200RPM drive in it so it should be faster. Aesthetically though they look exactly the same except for the connection on the back. In the picture they might look a different color but they aren't it's just the lighting..
So I'm comparing the first generation to the new one, but this is going to be two review really as I did tests with the netbook using the USB3.0 expresscard and the USB2.0 ports, and then I ran tests on my main Corei5 computer using the USB3.0 PCIE card and the USB2.0 ports. So I've got a lot of test results for you…  For the review the first generation BlackAmor will be called BlackArmor1 and the second generation USB3.0 will be called BlackArmor2 in all of the tests.
I ran tests comparing them on both USB2.0 and USB3.0. I was curious as to how much of a difference there is with the 7200RPM drive as opposed to the 5400RPM drive so I figured why not include those results here for you as well.
The Seagate BlackArmor PS110 does include BlackArmor Backup software, I'm not going into details of it as I've already covered it in several BlackArmor reviews. You can read the original PS110 review HERE if you want to see the screenshots of the software and learn how it works.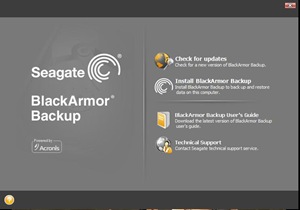 We'll start off with the netbook testing using the USB3.0 ExpressCard and the USB2.0 ports on it.
First we'll start with ATTO DiskBenchmark:
Here's both drives on the USB2.0 interface
The 7200RPM drive is just a little bit faster than the 5400RPM in this test, not quite what I expected.
Here's both drives on the USB3.0 interface:
Obviously the USB3.0 enable BlackArmor drive is much faster now, but if you go back and look at the tests for the original BlackArmor on the USB2.0 interface you'll see that with it on the USB3.0 interface it actually got a little faster.
The next set of tests is using SiSoft Sandra 2010 Portable Edition.
The first test is the File Systems Benchmark:
Benchmark mounted file systems (i.e. volumes)
This is not the raw disk performance that other benchmarks test – but the speed of the volume itself that depends on many more factors like file system, operating system cache, position on disk, etc. Thus this is the performance you get at the file system level.
Drive Index:
Results Interpretation : Higher index values are better.
Random Access Time :
Results Interpretation : Lower index values are better.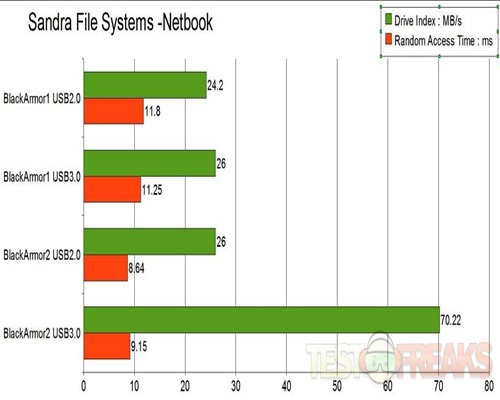 There's a huge difference between USB2.0 and USB3.0 as you can see, almost three times faster.
The nest test I have is the Physical Disks Test:
Benchmark hard disks (i.e. the disk itself, not the file system).
Drive Index: is a composite figure representing an overall performance rating based on the highest read or write speed across the whole disk. Thus the higher the better.
Access Time: is the average time to read a random sector on the disk, analogous to latency response time. Thus the lower the better.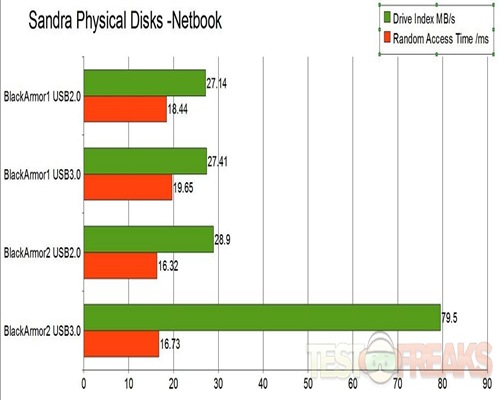 Same thing here, nice fast results from the new BlackArmor USB3.0 enclosure.
The final test is the Removable Storage Test, Higher Values are Better:
Here we actually see the new BlackArmor being slower then the original on the USB2.0 interface. Here again though we se an improvement for the original BlackArmor when going from USB2 to USB3.
So is it worth it to use the ExpressCard with your laptop or netbook? Only if you need or really want that extra speed for backups etc. if you want to use it for storage you'll need to make sure that your other computers are USB3.0 equipped. The other thing to factor in is one that I mentioned earlier, it does require you to use an additional USB port to provide power for the ExpressCard. My Acer netbook has three USB ports but no ExpressCard slot, the OCZ Neutrino I'm using has the ExpressCard slot but only two USB ports so that doesn't leave you with much room for anything else to be connected.
So let's move on to the second round of testing. In my main PC I do have a USB 3.0 PCIE card so I figured why not try it out there as well. I've got he same set of test again for you with similar results, but not the same.
We'll start off with ATTO again, and the USB2.0 results frist.
Odd results here, write speed is faster on the 5400RPM drive when using USB2.0.
…and here's the UBS3.0 results:
As expected the USB3.0 is much, much faster more than tripling the read speeds and almost tripling the write speeds as well.
Now for the SiSoft Sandra Tests:
First up is the File Systems test: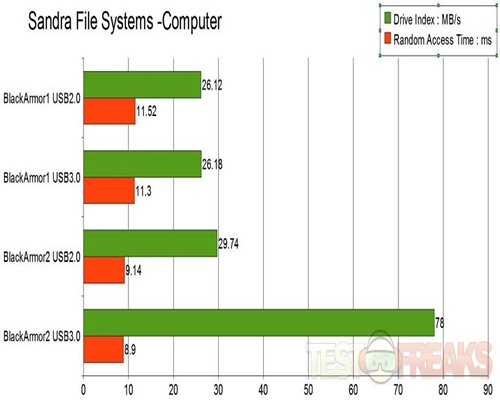 There is an increase in performance with the 7200RPM drive even on the USB2.0 interface.
Next up is Physical Disks:
Same thing here, the 7200RPM does increase performance on the the USB2.0 interface, and the USB3.0 interface performance is almost triple that of USB2.0.
…and finally the Removable Storage test: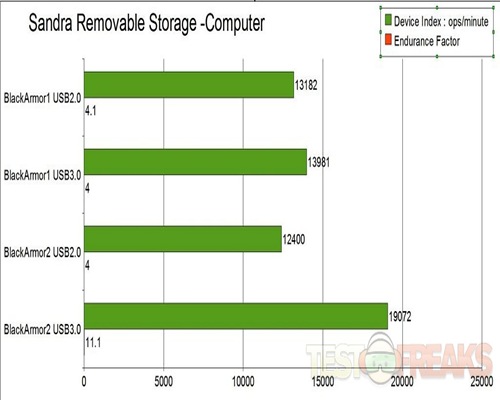 We see the same thing here that happened with the ExpressCard test, the 7200RPM equipped drive seems slower on the USB2.0 interface than the 5400RPM drive does, and we see a slight increase when going from USB2 to USB3 with the original BlackArmor drive.
Conclusion:
The new Seagate BlackArmor PS110 not only features a hard drive upgraded to 7200RPM from the 5400RPM of the original, but it's also USB3.0 enabled. Aesthetically it's the same, but it's what's on the inside that counts right? The new PS110 is a faster drive overall, and the USB3.0 interface makes your transfers even faster. The kit includes everything you need to add USB3.0 to your netbook or laptop just plug it in and go basically.
I still don't care for the fact that I lose a USB port when using the ExpressCard, if you're limited on USB ports neither will you. In the end it's a trade off of course do you want the speed or do you need that USB port for something else? You can of course just do what I do and plug it in only when needed, and I think most people will do that anyway.
If you're gong to be using the BlackArmor PS110 to transfer back and forth you will need to have other USB3.0 equipped computers to take advantage of the speeds, but it is backward compatible so you can just use your USB2.0 ports.
Pros:
+Well made
+Includes backup software
+Everything you need to go USB3.0 on your laptop/netbook
+Good warranty
+Decent speeds on USB3.0
+Includes a 7200RPM drive
Cons:
-ExpressCard requires extra power adapter
-ExpressCard has only one USB port on it
-No eSATA
| | |
| --- | --- |
| Grades: | |
| Overall | |
| Design | |
| Performance | |
This product was given to technogog for review by the company for review purposes only, and is not considered by us as payment for the review, we do not, and never will, accept payment from companies to review their products. To learn more about our review policy please visit this page HERE.