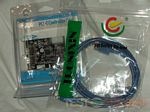 It's 2010 and it's the year of SuperSpeed USB3.0, and that means I've to get my hands on whatever I can for review to let you guys know what's going on with it. Over the next couple weeks you're going to see a lot of USB3.0 related stuff being reviewed, so be on the look out for it. The new USB3.0 isn't exactly widely available yet, at least not as a standard on motherboards, yes you can get some but the majority are enthusiast boards and they'll cost you quite a bit. Most of us though are not going to upgrade the entire motherboard just to get a couple of USB3.0 ports, especially since not much out there is even USB3.0 ready yet. One inexpensive and easy way to add USB3.0 to your system right now is through the use of a PCIE card. There's several out there available already, the most prominent is the ones with the NEC chipset in them. They're coming from well known companies like Asus, Gigabyte and Unitek, but other companies are producing them as well, we can call these 'generic' or 'no-name' USB3.0 cards, and that's what I've got today for review.
Today for review I've got two products and actually two reviews for you. The first review is of a PCI-Express USB3.0 Host Controller Card and a handy USB3.0 Extension Cable. Following this review will be a second review of a 2.5" USB3.0 enable hard drive enclosure. The reason I'm doing it this way is that they are separate products in their own right, and they deserve to be looked at that way. So read on for a look at the PCIE card and Extension cable, then check back later today for the second review of the enclosure…

The two products I've got today for review were supplied to us by Brando Workshop or USB.Brando.Com as they're also known as.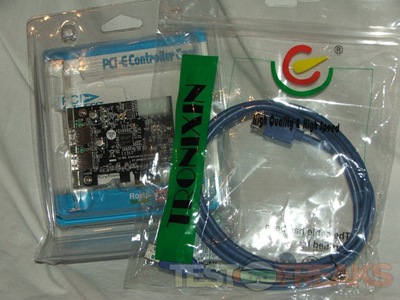 The first product I'm going to look at is simple but yet very handy USB3.0 extension cable. Now with USB3.0 you're going to have to reach around to the back of your PC to connect anything and who wants to do that all of time, so that's where an extension cable comes in. The cable allows you to leave it plugged in and just use the cable for all of your connections never having to fiddly around behind your PC to connect things tot eh USB3.0 ports.
The cable itself is well made and it's 150cm long or a little less than 5 feet. It has the SuperSpeed logo on the connection and the inside of the connection is blue which is what all USB3.0 products will be colored to differentiate them.
The next product is the main product you need to run USB3.0 on your system. It's a small add-in PCIE card. it uses the smaller PCIE connection on your motherboard or the 1x connector. On my motherboard whish is the Asus P7P55D LE it has two of these, but sadly one is cover by my video card.
The card comes packaged in plastic box, and it only comes with a driver disc.
The card itself isn't very special looking.
It does use the NEC chipset, and it has green LEDs on it to indicate power, along with a standard Molex power connection on the board. The end on the outside is where you'll find your two USB3.0 ports. I'm not sure why it has LEDs on it as it's inside your case and chances are you won't even see them…
Specifications:
PCI-Express USB 3.0 Host Controller Card
PCI-Express USB 3.0 Host Controller Card boosts your USB 3.0 device performance to 5Gb/s and provide 900ma power for each port.
Price: US$38.00
Features:
-Supports PCI express 2.0 x 1 Lane
-Supports Low-speed(1.5Mbps)/Full-speed(12Mbps)/High-speed(480Mbps)/Super-speed(5Gbps)
-Supports USB 3.0 specification type A connector x2 ports
-Supports External Power Socket in order to supplying power for each USB 3.0 connector up to 900ma/Port
-Additional port for Power
-Dimension: 90 x 118 x 18mm (approx.)
-Weight: 41g
USB 3.0 A Male to USB 3.0 A Female Cable
Price: US$10.00
Features:
-USB 3.0 SuperSpeed
-Fully Shielded to reduce interference
-Compliant with USB 1.0, USB 1.1, USB 2.0 and USB 3.0
-Connectors: USB 3.0 Type-A Male – USB 3.0 Type-A Female
-Cable Length: 150cm (approx.)
-Weight: 77g

As I mentioned I've got an ASUS P7P55D LE motherboard, which has two PCIE x1 slots. One is covered with the video cad but the other is open, but just barely. It was a fairly tight fit getting it installed in my system, but it's no fault of the card. The Molex connector is on the outside of the card which makes it a bit easier to access and connect the power to it.
Here's a look from the back, I've got a lot of stuff back there so it's cramped..
Having a USB3.0 card in your system isn't much use without actually having USB3.0 enabled products, or is it?
As I mentioned I've got a lot of USB3.0 stuff here which I'm going to be reviewing. I'm using the USB3.0 2.5" External Enclosure as part of this review, but I'm also using my Kingston DataTraveler 150 USB2.0 64gb USB drive and the Seagate BlackArmor PS110 500GB 2.5" USB2.0 Drive as well. I was curious if using USB2.0 on the USB3.0 connection might make any kind of difference. One note is that the drive inside of the USB3.0 enclosure is a new 5400RPM 500Gb Samsung Drive.
I used SiSoft Sandra 2010 Portable Edition on the Kingston and the USB3.0 enclosure first.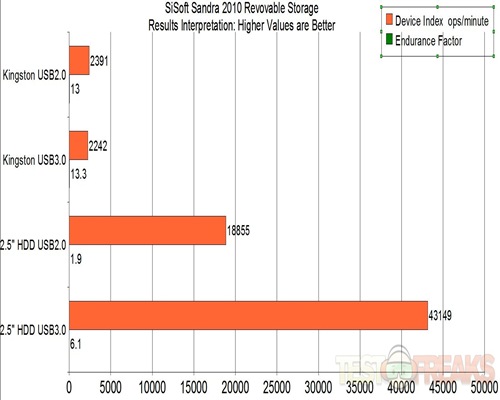 As you can see there's a huge jump between USB2.0 and USB3.0 according to the test for the USB3.0 enable drive. Oddly we see that the Kingston DataTraveler was actually slower on the USB3.0 connection, but I'm not sure that's exactly correct…
Next I ran ATTO DiskBenchMark version 2.46.
First up here's the results of the Kingston DataTravler USB2.0 flash drive.
Look at that, there's actually a slight increase in speed when using the flash drive on the USB3.0 interface. I ran the tests two more times just to be sure and came up with the same results.
Next up I tested the Seagate BlackArmor PS110 drive.
Again we see a slight increase in speeds while using the USB3.0 interface, and oddly the write speed is actually faster now and the read speed actually slowed down ever so slightly. Again I ran the tests over again to verify the results and they were the same.
Now for the real test of the UBS3.0 interface. Here's the results with the actual USB3.0 enabled enclosure on USB2.0 and USB3.0:
Going to the USB3.0 interface we've more than doubled the speed of the USB2.0 interface, almost tripled it really.
You have to remember here that in the enclosure is only a 5400RPM drive, so it's already not exactly a super fast drive to begin with. Coming up next week for review I've got the new USB3.0 Seagate BlackArmor 2.5" drive that has a 7200RPM 500Gb drive in it, so I'm very curious as to how much of a difference a faster drive makes.
Conclusion:
The PCI-Express USB3.0 Host Controller Card and USB3.0 Extension Cable from BrandoUSB is a combination that you must have truly. The UBS3.0 connections are on the back of the computer, and having the extension cable just makes life a lot easier. You really can't have one without the other right now, at least until we start seeing PC cases with USB3.0 ports on them.
The PCI-Express card itself seems nicely made, and I think it's worth it really just because of the expense and hassle involved in going and buying a new USB3.0 enabled motherboard. With the card you can just pop it in and go, no reinstalling the operating system and drivers and all that stuff, very simple to do and really hassle free. Of course though to fully take advantage of USB3.0 you'll need USB3.0 enabled hardware which, at the moment, is kind of scarce, but it is available.
Sure my flash drive and regular USB2.0 drive were sped up ever so slightly by the USB3.0 interface, but is that reason enough to jump on it right now? Maybe, maybe not. Many products are already appearing that are USB3.0 enabled and the cost of this card is less than $40, so it's up to you to decide whether or not it's worth it to get an add-in card. It sure is much less expensive that going out and buying a new USB3.0 enabled motherboard though, that's for sure.
Make sure to look back next week as I'll have reviews of a few more USB3.0 PCIE cards where I'll be comparing this one to some name branded cards.
Pros:
+Easy installation
+Much faster than USB2.0
+Speeds up USB2.0 devices a little
Cons:
-Need new hardware to fully take advantage of speeds
| | |
| --- | --- |
| Grades: | |
| Overall | |
| Design | |
| Performance | |
This product was given to technogog for review by the company for review purposes only, and is not considered by us as payment for the review, we do not, and never will, accept payment from companies to review their products. To learn more about our review policy please visit this page HERE.