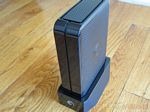 During the past few months Kris has reviewed several products from the Seagate's GoFlex line. I could not let Kris have all the fun so today I will be looking at the Seagate Free Agent GoFlex Home network storage system. This network attached upgradable storage device lets users wirelessly access files, watch/listen to media and backup multiple computers.
Since it is a part of the GoFlex ecosystem you can easily upgrade the storage capacity with other GoFlex based hard drives. Seagate designed the GoFlex Home for easy setup and configuration allowing even the less technically inclined can be up and running in no time. The GoFlex is designed to work with Windows and Macs so folks with both systems on their networks can all take advantage of its features.
The GoFlex Home system is available in either 1TB or 2 TB configurations and can accommodate an additional external USB hard drive using the attached USB 2.0 port on the dock unit.
Thankfully I was reviewing the GoFlex Home as my iMac decided to have its hard drive start it's slow decent towards data oblivion. Using the GoFlex Home's ability to work as a Time Machine backup I had all my data safely backed up and ready for restoration. Thus I can happily inform users that the backup feature does indeed work.
The GoFlex Home comes in a black cardboard box that is fully recyclable. It is nice to see Seagate embrace Green packaging especially after dealing with their previous clamshell style plastic packages in the past. On the front of the box we see the device pictured next to a router. One side of the box lists the contents and system requirements and on the other side is a picture of the GoFlex Home's rear connectors. The back of the box provides a description of the capabilities of the device.
Inside the box we find me GoFlex Home network storage system (drive and base), an Ethernet cable, the power supply, a Quick Start Guide, and the GoFlex Home Install CD. The Seagate GoFlex Home system is compatible with Windows 7, Windows Vista, Windows XP and Mac OS X 10.4.9 or higher. It features Universal PNP and DLNA certification. The other requirement to use the GoFlex Home is a router with an available Ethernet port or a free network switch.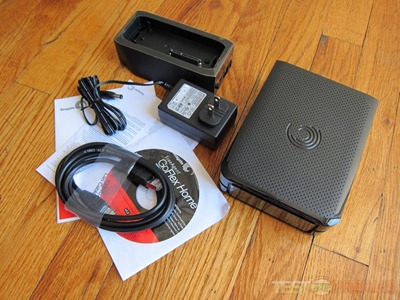 The GoFlex Home home network storage system is comprised of a 3.5″ external hard drive and a GoFlex Dock Network connector dock.
On the back of the base unit we find the power switch, power connector, a Gigabit Ethernet port and a USB 2.0 port. This USB port can be used for additional storage via an external hard drive or work as a print server when hooked up to a USB printer.
The GoFlex Home hard drive should look familiar, as it is the same housing found on other 3.5" Seagate Free Agent GoFlex drives. A black plastic enclosure with the Seagate logo found on either side of the drive protects the 1 TB or 2 TB drive. At the bottom of the enclosure we see the GoFlex connectors. The front of the GoFlex Home sports a Seagate logo with two lights – one being the drive activity light and the other the GoFlex Home light.
Specifications:
GoFlex Home Network Storage System
Wirelessly access files and back up multiple computers when connected to a WiFi router
Connects to your WiFi router, enabling wireless access to all your files
Simple set up in just minutes
Automatically back up files and folders from up to 3 PC and Mac computers
Stream content to media players and game consoles
Wireless-ready multi-PC and Mac computer backup and file sharing
The GoFlex Home network storage system supports the external storage needs of every computer in your home
Connects to your WiFi router, allowing you to wirelessly store and access files and back up multiple PC and Mac computers in your home
Store files in a central location on your network–use one drive for all your storage and backup needs
Wirelessly share a USB printer with every PC and Mac in your home
Access your files over the Internet from computers and mobile devices when outside of the home
Stream movies, photos and music to:
Networked PC and Mac computers
Game consoles
GoFlex TV HD media player
FreeAgent Theater+ HD media player
Back up multiple PC & Mac computers
Automatically and continuously back up files and folders from up to 3 PC and Mac® computers in the home
Time Machine software compatible
Easily upgrade storage capacity
Upgrade the capacity of the built–in drive by simply removing the drive from the base and replacing with a higher capacity GoFlex Desk drive
Plug in an additional USB external drive for added capacity
Installs in just minutes
Simple guided setup process
Two cable connections
Setting up the GoFlex Home takes five-ten minutes. First you need to physically hook the device to your home network. Start by attaching the GoFlex Home dock and drive to an AC outlet, plug in the Ethernet cable from you router to the GoFlex Home and then power up the device.
Once you have physically connected the GoFlex Home to your network you can then install the software onto your Windows machine or Mac via the Install CD. I used an iMac for the initial installation. To get the GoFlex Home up and running you'll need to run the Setup Your GoFlex Home program. The Desktop Applications and Time Machine Configuration Utility are optional installations. If you plan on using the GoFlex Home as a Time Machine backup then you will need to run the Time Machine Configuration Utility. I had issues with the Desktop Applications on the Mac which I discuss later on, so I would recommend holding off on installing that file.
If you setting up the GoFlex Home on a Windows machine installing the Seagate Dashboard allows the initial setup of the GoFlex Home. Running the Seagate Dashboard for the first time requires your GoFlex Home be assigned a unique name used to identify your device on the web. In addition you'll need to create a user account and password.
The GoFlex Home allows five separate user accounts. Seagate offers a Pro services version, which offers unlimited accounts along with secure FTP, Facebook integration, RSS feeds, mobile phone access and Flickr accessibility. This Pro package is offered as a 30-day free trial then it will cost $19.99 for a subscription.
The Seagate Dashboard is broken down into four main panels: Drives, How To, My Applications And Application Store.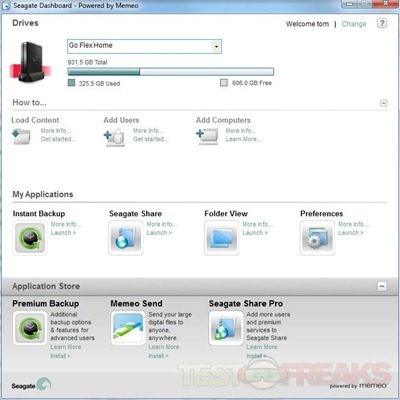 From the Dashboard you're able to see you GoFlex Home drive as well as the amount of space available and being used. The How-To section demonstrates how to load content, add users and add computers. Next the My Applications area provides access to Instant Backup, Seagate Share, Folder View, and Preferences. Finally at the bottom of the Dashboard is the Application Store which offers additional software that you could purchase to augment the features of the GoFlex Home.
User accounts can be added from the Seagate Dashboard or thru the web based interface. Each user account is setup with four root folders – Public, Personal, Backup And External Storage. The GoFlex Home Public is where digital music, movies, videos and photos for others to access within the home network should be stored. The GoFlex Home Personal is designed for keeping personal or private files. The aptly named GoFlex Home Backup is for storing backups created using either Windows or OS X. The External Storage folder links connected external USB hard drives attached to the GoFlex Home dock.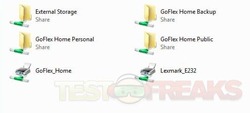 Seagate provides numerous ways to interact with your GoFlex Home drive. One such way is through the web-based interface also known as Seagate Share; entering the IP address of the device within your home network can access this interface.
From this web application you can browse the user's Seagate Share thru a web based file browser. The Seagate Share allows uploading and sharing of content with anyone on your network who can access the GoFlex Home. Digital media can be placed in the GoFlex Home Public folder while private and secure content can be held in the GoFlex Home Personal folder.
Besides managing your data, the GoFlex Home Preferences can be managed from this web based interface.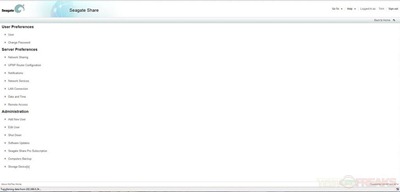 Shares can be created for others to browse and download files. You can send email invites to other outside of your home network allows them access to the data within the Share. This is perfect for sharing pictures or other media long distances. Shares data can be downloaded by the viewing user but cannot be uploaded. Only a user with the Seagate Share can add or remove content.
The beauty of the GoFlex Home is the multitude of ways to interact and transfer with your data. You may use the device as a network drive on both your Windows and Mac machines. Simply connect with the proper user credentials and you're able to drag-and-drop files to and from the GoFlex Home.
Remotely you can access your GoFlex Home data through the Seagate Share web-based interface. The Seagate Share runs in a web browser and offers many of the same features as the Seagate dashboard. Mac users must use Seagate Share to access and manage to GoFlex Home. Windows users can use either the Seagate Dashboard while on their home network but must use the Seagate Share when they're away from the home network.
To access your GoFlex Home when outside your network just log onto www.seagateshare.com and enter the name of your GoFlex Home drive along with your username and password. The interface is the same as home network Seagate Share. From within this Seagate Share you can access your files, upload/download and manage your preferences.
One additional way to access the GoFlex Home is via FTP. You'll need to enable it in the Preferences section of your GoFlex Home. It can be set up to work either just within your home network or from the Internet as well. I was able to connect to the GoFlex Home with Filezilla. Unfortunately the FTP is not secure so you may want to just use it within your own network. Secure FTP transfers are another "perk" of getting the Pro upgrade.
The backup feature allows up to three machines to be use the GoFlex Home as a backup solution. If you are a Mac user you'll need to run me Time Machine configuration software prior to using the GoFlex Home as a remote backup.
As I mentioned previously during the writing of this review my iMac decided that its hard drive was going to die. Thankfully during my testing of the GoFlex Home I created a Time machine backup of that very iMac. After a week in the Apple store with the Geniuses my iMac came home with a freshly installed hard drive and I was able to restore my data from the CD GoFlex Home Time Machine backup.
One thing I did notice about using the GoFlex Home as a Time Machine solution is that it took quite some time to backup my iMac data which comprised of approximately 300 GB of space. It took 1 1/2 days to back up that information.
Another thing I noticed about the     Mac interaction with the GoFlex Home was that it seemed to run slower. If I wanted to open the drive using Finder it took 5 seconds before appearing where on Windows it popped up instantly in the File Explorer window.
When trying to use the GoFlex Agent to Explore the GoFlex Home folders or open the GoFlex Home application I was getting this error.
In the end I used the GoFlex Home's IP address to access the Seagate Share web application. Unfortunately Mac software does not currently seem as robust as the Windows version but it is still relatively easy to use the GoFlex Home with an OS X based machine.
In terms of speed, the transfer rate was around 10-12 MB/sec on a Cat 5 wired network. This was equal in terms of speed with a Synology DS209II+ which is a business based NAS. Not too shabby. The drive was remained relatively cool during heavy operation.
Conclusion:
In the past I found network attached storage devices from the big name hard drive makers to be underwhelming either in function or software implementation. Seagate has changed this preconception, as the GoFlex Home system is robust and well designed. There numerous ways of accessing and transferring your data onto the device including FTP, as a network drive or via the web-based Seagate share application.
Recently Seagate has been implementing a Pro subscription model for numerous hard drive products and the GoFlex Home is no different. To get additional features that come standard with other network attached storage devices you'll need to pay an additional fee. Personally I am not a fan of this model but the industry seems to be heading in this direction.
The Seagate GoFlex Home network storage system is a great way to add a network attached storage solution as well as backup to your home system. If you have numerous machines in your network then you could use the GoFlex Home for either file sharing, media streaming or online backups with ease.
Since the GoFlex Home comes in 1 or 2 TB configurations you should have plenty of room for most of your storage and backup needs. If you need additional storage capacity you can add an external USB 2.0 hard drive to the base for even more room. The USB port can also acts as a print server if that is your preference. The interchangeable GoFlex drives allow upgrading your storage capacity simply by exchanging the current drive with a new one into the GoFlex Home dock.
So far I have been impressed with the Seagate Free Agent GoFlex line of products and the GoFlex Home seems like another strong addition to the family.
Pros:
+Quick setup
+Swappable storage
+Sleek appearance
+Web access to your files
+Ability to invite people to your "Shares"
+Works as print server
Cons:
-Additional features sold as a "Pro" upgrade
-Runs slower on the Mac side
| | |
| --- | --- |
| Grades: | |
| Overall | |
| Design | |
| Performance | |
To learn more about our review policy please visit this page HERE.