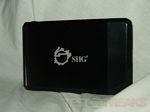 Up for review today I've got another USB 3.0 enclosure for 2.5" drives, this one is from a company called Siig. The enclosure is unique in that it's tool-less, it's one of the first USB 3.0 ones that I've seen anyway. The enclosure is made of aluminum making it great for heat dissipation, and being metal it's also durable. The Siig enclosure even comes with a nice little carrying case so you can take it with you in style.

The Siig enclosure comes in a small stylish box.
The enclosure is packaged well, inside you'll find the enclosure itself nestled inside of a form fitting plastic casing.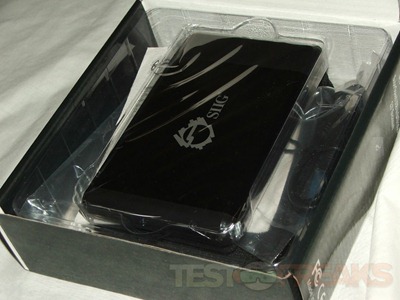 Under the enclosure you'll find the USB 3.0 cable, a USB style power cable, user manual and nylon case.
The carrying case is actually nice, it doesn't close though. The enclosure goes into the main part while there's a mesh part on the front for cables.
The enclosure is made from aluminum with a plastic end. The aluminum is thin, but not too thin, making it fairly lightweight.
On the back end you'll find the USB 3.0 connection, power connection and an LED.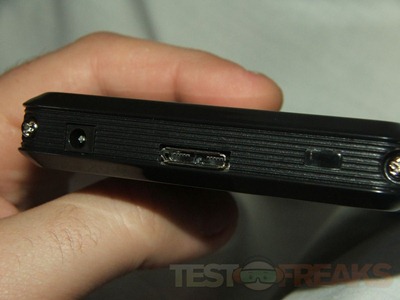 Specifications:
SuperSpeed USB to SATA 3Gb/s 2.5″ Enclosure
SuperSpeed USB (USB 3.0) drive enclosure for 2.5" SATA 3Gb/s hard disks
Part #: JU-SA0312-S1
Features:
* Quickly adds more storage space to your USB-enabled PC (USB 3.0 recommended)
* No driver installation required.  Simply install a 2.5″ SATA (3Gb/s or 1.5Gb/s) hard disk into the enclosure then connect to a USB port
* Supports SuperSpeed USB (USB 3.0) data rate up to 5Gb/s
Specs:
* Compliant with Universal Serial Bus 3.0 Specification, Revision 1.0
* Compliant with Serial ATA Specification 2.6
* Supports up to 2 TB hard disk capacity
* Supports USB Mass Storage Class Bulk-Only Transport, Revision 1.3
* Dimensions: 5.125″ (H) x 3.25″ (W) x 0.625″ (H)
* Note: For maximum data throughput, use a SATA 3Gb/s hard disk with the enclosure and connect to a USB 3.0 port
MSRP: $49.99

What's unique about this enclosure is that it's tool-less. To get a drive inside you push the ends on the front of the enclosure in and just pull it off. It's very simple to use, and that's one of the things I really like about it.
I did run into one small issue with the fact that it's tool-less. Once you get the drive in, it goes basically all the way in and it's fairly difficult to get back out.
The LED on the back lights up blue and blinks when there's hard drive activity.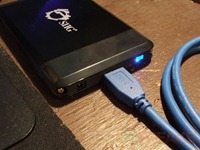 I found I had no problems with power using either a regular hard drive or an SSD on the USB 3.0 interface. I did have a problem with USB 2.0 and a standard mechanical hard drive, I have to use the additional USB power cable to provide power the HDD. I didn't have to use the power cable with the SSD and USB 2.0 though.
Since I recently reviewed the Patriot Gauntlet USB 3.0 enclosure I figured why not see how it compares. I've also included tests for SATA connection and for the USB 2.0 connection.
I used a Seagate 500gb 7200 RPM hard drive and the OCZ 60gb Solid 2 SSD.
I used ATTO DiskBenchmark for testing of course.
The speeds between the Patriot and Siig are about the same.
Here's the testing with the Seagate hard drive:
Here again the Siig and Patriot have virtually the same performance results.
Conclusion:
One of the best attributes of the Siig Enclosure is the fact that it's tool-less, you just pop it open and slide the drive in and you're done. That's also sort of one of the problems with it, the drive goes in and it's kind of hard to get out. With a mechanical HDD it's easier because you can grip and edge or two, but with SSD you can't because they're smooth. You can shake it a a bit to get it out, but I don't think that's too good for the hard drive.
The enclosure is nicely made and provides some decent speeds, and I like the little carrying case that comes with it.
I've reviewed a few of these enclosures here and elsewhere and I have to say honestly that this one is my favorite, despite the little issues of the difficulty of removing a drive.
Pros:
+Nicely made aluminum enclosure
+Tool-less installation
+Includes carrying case
+Long USB 3.0 cable
Cons:
-Must use power for USB2 and standard HDD
-Drive can be hard to remove
| | |
| --- | --- |
| Grades: | |
| Overall | |
| Design | |
| Performance | |
To learn more about our review policy please visit this page HERE.