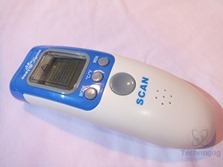 Thermometers have numerous uses and normally you'd need to have separate ones for different jobs. Today for review I've got the Easy@Home 3 in 1 Non-contact Infrared Thermometer which is sold as a medical or health device for adults and children. The thermometer though has three modes for body, room and surface so it's one of those things that doesn't have to be just used for medical uses, you could use it for computer or other work uses. I've compared it to three other thermometers I've got and the Easy@Home seems accurate enough for most any use. The thermometer is simple to use, just push the button and you'll get a result and it even comes with a nice protective carrying case. Read on to learn more…
Unboxing
Let's start with a video unboxing:
The packaging is nice looking, a box with not much information on it except name a pictures of the thermometer. When you open the box you'll find a white case and the user guide.
The carrying case is nice looking with the Easy@Home logo on it. It's made of plastic as you might expect and it should be more than adequate to protect the thermometer.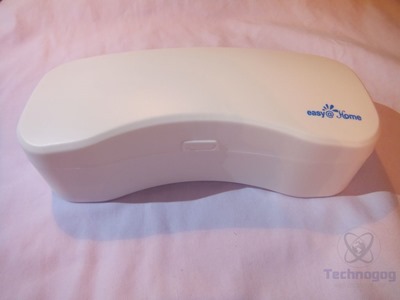 The thermometer needs two AAA batteries for power and they do include them for you packaged under the thermometer in the case.
The thermometer fits in the palm of your hand with dimensions of approximately five inches long by two inches wide by about one and one-fourth inches at the thickest point. It's blue, white and gray and made of plastic but it feels well made. On the top you'll see the LCD display, three small gray buttons, one large gray button and the speaker below that.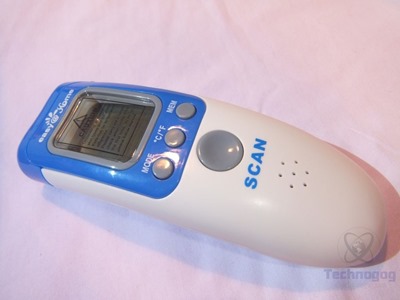 Below the display you'll find three buttons for Mode, C/F and for Mem or Memory. The large gray button below those is the main button to take temperature measurements.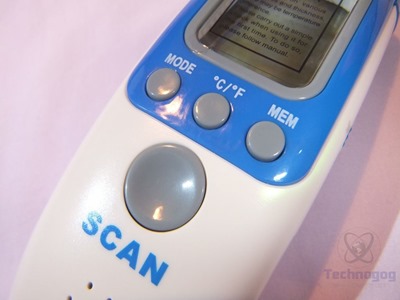 On the bottom is the battery compartment, it just snaps off and on.
On the front end is a square hole which has the temperature sensor inside.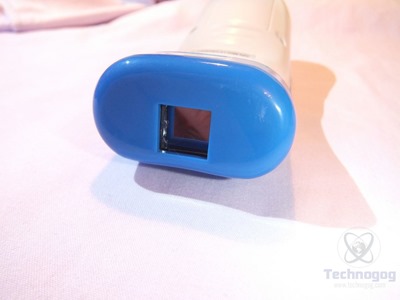 There is a small blue button located on the right side which is to turn the sounds on and off, you just push the button and the display will say on or off.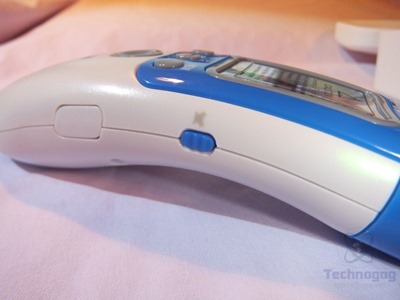 Specifications and Features
Easy@Home 3 in 1 Non-contact Infrared Thermometer for Baby Adult and Child – Forehead, Surface and Room Temperature, Clinical High Accuracy, FDA Approved and Pediatrician Recommended, NCT 301
Experience quick and simple temperature taking with the Easy@Home NCT-301 non-contact, infrared thermometer. This easy to use thermometer has the latest infrared technology to display accurate readings within a second. There is no longer any physical contact necessary to get a temperature reading, it should always be this easy!
Non-Invasive:
Instead of startling or irritating your children, this thermometer reads at a distance and notifies you silently. Eliminating physical contact decreases the chance of cross contamination between users while silent monitoring will not disturb them. The thermometer has a beeping sound to alert for high temperatures, however this feature can be disabled so that no sound emits while taking measurements.
Tri-Color Display:
The LCD display will show one of three colors based on the temperature. Not only does this display make reading temperatures easier in the dark, but the three colors indicate different ranges. A green display (99.1°F (37.3°C)) indicates normal temperature, yellow display 99.3°F~100.2°F (37.4°C~37.9°C) indicates low-fever and red display 100.4°F (38°C) indicates high-fever.
How to Take Temperature:
1.Clear forehead area of any hair or perspiration.
2.In 'Body' mode (default), aim to the center of the forehead from a distance of 1.2 – 2 inches.
3.Press the scan button and wait a second for the display to show the reading.
Price: $35.97 (from Amazon at time of review)
The Review
To use the Easy@Home thermometer you just push the large gray button in and it comes on. The display lights up green and to use the thermometer you just point and press the button.
The display is bright and easy to read with large number and letters. The thermometer also has color warning, green for normal, yellow for low fever and red for high fever. I like the color coding feature as it instantly let's you know what's going on without even really looking at the temperature. If it's too low the display reads 'Lo' as well.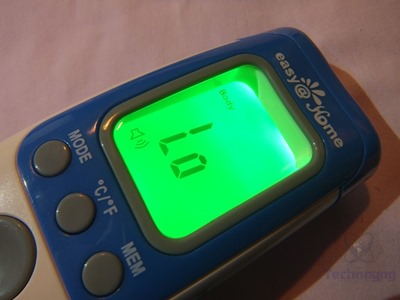 The thermometer can read body, surface and room temperatures. You just need to pus the Mode button to switch and the display will show which more you're in.
The display can show both Celsius and Fahrenheit and switch between them just by pushing the C/F button.
A thermometer isn't worth anything if it isn't accurate so I compared it to some thermometers I have.
First I tried the room temperature and got exactly the same, 75.9F from the Easy@Home and mine.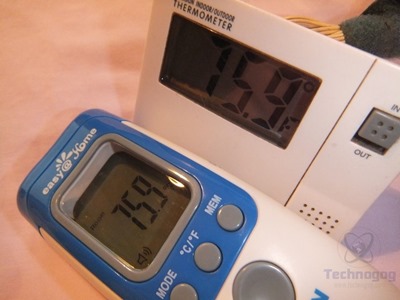 Then I tried the surface temperature function and compared it to my ThermoHAWK 200 infrared thermometer and got almost exactly the same, just .1 degree difference between them. Using the surface temp feature and trying to compare the two can be hard as you have to hit the exact same spot which I tried to do and the results are close.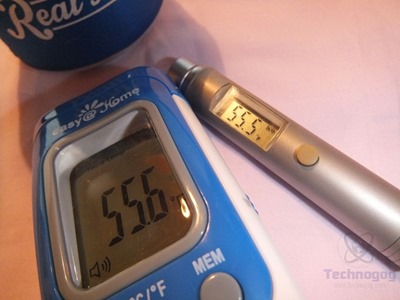 The last thing I did was test the body temperature function and compare the Easy@Home to the thermometer I've been using for years. The only difference here is that internal and external temperatures can vary and it's expected. My thermometer shows 97.6F while the Easy@Home shows 97.9F and as I said that's to be expected.  The internal temp and the external temps are going to be slightly different and .3 degrees is close enough for what I can call and accurate measurement.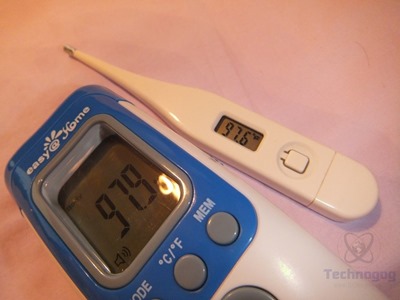 Conclusion
Having kids you need to have an accurate thermometer and the Easy@Home seems accurate enough that I would trust it to use on my kids. I compered it to three other thermometers that I have and the results were very close, within tenths of degrees,
which is more than accurate enough to give you a good temperature from your children so you know if they're sick. You can use this with adults and children of course.
The thermometer comes with batteries and a very nice carrying case that will protect it and keep it clean.
One of the great things about infrared thermometers is that they are non-contact so there's no cleanup to worry about or no worry about passing germs.
This thermometer can also check room temperature and surface temperatures just by switching modes and when compared to my other thermometers it seems accurate.
The Easy@Home Thermometer is easy to use, just push the buttons and in a second or two you'll see results. You will need to make sure you're close enough to get an accurate temperature as the distance can throw it off.
This thermometer is sold for home use but I personally could use it for work use or computer usage where you need to check temperatures, especially when you need to know surface and room temperatures for accurate comparisons.
All in all I think the Easy@Home thermometer is a good product really, from my testing it seems accurate and that's what's most important.
Pros:
+Very easy to use
+Instant conversion
+Seems accurate
+Color indicators
+Large display
Cons:
-None that I could find at the moment
| | |
| --- | --- |
| Grading | Scores Out of 10 |
| Overall | |
| Design / Aesthetic | |
| Value / Price | |
| Performance / Usage | |
Disclosure: This product was given to us for review by the company for review purposes only, and is not considered by us as payment for the review.
To learn more about our review policy please visit this page HERE.