I've got a quick review for you of a battery for DeWalt 18v power tools that I found and it's much cheaper than the original batteries, about one-fourth the price but yet it seems the same as the original in terms of capacity and usage. Read on to learn more…

Specifications and Features
POWERAXIS 18V 2000mAh Power Tool Battery Replacement for Dewalt XRP Cordless Tool DC9096 DC9099 DE9039 DE9095 DE9096 DE9098 DW9095 DW9096 DW9098 DE9503 (Yellow and Black)
Specifications:
Capacity: 2.0 Ah
Voltage: 18 V
Battery type: NI-CD
Color: yellow and black
Condition: Brand New
Products are FCC,RoHS and CE certified, tested by manufacturer to match or exceed specifications of OEM products
Price: $22.99 (from Amazon at time of review)
The Review
The battery comes packaged in a small brown box with labels on it and inside you'll find the battery in a plastic bag with a sort of user guide on the side which is just precautions and basic care.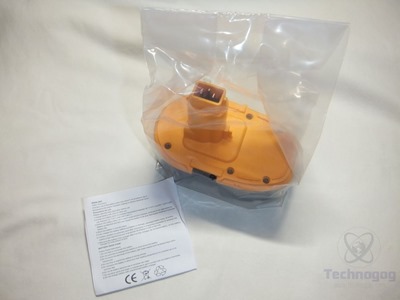 The battery looks very close to the original DeWalt battery, the yellow is slightly different though, darker, but other than that the shape is the same.
I used the battery with my DeWalt cordless drill and my DeWalt cordless circular trim saw like these found here and it fit both just fine. The battery stayed in just like the original, a perfect fit really.
As far as usage the battery seems to be just as good as my original 18v DeWalt batteries, lasts just as long and seems to provide the same amount of power so no complaints there at all.
Conclusion
Right now this battery is selling for about $23 on Amazon but the DeWalt branded battery is selling for about $90, that's a big difference in price. You could basically get four of these Poweraxis batteries for the price on one official DeWalt battery.
I had to install some new doors on bedrooms of my house and used this battery with my drill and saw and it seems to give the same performance and life as my oem DeWalt batteries.
As far as longevity, I don't know, I can't attest to that. A couple of my DeWalt batteries about close to 10 years old, and they've been used and beat up and still work well so I can only hope that this Poweraxis battery will work as good, but if it doesn't I won't feel as bad as they're very inexpensive.
As is I can recommend this as an inexpensive replacement battery. If this battery lasts a couple years it'll be worth the cost for sure.
Pros:
+Seems just as good as original
+Inexpensive
+Well made overall
Cons:
-None so far
| | |
| --- | --- |
| Grading | Scores Out of 10 |
| Overall | |
| Design / Aesthetic | |
| Value / Price | |
| Performance / Usage | |
Disclosure: This product was given to me for review by the company for review purposes only for free or at a discounted price.
To learn more about our review policy please visit this page HERE.