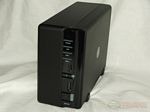 Today for review I've got another NAS Box, this one is the newest one from Synology called the DS210+. This NAS box comes with plenty of features packed into like DLNA for instance, but what really sets this apart from other boxes is the fact that it has built-in 256bit hard encryption. the DS210+ is aimed at small businesses and professionals, but there's no reason a home users couldn't fully utilize it as it has all of the features for home users and then the addition of those that businesses would appreciate. In this review you'll find quite a bit about the DS210+ with pictures and many screenshots, and I've compared it to a couple other NAS boxes to see how it performs. So read on…

So we'll start with the video unboxing:
The DS210+ comes in a nice little box with convenient carrying handle, the NAS inside is well packaged:
Unpacking the box you'll find Ethernet cable, driver/software CD, screws and power supply with cord.
The box itself is rather small, and black in color on the back you'll see a nice big cooling fan and on the bottom you'll find four rubber feet with slits for ventilation. The box seems well made, it's plastic casing with a metal housing inside where the drives are.
On the back you'll also see two USB ports, reset button and Ethernet port along with a slot for a lock and power connection.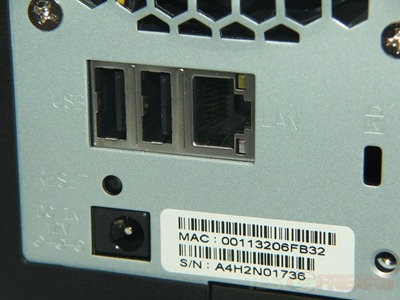 On the front top you'll see four status lights, beneath them you'll see USB port, copy button, eSATA port and then the power button towards the bottom:
Taking the cover off reveals the drive bays and SATA connections: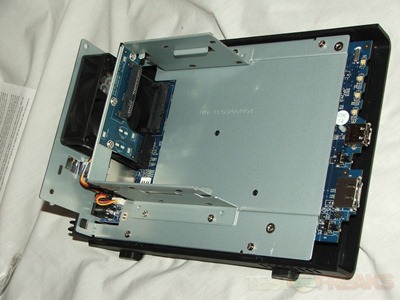 …and of course I had to take it apart even further to see what's going on under the hood:
We've got regular laptop style ram in there, it comes with a 512MB stick already. I was wondering if you could upgrade it, but that would void the warranty as you can see by the red sticker on it.
Specifications:
High-Performance 2-bay All-in-1 NAS Server Provides Peace of Mind for SMB Users
Synology DiskStation DS210+ offers a high-performance, secure, and full-featured network attached storage solution that helps small and medium-sized businesses centralize backup, protect critical assets and share files quickly and efficiently. Synology protects your investment in the DS210+ with a 2-year limited warranty.
Features:
* 108.5MB/sec Reading, 58MB/sec Writing
* 256-bit AES (Advanced Encryption Standard) Hardware Encryption Engine
* Power-saving with only 30W in Operation
* Wake on LAN/WAN
* Scheduled Power On/Off
* Includes Feature-Rich Synology DiskStation Manager 2.3 (DSM 2.3)
Applications:
-Surveillance Station 4
-Download Station 2
-iTunes Server
-DLNA Media Server
-Printer Server
-Mail Station
-Audio Station 2
Hardware Specs:
* CPU Frequency: 1.06GHz
* Floating Point
* Memory Bus: 64bit@DDR533
* Memory: 512MB
* Internal HDD1: 3.5″ SATA(II) X2 or 2.5″ SATA/SSD X2 (with the Disk Holder)
* Max Internal Capacity: 4TB (2x 2TB hard drives)9
* Size (HxWxD): 161mm X 88mm X 218mm
* External HDD Interface: USB 2.0 port X3, eSATA port X1
* Weight: 0.98kg
* LAN: Gigabit X1
* Wireless Support11
* Fan: X1(70mmX70mm)
* Wake on LAN/WAN
* Noise Level (fan-only):2 24dB(A)
* Power Recovery
* AC Input Power Voltage: 100V to 240V
* Power Consumption3: 30W(Access); 14.4W(HDD Hibernation)
* Operating Temperature: 5°C to 35°C (40°F to 95°F)
* Storage Temperature: -10°C to 70°C (15°F to 155°F)
You can find the full specs and features here: http://www.synology.com/us/products/DS210+/index.php
Price: $469.99 (From Amazon at time of review)

I used two 750GB Western Digital Black hard drives with the DS210+ running in what Synology calls Standard or basically Raid 1 or mirrored, as I think most people will want protection for their data. Yes I could have done it Raid 0 or striped, but I had to make a choice and well I choose what I thought it would be as to how most people might use the NAS box. I think the majority of people might want mirrored for protection of their data.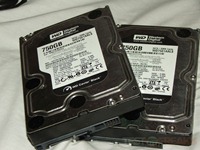 Here's the drives installed in the DS210+, you can see there is a gap between the drives to allow airflow between them:
For installation and prep you'll need to install the Synology Assistant that's on the disk, simple easy to do, then just follow the steps.
Once you're done setting it up and initializing the disk you can just login: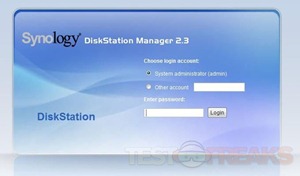 When you log into the admin section you'll be greeted with the graphical interface. On the right side you'll find the main window with icons and descriptions, on the left side is navigation down in tree style.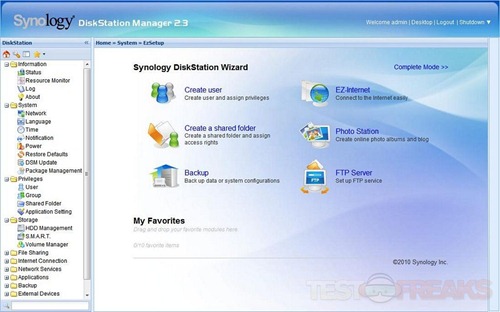 Here's the navigation tree with all of the options expanded:
As you can see there's a ton of options and I can't feasibly show you each one individually or this review would be huge, so let me touch on a few things for you.
The EZ Internet Wizard is a new feature that allows you to quickly and easily setup up DNS so you can access the DS210+ from the internet. Well, I thought it would be easy, but my Verizon FIOS router/modem was not on the list so that means I've got to do it manually. There are several models of routers on the list though so you should be able to find yours, but if it's not there there's an option to contact Synology and add yours to the list for the future support.
Here's the status of the DS210+ and the Volume Management:
The main services most people would be using are Web Service like HTTPS Service and We Applications: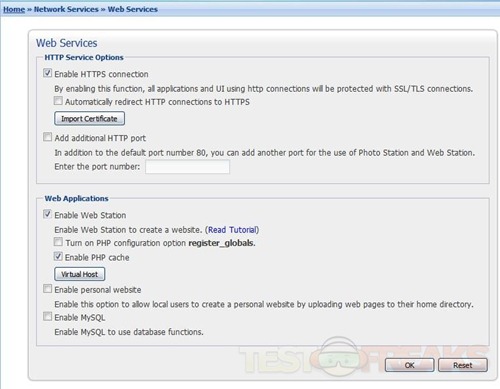 Then of course you'll want to enable the Media Server: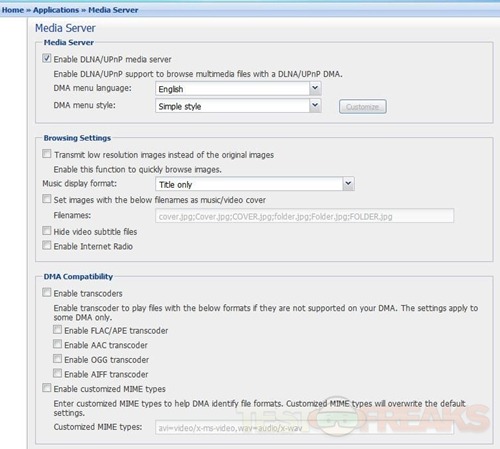 then there's the audio station which is a rather cool feature. With the Audio station you can actually attach USB speakers to the DS210+ and play music directly through them, or of course stream to your PC or even your phone.

What I use the most is the FTP service, I'm not sure how many of you use it, but a lot of people I know do to quickly and easily access and transfers files when they are not at home.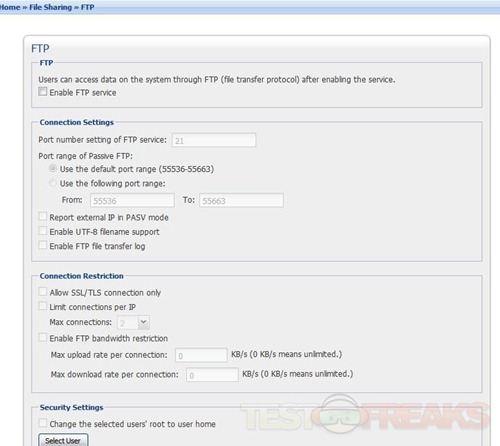 The last one is the File Station, through it you can allow yourself and other users to share and access files on the server via a regular web interface.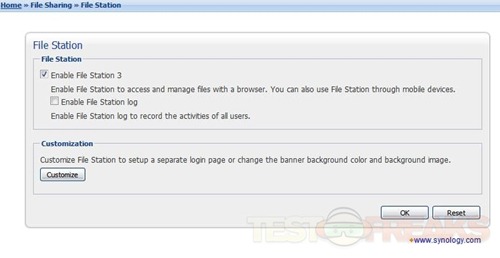 Other users might want to enable the Apple iTunes service as well, but I didn't as I don't use it often, I much prefer my Zune honestly, but it's there as an option for you so you can share and stream music via the iTunes service or server.
On the user side it looks somewhat similar to the Admin side really. As you can see I enabled the Surveillance Station and the Web Station in addition the others I mentioned so they can be accessed by the end user if you give them permission.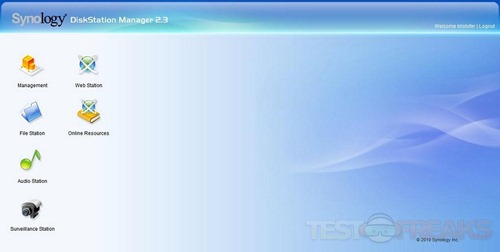 The File Station on the user side is fairly easy to use, it has boxes on the left side for navigation and it also shows my computer and the drives so you can transfer from them as well. it looks like there's a lot of drives in my computer, but it also shows the drives that are my card reader and it shows the shared drives on the Synology too. A novice could use it fairly easily with a little bit of help I'm sure.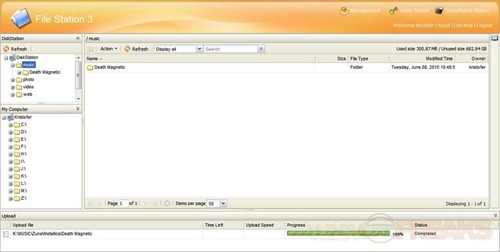 Here's the Audio Station, I tossed one album on there and played it, it works fine really.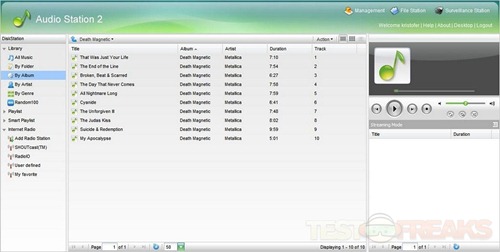 For my testing I test the transfer speeds and times to and from my computer to the NAS boxes of three different things, Small Video File Transfer (900Mb), Large File Transfer (3.GB), and a Files and Folders Transfer which is a total of 3.GB with 874 files within 199 folders.
I have the Thecus N3200 Pro that I've been using for well over a year now, it's been running 24/7 in Raid 5 configuration. So I've got that for comparison along with the QNAP TS-259 Pro and the TS-459 pro.
The transfers are all done on my home gigabit network via FTP, I use FTP because it gives a good performance indicator of the NAS boxes and it shows me the time it took along with the average speed as well. So in the charts below you'll see the overall average speeds of the boxes listed for transfer to and from the NAS boxes, essentially reading and writing. I'm transferring these things to the Seagate 2TB Barracuda XT SATA6 Desktop Hard Drive ST32000641AS which is a fairly fast drive.
So let's start with the Files and Folders test: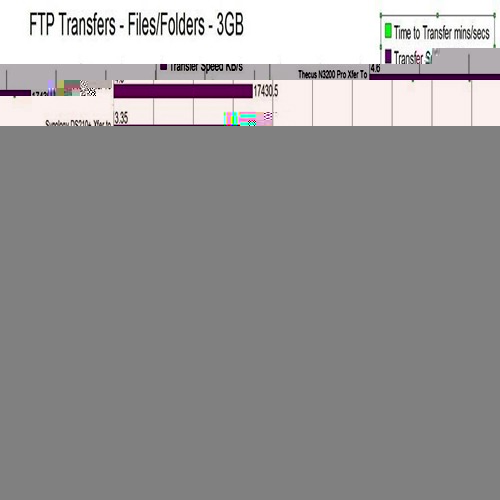 The transfer To or Write Speed isn't exactly the fastest of the NAS units I'm testing, but still not too bad. Now if we looks at he read or transfer from speed though we can see the DS210+ is the fastest of the bunch by a nice margin.
Next up is the small single file test: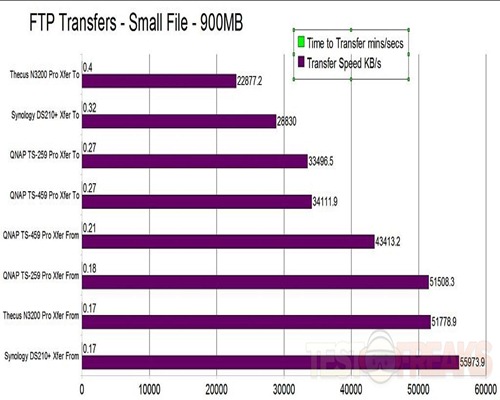 Here again we see the same placement really with the DS210+ coming in the fastest for transfer from, and doing very well at it.
The next test is the single large file test: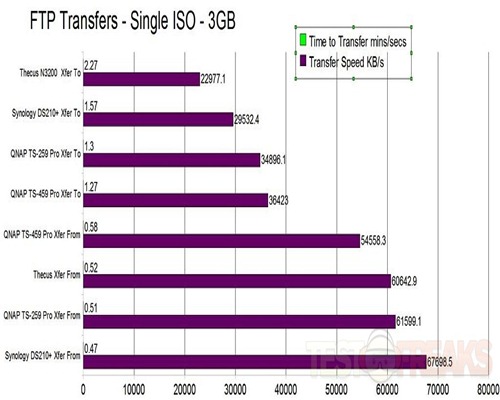 The ranking in the chart didn't change of the DS210+ in all of the tests, but the others moved around a bit. The DS210+ offer consistent performance no matter what size of amount of files you're reading or writing from it, the other NAS boxes seem to handle the files differently as you can see. This is a good thing obviously as you can expect consistent results from the Synology DS210+ no matter you're transferring to and from it or doing with it. It should also be noted that the DS210+ uses hardware encryption, so even while it's encrypting and decrypting the files the performance does not seem to be hindered. Though that might explain why the write performance is a bit slow, to me it's worth the sacrifice for the additional level of security that the encryption offers.
Performance could also be slightly affected by the fact that I'm running raid 1 so it has to write to both discs, so there are many things that can factor in in addition to traffic on my network as well.
As far as noise level, the DS210+ is relatively quiet, I've got it sitting on my desk about 2 feet from me and I can't here it, though every so often I'll hear the fan spin up to full speed for a few seconds and then slow back down, but it's like maybe once per hour that this happens. I had it on my desk for testing purposes, when this box goes into full use though it will reside under my desk where my Thecus N3200 is now, then of course I'll never hear it at all. As far as the hard drives are concerned I can't hear them.
It does get ever so slightly warm to the touch, but nowhere near what I would call hot.
There's not much that I could find wrong with this NAS box. I could say that it takes a long time to setup, but that's with any NAS box really, you have to create the RAID array, and depending on the size it can take a long time to complete.
The regular user interface or the File Station might require a bit of learning if the end user is a novice, but most people should catch on very easily.
The ability to actually hook a pair of speakers to the DS210+ is a unique one, I've never run across that feature on any other NAS box. Obviously you'll want to get a decent pair of speakers, but they can be had if you look around. I'm sure most people won't be doing it that way, they'll be streaming it, but it's a nice option.
Speaking of Music I easily got it playing music through my Xbox360 with no issues at all, I selected Music Library and there it was listed under Select Source.
You can also access the DiskStation via mobile phone like an iPhone or a Windows mobile device or one with Symbian on it. For iPhone you can grab one of the three apps that are available, for WinMo you just need Internet Explorer or Opera and I'm not sure how you'd access it via Symbian but I'm sure it's similar to WinMo. Sadly there is no Android support just yet, but you could access it via the browser if you really wanted to I would think.
Out of curiosity though I did access the DS210+ from my Android phone, I didn't see an option for streaming but I could transfer files.
Edit: A quick addition here for you, I talked with my Synology contact and they are working on an Android App for us, they've had many requests for it, but there's no definitive date for when it will be released, just sometime this year…
Verizon sent me over the LG Fathom for review that's running WinMo, I tried with that as well and got the exact same thing.
Conclusion:
The new Synology DS210+ is truly a great product in all respects. It offers much that a business can appreciate, especially the on-board hardware based 256bit encryption for an extra level of security.
There really are no real issues with it, and there's plenty of things options, so not finding anything wrong is very good sign indeed. The DS210+ is a great NAS box for both home and business users, it's easy to setup and most people should have no problems accessing, sharing and storing files on it.
For the home user the DS210+ might be a bit much, and you might want the new DS210J instead which is less expensive, but the specs are a little lower. For example it's running an 800Mhz CPU and has half of the ram that the DS210+ does and of course there's no encryption. Another example is that there's no eSATA port on the DS210J, but it can do basically everything else the DS210+ can.
The lack of mobile support, streaming in particular, for anything other than Apple devices is a bit disappointing in my opinion, but hopefully since the popularity of Android is growing exponentially, we'll soon see something for that platform to enable it.
Pros:
+Fast transfers
+Hardware based encryption
+You can hook a pair of speakers up to it to listen to music
+Simple to setup and use
+Stream music and videos easily to other devices
+Cool and quiet
+Many options
Cons:
-User interface might require learning for the novice
-Streaming via mobile on anything other than an Apple product might not work sadly
| | |
| --- | --- |
| Grades: | |
| Overall | |
| Design | |
| Performance | |
To learn more about our review policy please visit this page HERE.