Over the past year we at technogog have reviewed numerous NAS units. During this time Synology has provided us with several different models ranging from those aimed at the home user to others targeting large-scale business. Today we will be looking at one of their newer units the Synology DiskStation DS213. This unit's target group is workgroups and office environments with its encryption feature being a key selling point. However it does include numerous other features that cater to home and business users as well.
Synology continues to improve the physical product by upgrading the memory and processor while adding faster interfaces for additional storage using USB 3.0 connectors. An additional SD card reader on the front allows users to transfer data automatically onto the NAS. The real power of the DiskStation is within the DSM (DiskStation Manager), the operating system of these devices. The latest version DSM 4.1 comes with this NAS and is in my opinion what sets Synology boxes apart from the competition.
For today's review Synology sent technogog a unit bundled with two 1-TB hard drives which arrived in a brown cardboard box with an adhesive label as opposed to the usual preprinted Synology boxes. Looking online I noticed the retail packaging is slightly changed from prior models as it is now white and green as seen on the Newegg website.
Opening the box we find the Synology DiskStation DS213 protected between two foam inserts along with the power cord, AC adapter, RJ-45 LAN cable, installation disk, Quick Start Guide and screws.
The DiskStation is sold as a bare enclosure or with hard drives preinstalled. The max capacity for the DS213 is 8 TB. For the CPU, Synology uses a Marvell Kirkwood mv6282 SoC that is a 2.0 Ghz processor. In terms of memory, the DS213 has 512 MB of DDR3 which is double that of the DiskStation DS212.
Overall the form factor of the DiskStation DS213 does not stray from prior Synology two bay form versions. Synology did change the front panel with the DiskStation DS212 and kept this design with this model; which allows easy access to the unit's hard drive bays. Aesthetically the DiskStation DS213 is a nice looking NAS, which should fit nicely in most environments, while small enough that it can be tucked away under a desk or placed in a corner.
The device measures 165 x 108 x 233.2 mm and weighs 2.75 lbs. without hard drives installed. It is composed of a matte black metal with a piano black plastic removable front face. Like most piano black finishes this one will attract fingerprints and dust will be noticeable.
This front panel has the model number on the bottom left. The right front has LEDs for Status, LAN, Disk 1 and Disk 2 along with an SD card slot, USB port, power and reset buttons.
Removing the front panel reveals two drive bays that can accommodate either 3.5" or 2.5" hard drives; the drives are removed by simply pulling straight back on the tray handles. Synology shipped this review unit with two Seagate 1 TB Barracuda drives.
Here is a shot of the DS213 without the drives.
The side panels of the DS213 have the Synology name etched into the metal with an underlying mesh to provide airflow to the NAS.
Looking at the back we see a 92 mm fan, two USB 3.0 ports, a Gigabit Ethernet ports, reset switch, a Kensington lock port and AC input. The fan has a noise level of 19.9 dB(A) to help keep the box cool and quiet. One of the ways this models differentiates from the DiskStation DS213+ is the lack of an eSATA on the back.
On the bottom of the Synology DiskStation DS213 are four rubber feet to keep the unit from sliding around.
Specifications:

Synology DiskStation DS213 is a feature-rich 2-bay NAS server for workgroups and offices, specifically designed for users who need to share and protect data cost-effectively, while increasing productivity with comprehensive office applications.
Optimal Price/Performance Ratio
Features SuperSpeed USB 3.0
Effective Backup Solutions
Hassle-free System Installation
Rich Office Applications
Running on Synology DiskStation Manager (DSM)
Optimal Price/Performance Ratio Synology DS213 delivers an average 108.41 MB/sec reading speed under RAID 1 configuration in a Windows environment, and 65.36 MB/sec writing. DiskStation DS213 provides a reliable solution for data sharing with an easy to use interface, and comprehensive office applications, including a complete backup solution making it one of the best values in 2-bay NAS devices available today.
Coming with USB 3.0 support which offers transmission speeds of up to 5 Gbps, namely 10 times faster than USB 2.0, DS213 takes less time for data transfer for external hard drives and consumes less power. In addition, hot-swappable drives make it easier for maintenance and hard drive replacement.
Effective Backup Solutions Synology DiskStation DS213 runs on renowned multitasking operating system, the Synology DiskStation Manager (DSM). Offering a comprehensive list of business applications, the DS213 can be customized to run multiple applications of your choice to fulfill the requirement of your business environment. The DS213 replaces several pieces of traditional network hardware with rich features designed specifically for workgroups and offices such as antivirus, video surveillance, webmail, VPN, and LDAP directory services.
Applications are managed in the Package Center, an application portal that hosts applications as ready-to-use packages; to ensure high software integration as well as one-click-installation to eliminate guess work during installation. Additional approved 3rd party PHP web application such as content management, customer relationship management & e-commerce system can be hosted on DS213 by using Web Station with support for PHP/MySQL web content.
Hassle-free System Installation Web Assistant is a web-based utility to makes every DiskStation as easy to install as possible. Installation is done inside your existing web browser by setting up all vital system components in few simple steps. Combined with a quick start widget, users can simultaneously tour the DSM operating system and set it up to use right away.
Peace of Mind with Data Encryption The Synology DS213 is equipped with an encryption engine which offloads the encryption calculation task away from the main CPU, helping to improve file transfer speeds of the DiskStation.
Data protection is an important matter for businesses of all sizes. High-end features previously available only on enterprise level hardware are now accessible via Synology DS213 to small and medium-sized businesses. DS213 provides share-level AES 256-bit encryption to aid in the prevention of unauthorized access attempts to the hard drives.
Energy Efficient with Cool and Quiet Design Synology DS213 is designed with energy efficiency in mind. Not only does it provide a 92×92 mm fan and the smart airflow to keep the system running cool 24/7, its noise dampening design makes it really quiet compared to PC counterparts. The support of Wake on LAN/WAN, multiple scheduled power on/off and hard drive hibernation can further reduce power consumption and operation cost.
All Synology products are produced with RoHS compliant parts and packed with recyclable packing materials. Synology acknowledges the responsibility as a global citizen to continually work to reduce the environmental impact of every product produced.
Hardware
CPU Frequency : 2.0 GHz
Hardware Encryption Engine
Memory : DDR3 512 MB
Internal HDD/SSD : 3.5″ or 2.5″ SATA(II) X 2 (Hard drive not included)
Max Internal Capacity : 8 TB (2 X 4 TB HDD) (Capacity may vary by RAID types)
Hot Swappable HDD
External HDD Interface : USB 3.0 Port X 2, USB 2.0 Port X 1, SD Card Port X 1
Size (HxWxD) : 165 x 108 x 233.2 mm
Weight : 1.25 kg
LAN : Gigabit X 1
Wake on LAN/WAN
System Fan : 92 x 92 mm X 1
Wireless Support (dongle)
Noise Level : 19.9 dB(A)
Power Recovery
AC Input Power Voltage : 100V to 240V AC
Power Frequency : 50/60 Hz, Single Phase
Power Consumption : 18.48W (Access); 8.28W (HDD Hibernation);
Operating Temperature : 5°C to 35°C (40°F to 95°F)
Storage Temperature : -10°C to 70°C (15°F to 155°F)
Relative Humidity : 5% to 95% RH
Maximum Operating Altitude : 6,500 feet
Certification : FCC Class B, CE Class B, BSMI Class B
Warranty : 2 Years
Price: $299.99 (from Amazon at time of review)
Setup of the DiskStation DS213 is the same as other Synology NASes we reviewed here and here. To get maximum performance from the DiskStation DS213 make sure your network is running on the Gigabit standard. Drive installation is simple using the removable bays. The provided screws are used to attach the drive to the bays.
Once installed and everything is plugged in, install or download the Synology Assistant onto your PC or Mac. This program will identify the DiskStation on your network and open the DiskStation Manager (DSM) web interface. The DiskStation DS213 comes with DSM 4.1, the latest version preloaded.
The initial log in screen uses admin with a blank space for the user and password fields. This should be changed from the Control Panel within DiskStation Manager.
Synology provides wizards to make the DiskStation DS213 setup a breeze for novices. Power users can forgo these wizards and dive right into the Control Panel.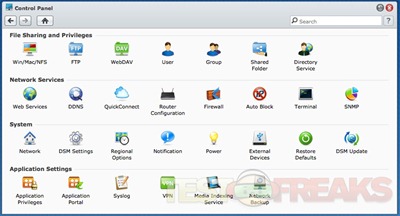 The hard drives can be set to RAID 0, RAID 1, or SHR (Synology Hybrid RAID); the latter allows the use of mismatched hard drives. To make life easier Synology provides a calculator to determine how much capacity you have with any configuration.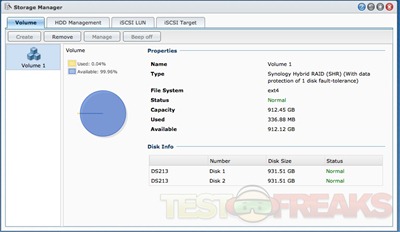 I covered the capabilities of DSM 4.1 the current version of DiskStation Manager in my review of the DiskStation DS712+. Like other Synology NAS boxes, the strength of the device lies in the ability to install packages to augment the capabilities of the unit. Photo and Music Station can be set to run in and outside of your home network. When used with iOS or Android apps, you can access all your photos or stream your music remotely. Other free iOS apps include DS video, DS file, DS cam, and DS finder.
The DiskStation DS213 packages for businesses include – DHCP Server, VPN Server, and Directory Server. There are numerous third party packages as well such as WordPress, DVBLink TVServer, Drupal and my personal favorite Plex Media Server.
To test the DiskStation DS213 Intel NASPT (Intel NAS Performance Toolkit) was used for benchmarking. One caveat to testing with this utility is a system with more than 2 GB with Windows 7 64 bit may skew the tests with a recommendation to use Windows XP 32 bit with 2 GB of RAM. However since the test platform is the same for all NASes being benchmarked, it should provide a relative comparison.
Other NASes tested include DiskStation DS712+ (1 TB x 2), DiskStation DS209+II (1.5 TB x 2) and DiskStation DS211j with (1 TB x 2). All of these NAS devices were setup in RAID 1 and plugged into a Gigabit based network using Netgear WNDR3700 RangeMax Dual Band Wireless-N Gigabit Router with Cat 5e cabling.
Here are the graphs of the tests. Obviously the DS712+, which is the top dual bay NAS from Synology, won all the benchmarks, but the DiskStation DS213 held its own.
Encrypted shared folders using share-level AES 256-bit encryption. The one drawback to using this encryption is the transfer speed decreases by four fold. Transfer speeds dipped into the teen and twenty Gb/sec range using encryption. Security is a plus but it will slow down the network transfer speeds.
In terms of noise the DiskStation DS213's fan is fairly quite. Unless you have the NAS on your desk you will probably not hear it over the ambient noise of your work environment. According to Synology this unit consumes 18.48W during hard drive access and 8.28W while hibernating.
Synology also has a built in Surveillance Station with the ability to handle up to 16 IP cameras. However, only one free license is provided, others must be purchased; they currently run around $57.
Conclusion:
Synology is a company that focuses on one type of product – network attached storage. This allows them to focus all their efforts on making quality NAS devices. Whether you are a home user or business, there is a Synology tailored for your environment and needs. The DiskStation DS213 is aimed at workgroups and offices but works just as well for home users. Synology has boosted built in memory as well as upgraded the processor from the DiskStation DS212. In addition they have added USB 3.0 ports and a front facing SD card slot.
Performance wise it improves on its predecessors in terms of speed. What helps separate it from other NAS boxes is the DSM 4.1 interface. Synology has made an easy to use yet powerful GUI that most anyone who has used a Windows, Linux or OS X machine can easily pick up. The Package Center allows the DiskStation DS213 to be tailored to suit the user whether for home or business. Plus, the DS213 uses share-level AES 256-bit encryption, which in the past was only available on Enterprise level servers.
I have yet to come away from a Synology product disappointed and the DiskStation DS21 continues this trend. Its price is the only factor that may scare off potential buyers; although research will show that similarly featured NAS devices will be in the same price range and the feature set of this unit make it a worthwhile investment.
Pros:
+Excellent performer
+Simple setup
+Numerous packages available
+Energy efficient
+Works with all three major OSes
+USB 3.0 ports
+Built in SD card reader
+File Encryption
Cons:
-Only one IP camera license included
-Expensive
| | |
| --- | --- |
| Grades: | |
| Overall | |
| Design | |
| Performance | |
To learn more about our review policy please visit this page HERE.