Today I've got a rather large review for you of a type of product that I find extremely useful and valuable, something I think everyone should have really. The product is the Synology DS212 NAS box or Network Attached Storage device. The DS212 is much more than just a storage box though, it can allow you to do much more than store and share files on your network. You can access it from other products on your network like your Xbox 360 or PS3 to play audio and videos or you can even access it while you're away right on your phone. The DS212 can be a server all in itself to let you run a website or attach some network cameras and you've got a fully featured security system to monitor your home or business. So read on to learn more…

The DS212 comes in a blue box with a nice carry handle on it and it's packaged well.
Inside you'll find the NAS bundled up in styrofoam and two more smaller boxes.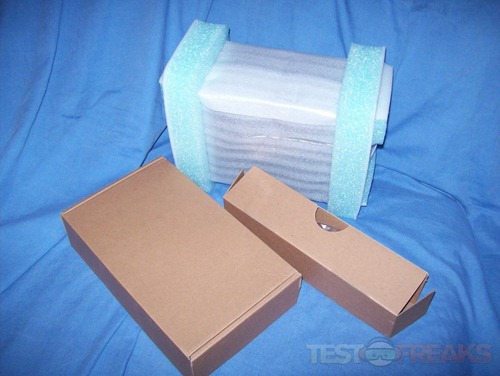 In the smaller boxes you'll find the user manual, software disc, Ethernet cable, power supply and screws.
The DS212 itself is a different style that previous Synology NAS boxes in that the front pops off. The box is a flat, textured black in color and with a glossy front door.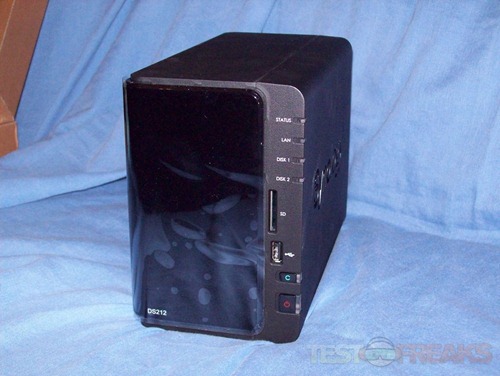 The front door just pops off as I said, you just need to pull a little bit as it's held on place with rubber nubs.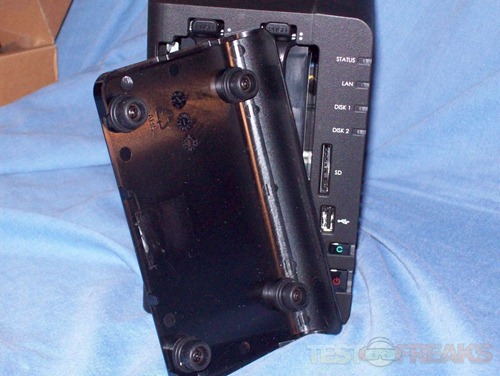 Removing the door will reveal the drive bays and mine already has drives in it.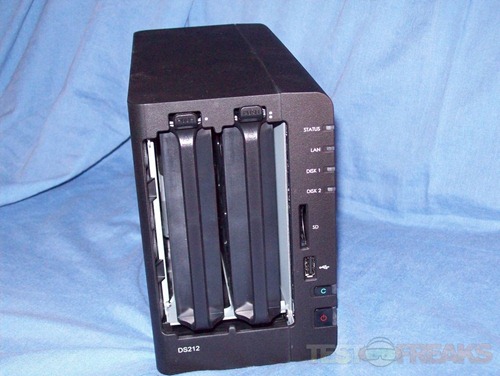 The drives are 1TB Seagate Barracudas.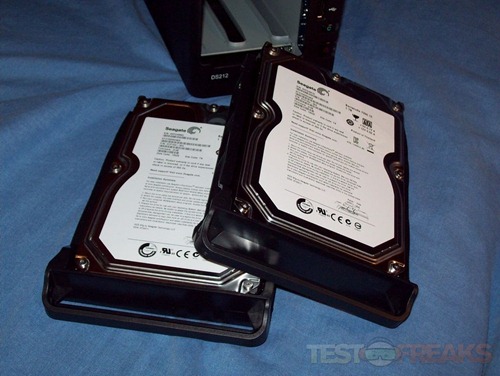 Looking inside you can see the SATA connectors and the cooling fan in the back.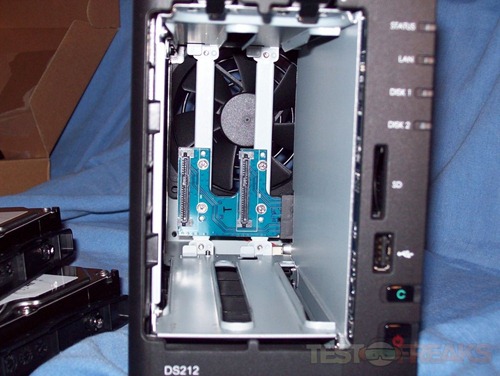 To the right side and top you'll find LED indicators for Status, Lan, Disk 1 and Disk 2.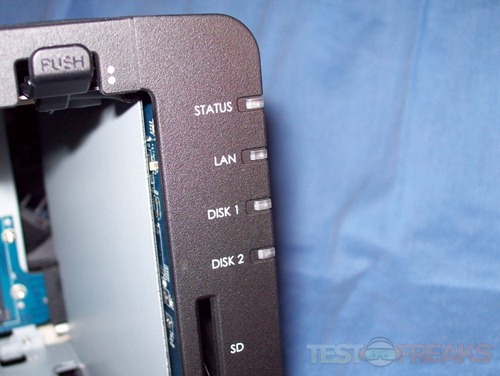 Below the LEDs you'll see an SD card reader, USB port, Copy button and finally on the bottom the Power button. The copy button allows you to instantly copy things from the SD card or USB port to the NAS.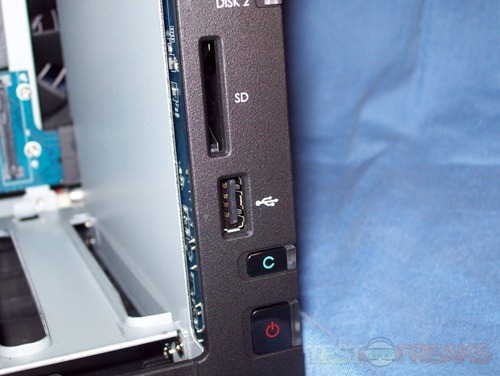 The sides of the DS212 has the Synology logo, but they're actually cut out somewhat to allow air in.
Moving to the back you'll see the cooling fan, two USB 3.0 ports, the Ethernet port, power connection and place for a lock.
On the bottom you'll find four rubber feet along with some ventilation slits and the ID label.
The DS212 is primarily made of plastic and it seems well made overall. It's not easy to open at all, but then it doesn't have to be as you put the drive in through the front door.
Specifications:

Feature-rich 2-bay NAS Server for Workgroups and Offices
Synology DiskStation DS212 offers an affordable and full-featured network attached storage solution, specifically designed for small business workgroup users who need to share and protect data cost-effectively, while increasing productivity with comprehensive business-oriented applications. Running on DiskStation Manager (DSM) operating system, it delivers ease of use and variety of features.
Optimal Price/Performance Ratio
Synology DS212 delivers an average 110 MB/sec reading speed under RAID 1 configuration in a Windows environment, and 54.3 MB/sec writing. DiskStation DS212 provides a reliable solution for data sharing with an easy to use interface, and comprehensive office applications, including a complete backup solution making it one of the best values in 2-bay NAS devices available today.
Coming with USB 3.0 support which offers transmission speeds of up to 5 Gbps, namely 10 times faster than USB 2.0, DS212 takes less time for data transfer for external hard drives and consumes less power. In addition, hot-swappable drives make it easier for maintenance and hard drive replacement.
Simple Sharing
Synology DS212 offers comprehensive network protocol support, assuring seamless file sharing across Windows, Mac, and Linux platforms. Windows ADS and LDAP integration allows the Synology DS212 to quickly and easily fit into an existing business network environment with no need to recreate user accounts on the Synology DS212. Internet file access is simplified by the encrypted FTP server and the web-based File Browser. HTTPS, the built-in firewall, and IP auto-block support ensure file sharing over the Internet is protected at a high security level.
If you are always on the move, Synology provides a handy app, DS file for iPhone, iPad and Android users. Anything stored on Synology DS212 can now be accessed remotely using DS file via the Internet.
Business Applications
Synology DS212 runs on the award-winning operating system, Synology DiskStation Manager (DSM), offering comprehensive applications and features designed specifically for home and business workgroups.
The built-in mail server turns Synology DS212 into a dedicated mail service provider, and the USB printer sharing capability minimizes businesses' cost by sharing printing resources throughout the office. VPN Server package offers an easy VPN solution that turns your DS212 into a VPN server, providing a secure way of connecting to a private LAN at a remote location.
Synology Web Station with support for PHP/MySQL web content allows hosting of up to 30 websites, and 3rd party web applications such as Content Management, Customer Relationship Management & e-Commerce system.
Effective Backup Solutions
Synology DS212 offers a centralized backup target to consolidate fragmented and unstructured data across a network. PC users can back up their data to Synology DS212 using Synology Data Replicator software, and Mac OS X users enjoy native Apple Time Machine integration.
A backup wizard is provided for backing up data from Synology DS212 to another Synology DiskStation, to other rsync server, or to an external drive. Backing up to Amazon S3 cloud service is also supported. The add-on package, Time Backup, keeps DiskStation data in multiple versions, so IT administrators could easily keep track of them and restore to a previous version whenever required.
USBCopy and SDCopy provide a plug-n-save solution to store data. By pushing the «Copy» button on the front panel, you can quickly back up all data from your USB storage device or SD card to your DiskStation.
Specs:
CPU Frequency : 1.6GHz
Hardware Encrypted Engine
Memory : DDR3 256MB
Internal HDD/SSD : 3.5″ or 2.5″ SATA(II) X2 (Hard drive not included)
Max Internal Capacity : 8TB (2X 4TB HDD) (Capacity may vary by RAID types) (See All Supported HDD)
Hot Swappable HDD
External HDD Interface : USB 3.0 Port X 2, USB 2.0 Port X 1, SD Card Port X 1
Size (HxWxD) : 165 X 108 X 233.2 mm
Weight : 1.25Kg
LAN : Gigabit X1
Wake on LAN/WAN
System Fan : 92x92mm x1
Wireless Support
Noise Level : 19.0 dB(A)
Power Recovery
AC Input Power Voltage : 100V to 240V AC
Power Frequency : 50 / 60Hz, Single Phase
Power Consumption : 18,2W (Access) ; 6,8W (HDD Hibernation)
Operating Temperature : 5°C ~ 35°C (40°F ~ 95°F)
Storage Temperature : 15 to 155°F (-10 to 70°C)
Warranty : 2 Years
Price: $299.99   (from Amazon at time of review)
Once you get the DS212 attached to your network you can run the Synology Assistant which will aid you in finding it on your network and let you get started configuring it. Within the software you can map your network drive or even monitor the NAS box in addition to getting it setup and running.
When the DS212 arrived it was running the 3.2 version of the Synology DSM software but I upgraded later to the newest 4.0 which you'll see the differences farther in the review.
When you first login you're greeted with the welcome and setup screen where you can get started. The DS212 and basically all Synology NAS boxes have many, many features and I'm going to touch several of them but not all of them as there's just too many to through individually.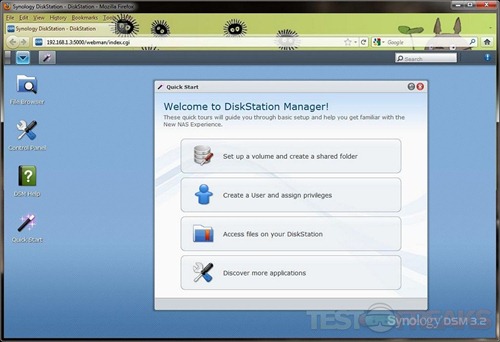 The DS212 is running two 1TB drives but is setup using the Synology Hybrid Raid which allows for fault protection. It means I have 1tb of space available and everything I put on that 1tb drive gets copied to the second drive for backup.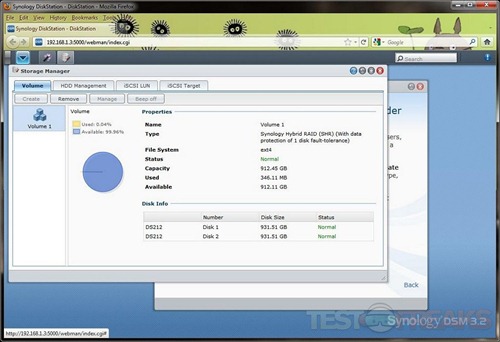 Off the left side of the screen you can access a quick admin section with icons for commonly used things. Once you add more apps or activate more services they'll appear hear as well.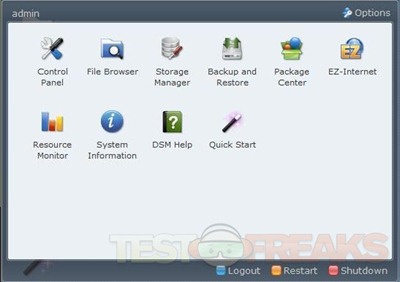 When you click on Control Panel then you'll have access to everything running or not. Clicking on something of course opens it up for you to access and make changes.
One of the first things I do is create users and a shared folder for them so everyone on the network can access it and add or remove files.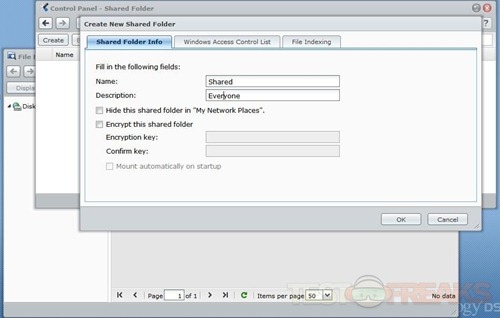 Then you'll want to go in and change the privileges for each user. This is the same when you create or add other users, you can individually set access to the folders and what they can read or write or just have no access to.
Through the control panel you can also access a basic File Browser with a tree on the left side. You can access the NAS and your computer from here if you have the permissions set to allow it.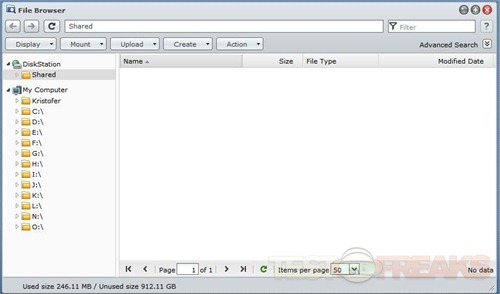 Using the File Browser you can also access music, videos and pictures to see what you've got on the NAS. Click on a photo and up pops a separate windows showing you the photo.
The DS212 is a fully featured audio player and it's called Audio Station. Here you can play music from the NAS or from Internet Radio. Depending on which phone you're using you can also access this right from it as well.
One of my favorite parts of Synology NAS boxes is the built-in Surveillance Station that allows you to attach a network camera to your network and monitor things while you're away. It's a fully featured application that rivals those found in professional security products. Sadly only one license comes included with the NAS box and if you want to use more cameras you'll need to purchase more licenses from Synology. If you're using iOS or Android you can get the Synology DSCam app and monitor your camera right from your phone while you're away. Sadly there's no app yet for Windows Phones, but I personally hope there will be one in the future as I really miss it on my phone.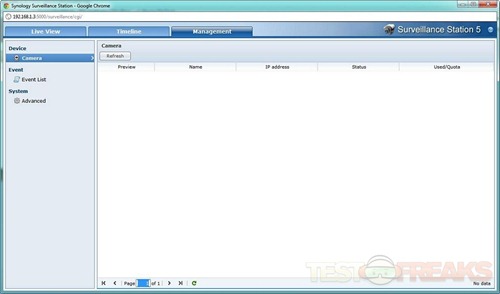 That was all done just via the Admin section or the back-end of the NAS. You can also access other things via the front end of the web end before you log in to the box itself. This is what 'normal' users can access essentially.
The file browser is pretty much the same just a bit prettied up.
Then there's the actual photo viewer called Photo Station where you can share and view photos with others on your network or even over your phone.
You can do plenty of things with the DS212 just by adding apps or plugins to it, one of them is creating your own blog which you can actually publish to the web for the whole world to see. You can visit the Synology website to find more apps where they have official ones and there's others that users have created as well to get more functionality from the DS212.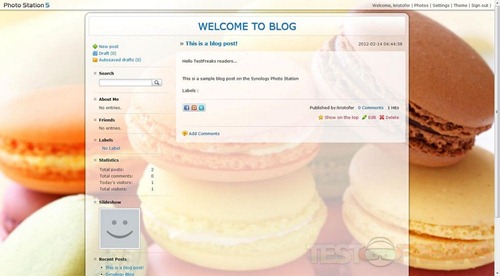 Upgrading to the new DSM 4.0 offers not only aesthetic changes but improves performance in many areas of the NAS system itself.
The login screen is similar to the last version, just bigger and more attractive I think.
When you first login via admin you'll be greeted with the welcome screen and monitors open for you to see the status of the NAS system.
The basic admin panel is similar, it drops down from the left side.
The Control Panel is similar as well but it's now more divided for ease of use.
Adding apps or packages is easier now in version 4.0, everything seems to be more graphical in version 4.0.
So that gives you an idea of the differences between the older and newer versions of the operating system. If you're running a Synology NAS I can highly recommend you upgrade to the newest version.
Let's get into some testing.
I am running a gigabit network through a D-Link DGS-2208 8 port 10/100/1000 switch.
For my testing I test the transfer speeds to and from my computer to the NAS boxes of three different things, Small Video File Transfer (900Mb), Large File Transfer (3.GB), and a Files and Folders Transfer which is a total of 3.GB with 874 files within 199 folders.
For comparison I'm using the Synolgoy DS212+, the Thecus 4200 and the Thecus N2200XXX NAS boxes.
The first would be the Transfer To test or the write to test.
So yes it's a lot of data, but if you look you'll see the DS212 is the best performer for all of the tests. It slows down a bit on the Files and Folders test but it's still faster than the others.
The next test the Transfer From or Read test.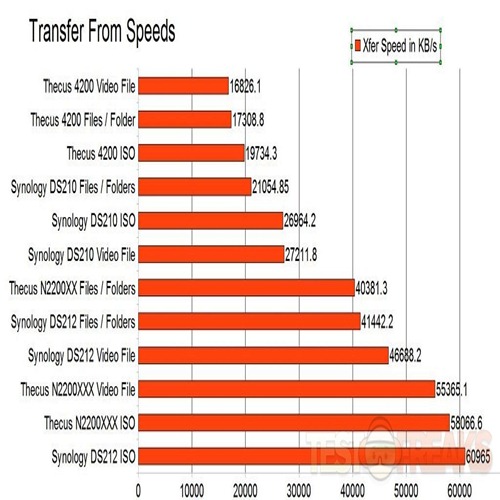 Here the DS212 slows down slightly in some of the tests with the Thecus N2200XXX beating it out a bit in the Video files part. The others tests though the DS212 is the fastest.
The last set of tests is the Intel NAS Performance Test and my system has 4gb of ram in it and I'm running Windows 7 X64 bit. When using the Intel NAS Test you should use Windows XP and 2gb of ram, well I don't even have any machines that use WinXp and they all have more than 2gb of ram, so some of the results might be inflated. Knowing this though, and knowing the specs are the same can still give us a comparison to look at. I've been using the Synology DS210+ for quite a while so I figured I'd compare the two to each other.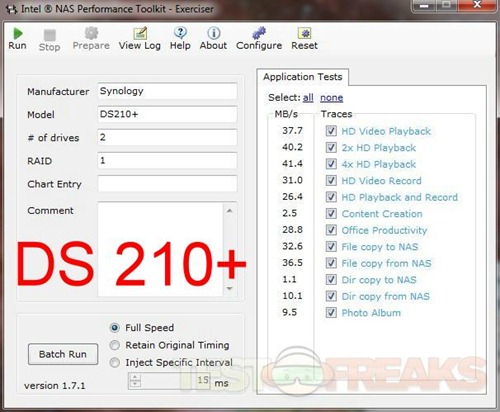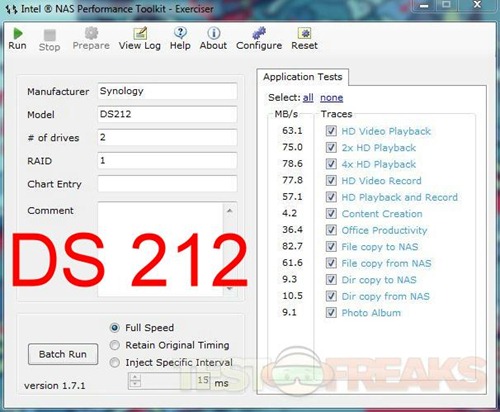 In most of the tests the performance is almost or close to doubled when using the DS212. The last two though are very close. What does this really say, well I think it says there's a marked improvement overall when going to the DS212 from the DS210+ even though the DS210+ has 512mb of memory while the DS212 only has 256mb.
Here's the same as above but in graph from to give you a visual representation of the results: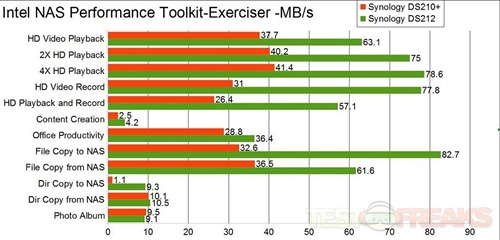 The DS210+ actually uses laptop ram, there's a slot inside holding it, but the DS212 does not, it's soldered or attached permanently to the board. So sadly you couldn't upgrade if you wanted to, but I don't think there's much of a need to as the tests show 256mb seems fine.
Overall the DS212 is fairly quiet, I keep it on a shelf about three feet from me and I really can't here it over everything else. The fan seems to run quiet, but every once in a while you'll here it spin up faster. Monitoring the temperatures I've found that the fan does seem to keep the drives cool. The enclosure seems to keep the drives quiet as well, they are audible when accessing but just barely so. You only really hear them when they first come online when waking from sleep or powering on.
Conclusion:
The Synology DS212 is a versatile product that can be very useful and invaluable really on any network be it home or business. The DS212 allows you to do so much more than just store things on it like an external drive can. The home user can benefit from all of the features just like a business user could, the included packages allow you to do so much more than just store things. The DS212 is basically a server where you can run a website, or stream audio and video to other devices on your network. The DS212 allows you to share everything with everyone on your network and fully set permissions as to who can access what so you can keep private what needs to be. Included is a fully featured security surveillance system, just add a camera and you can monitor your home or business on your network or while you're way via your laptop or even your phone. It's just one of those things that I've come to find I can't live without.
I'm a big fan of NAS boxes as I think they're just so much more useful than a regular external drive. If you need to backup your files why not do it over your network so you have access to them anywhere in the world? You can not only backup your main computer while you're home but you can backup while you're way as well.
The way the world is now we're not safe travelling with our laptops and other storage devices, we can have them searched and even taken from us. A NAS can circumvent this, take a blank or empty laptop with you and then just access your files right over the internet. On the way home just transfer your files back to the NAS and there's nothing to search at the border, just wipe and go. I like the fact that I can access my files from anywhere and not have to take anything with me.
A NAS box is very useful, but you need one that's not only feature rich but reliable and a Synology NAS is just that and more.
Pros:
+Simple setup and fairly easy to use
+Excellent performance
+Includes USB 3.0 ports for fast transfers
+Plenty of options for home and office users
+Can be an invaluable tool for your network
Cons:
-Fan can be audible at times
-Might be considered expensive
| | |
| --- | --- |
| Grades: | |
| Overall | |
| Design | |
| Performance | |
To learn more about our review policy please visit this page HERE.