Last week we reviewed the Impact Snap with Cover iPhone 5 Case while today we will look at the Impact Snap with Cover for iPad Mini. This case is almost identical in design; it is just built to accommodate the larger iPad Mini.
Tech21 created the Impact Snap with Cover for iPad Mini with the same technology found in their other impact resistant cases. For this case they use the same military grade D3O impact material to protect the 7-inch Apple tablet.

Tech21 Impact Snap Case Review
The Impact Snap with Cover for iPad Mini arrives in a clear plastic sleeve with the device visualized within. The back shows three images of the case along with a list of features in six languages. Tech 21 also provides a QR code that links to their product pages.
Inside the package we find the Impact Snap with Cover case protected by foam insert.
This case is available in two styles – white and black. For our review today we will be looking at the black version.
Tech21 designed this case to be a folio style with a cover to protect the tablet's home screen. The outer cover is composed of smooth black leather while the inner aspect has a velvety material with the D3O logo found at the bottom. The front cover functions as a Smart Cover, which turns the iPad Mini on and off.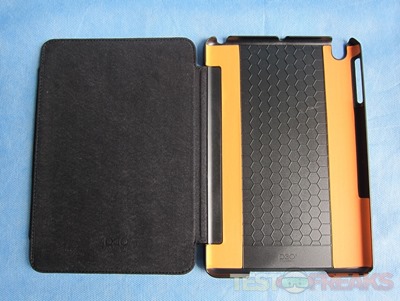 The right side of a case is composed of a polycarbonate material and holds the iPad Mini in place via four side clips. This shell portion is lined with two orange rubbery panels that were also seen on the iPhone 5 case. A honeycomb pattern is found in the center of the polycarbonate shell. Once again on the bottom is the D3O logo.
The requisite openings for the volume, power, dock connector, speakers and headphone jack are found around the case's periphery. An opening on the back is present for the iPad Mini camera.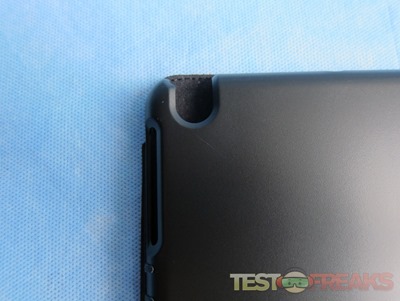 The back of the case is composed of a smooth black material with the Tech21 logo embossed on the bottom. The contours of this shell match those of the iPad Mini providing a low profile without additional bulk.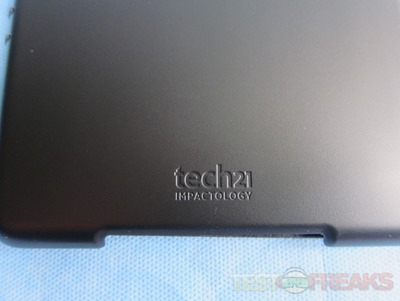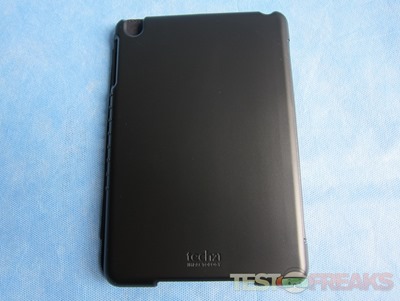 On the right-hand side are eight rubbery grips to help keep the case secure in the user's hands.