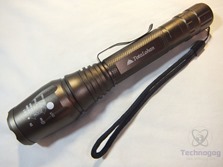 I've got another flashlight for review today or actually a kit, but this one uses two 18650 batteries for power instead of one like all the others flashlights I've reviewed recently. The light is from a company called TotaLohan and you get the light, two 18650 batteries and a dual charger in the box. The light is fairly bright yes, I'm pretty sure it's not the 960 lumens that it claims to be. Honestly I was expecting it to be very bright as it does have two batteries for power, but having two batteries does allow for a longer run time. The LED in the light isn't white it has a very blue tint to it and I really don't like that at all, I like my flashlights to put out white light as that's the most usable color for a flashlight really as the blue tends to skew colors a bit. All in all it's not a bad light though. Read on to learn more…
Specifications and Features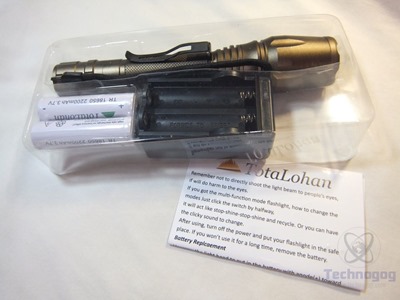 The light needs two 18650 batteries for power and they are included for you along with a dual battery charger so you can charge both batteries at once. The charger is a travel style with a folding power plug so you can easily take it with you or store it away.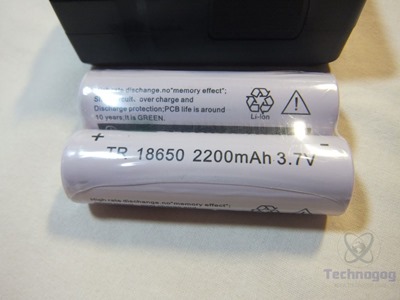 The light is a bronze color overall and it's made of anodized aluminum making it durable and nice looking overall. The light does comes with a sturdy metal clip towards the center and a wrist strap already attached for you. The light is about 8 inches long and on one side it says TotaLohan and the other it says XML-T6.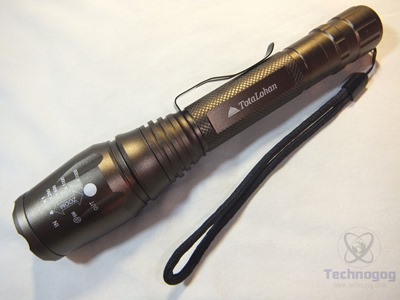 The head of the light is adjustable by sliding it up and down, this allows you to focus the beam from spot to flood and back again. When the top is extended the light becomes 8.75 inches in length so it's not exactly a small flashlight but it's not overly large either.
The front is the lens and and it unscrews from the light and I should note here it's not glass but plastic, I should also point out that there is no rubber O-ring here either.
Towards the middle of the light it can also come apart by unscrewing it and this will let you remove the metal clip if you want. I should note that there is no rubber O-ring inside to keep water out.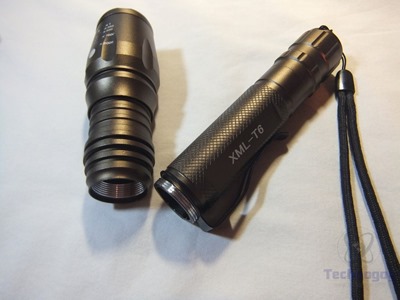 The tail is where you'll find a bright green rubber button that turns the light on and off and switches between the five modes which are high, medium, low, strobe and SOS. You can fully depress the button and hear an audible click to change the modes of you can partially depress it to change the modes as well. The end comes off to reveal the battery compartment and you'll find a rubber O-ring inside to keep water out. The light has one O-ring at the back where the batteries are inserted but none at the two other parts where water could enter so the light isn't exactly what I would call water proof or not really even water resistant in my opinion. Yes it can be fixed fairly easily by just adding two O-rings but we shouldn't have to as the light is advertised as being water resistant but two out of three places on the light are missing O-rings, that's not what I would call water resistant at all.
For testing I used the light as on would do, to illuminate an area, specifically every night when I take out my dogs to do their business. The two batteries do last along time, I've only charged them once in the month I've had the light. The first thing I noticed when using this light is that it's not white, it has a very blue tint to it and I personally do not like that at all, I prefer my flashlights to produce white light. The light is also not 960 lumens as stated or else it would be probably the brightest flashlight I own and it's not. I have a 700 lumen rated LED light that is brighter than the TotaLohan light.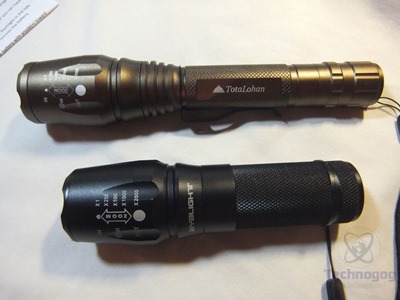 Conclusion
The TotaLohan LED flashlight isn't a bad choice overall, it's very well made and the dual batteries do last a long time. This light will surely illuminate the way so you can see what's in front of you.
The main issue I have with this light is that it's blue and not white in color, I just don't like a flashlight that outputs a blue light instead of white.
The second issue I have with this light is the fact that it claims to be water resistant but yet I only found one rubber O-ring out of the three access points where water could possibly get in.
The third issue is of course that it's not 960 lumens as it claims to be, sure it's very bright but just not what the specs claim it to be, my 700 lumen light is brighter.

Pros:
+Seems well made
+Fairly bright
+Includes two batteries and dual charger
Cons:
-Blue not white LED
-No memory for light modes
-Not as bright as expected, certainly not 960 lumens
-No O-rings around lens or center section
| | |
| --- | --- |
| Grading | Scores Out of 10 |
| Overall | |
| Design / Aesthetic | |
| Value / Price | |
| Performance / Usage | |
To learn more about our review policy please visit this page HERE.