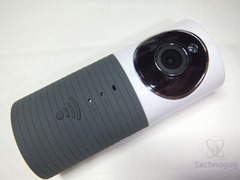 I take home security seriously as I've had many problems in my life with people, things stolen right off our porch and things vandalized and we even had people try to frame us for a crime, but the security cameras proved we didn't do anything wrong like they tried to say we did. Up for review today I have a wireless IP camera from Trivision which features 960p resolution, infrared night vision, remote app monitoring and two communication along with on-board and cloud storage. All in all it's not a bad basic camera, it works and does what it's supposed to do. Read on to learn more….

Specifications and Features
TriVision Cloud Cam, HD 960P Indoor Wireless IP Security Camera with Motion Sensor, IR Night Vision, Wide Angle for Home/Office/Baby/Pet Monitor with Apple iOS, Android App
-Check-in your home /office / baby / pet at any time in crystal clear 960p HD video with infrared night vision
-120° wide angle and advanced motion sensor let you detect motion around corners and monitor all your blind spots, make sure no movement goes unnoticed
-Get notified, instant live viewing and playback recordings with video and audio with Apple iOS, Android App
-Two-way audio allows you to see, hear and speak to your baby / pets through the built-in denoising speaker and mic straight from your smartphone
-Cloud recordings avoid the risk of losing footage from a microSD memory card (Support up to 128GB MicroSD for local backup), and ensures all recorded video is safe, secure, and protected
Specification:
1. 120° Wide Angle Lens with 1280 * 960 resolution
2. Use the advanced H.264 High Profile compression technology, which can be the lowest code rate and HD image quality
3.Low illumination,0.1Lux@(F1.2, AGC ON),0 Lux with IR On
4.dual-stream, support Micro Max 128GB SD storage(optional) and cloud storage(optional, support many devices view the video at the same time after you use the Cloud Storage)
5.two-way audio
6.Sharing real-time video with friends and families
7.Motion detection to catch pictures of moving things
8.Adding many cameras in the same app, so monitor your every house and corner
9.Mobile App (IOS/Android) available on "Google Drive" and "Apple Store"
10.Auto IR-CUT filter removal function/ICR, monitoring day and night
11.P2P safe transmission technology
12. Wi-Fi 802.11b/g/n (2.4GHz only)
Parameters:
General information:Day /Night HD Lens
Image resolution:1280*960@15fps
Coded format:H.264
Range:>10m
Wireless: IEEE802.11b/g
Power supply: Micro USB,5V-1A
Price: $39.99 (from Amazon at time of review)
The Review

Let's start with a video unboxing and then move on:
The camera ships in a clear plastic box but it seems to be mislabeled as it does have a sticker on the back labeled Trivision, I'm guessing it's a packaging issue is all. The camera is labeled Clever Dog on the box but it's the same camera as the Trivision listed on Amazon.
Inside of the box you'll find the camera and accessories in a clear plastic tray that slides out. Once you get everything unpacked you'll find the camera, micro USB cable, USB power adapter, stand, mounting hardware and the user manual.
The camera is white and gray, the gray part is actually rubberized and it can be other colors as well depending which you buy. The camera lens is here on the front and above it is an infrared LED that allows it to see in the dark. On the gray part, below the lens, are three holes, the top one is the microphone, the middle is the wifi LED indicator and the bottom one is the LED power indicator. The wifi logo is below the holes and it's actually a button that you use to turn on the wifi or reset it as needed.
On the right side of the camera is the microSD slot which can support up to a 128gb card for storage. On the left side of the camera is the micro USB port for power and then below that is a small bump labeled 'push' which unlocks the stand as the camera can be locked onto it.
On the back is the ID label and then the speaker, but below that is a square hole that mates with the stand to mount the camera.
Set up is fairly easy for the most part, I did have an issue getting it to connect to my wifi and I was almost ready to give up honestly but I figured I would try one last thing. My wifi network is hidden but I unhid it and the camera could then connect to it which is odd, but it works. I also have both 2.4ghz and 5ghz networks, the camera does not work on the 5ghz network.
I'm using the camera with my Samsung Galaxy S9 Android phone. The app is basic really but it gets the job done, I like basic though as it makes things simple, too many options can be confusing for some people. You can monitor the camera remotely and even get notifications on your phone when something happens. One of the settings for the camera is the ability to turn the LED indicator light on and off, I like this feature as it's great for a 'hidden' camera so people won't notice it in the dark. The app allows you to listen to what's going on without turning the speaker on which I think is a great feature as well, but you can turn both on and have two way conversations through the camera.
Resolution is 960p or 1280×960 so it is technically HD and the picture quality is clear but the colors are a bit washed out as you can see on the Jurassic Park logo on my t-shirt in the still picture I captured using the app.
Conclusion

Right now this camera is $40 on Amazon and for that price I think it's worth it, it seems well made and it's easy to setup and use.
The user manual doesn't mention that you can't use a hidden wifi network with the camera, it took me quite a while of trying to get it to work before figuring that out on my own. The manual does mention that you can use 5ghz wifi which is a bit disappointing to me, but I guess it's fine for most uses.
The Android app is basic and it's easy to use to monitor things while you're away and it can even notify you on your phone of movements in the camera field of view.
The picture quality of the Trivision camera is 960p and it's clear but the colors are a bit washed out, still though you can make out good details and faces should be no problem for it.
The camera has a micro SD slot and can support up to 128gb in capacity but there's also a cloud storage option.
All in all it's not a bad camera for the price, it does what it's supposed to do, it's not bad for an entry level wifi security camera for monitoring your pets, baby, nanny or whatever you may need.

Pros:
+Simple to setup and use
+Seems well made
+App is easy to use
+2 way communication
Cons:
-Can't use hidden wifi network
-Can't use 5ghz wifi
-Colors a bit washed out
| | |
| --- | --- |
| Grading | Scores Out of 10 |
| Overall | |
| Design / Aesthetic | |
| Value / Price | |
| Performance / Usage | |
Disclosure: This product was given to me for review by the company for review purposes only for free or at a discounted price.

To learn more about our review policy please visit this page HERE.