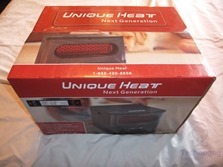 I don't like the cold, some people don't mind it, but when it gets like below 50F I'm ready to turn the furnace on. We have several space heaters to supplement the furnace for added heat so I'm not the only one is the house who doesn't like the cold. I recently bought a new heater and it works for the most part but it doesn't have a fan, it's radiant heat and it doesn't work as I expected it to really so I needed a new heater. Unique Heat asked me to review their new heater and it was perfect timing so of course I said yes. What's different about this heater is that it's infrared and it doesn't dry the air like other heaters, I've got sinus issues so this is something I can appreciate. The heater is smaller and portable and it doesn't get warm on the outside so it's safe to use around kids and pets and it's very portable. So far I like this heater a lot, it's very warm and quiet. Read on to learn more…
Specifications and Features
Unique Heat Portable Space Heater | Infrared Heat Technology Warms up to 1000 Square Feet Without Drying Skin & Sinuses | Safe, Quiet & Non-Combustible | Easy to Carry (15 lbs.)
Enjoy Healthy, Comforting Warmth with No Dry Skin, No Chilly Drafts
Most space heaters suck humidity (moisture) out of the air, so they dry your skin and your sinuses. Not the Unique Heat Portable Heater. This energy-efficient little wonder uses infrared technology to keep the air comfortably moist while filling up to 1,000 square feet with pampering warmth that is directed toward you, not the ceiling.
Result? Cozier warmth without flaky, itchy skin. You'll wonder how you ever got through winter without it.
Your Unique Heat Unit Offers:
*Enough power (about 5000 BTU) to warm up to 1,000 square feet
*3 settings to choose from: Fahrenheit, Celsius & Levels 1-13
*Handy bedside remote with simple controls & instant on/off
*Non-combustible safety with protection against overheating
*Sleek, sophisticated design
*Convenient compact size: Weighs just 15 lbs. & easily fits in small spaces
*Great savings on your oil & gas bills
*Convenient handles for toting from room to room
Optional Air Purifier Available:  Easily turn your portable heater into a HEPA air purifier with our upgrade kit (sold separately).
Price: $199.99 (from Amazon at time of review)
The Review
Let's start with a video unboxing and then move on:
The heater comes in a nice looking box with lots of pictures and information all over it and inside you'll find the heater packaged very well with styrofoam and wrapped in plastic.  Once you get everything unpacked you'll find the heater itself, the remote control and user guide.
The remote control is infrared and it's small at about 3.25" x 1.5" in dimensions with buttons for power, quiet, timer, temperature setting and purifier.
The top is a slightly textured black with a wood grain strip towards the front where you'll find the control panel with LCD panel and controls for power, timer, purifier and a quiet setting.
On the back of the heater is where the air enters into the heater and the back is secured with a thumbscrew so you can easily remove it and take out the air filter to clean it. On the bottom right is the temperature sensor and of course you'll see the power cord coming out on the left side. I should note the electrical cable is thick, very thick, and it's stiff, it's not like the power cables I've seen on most heaters, this one is very heavy duty. The cable is three pronged so it's grounded as a heater should be. The cable is about 71 inches or about 6 feet long which should be fine for most uses surely.
On the front of the heater you'll see about half of it has a black wood grain finish with the heater exit port located in the center. The port or vent is about 8.5" by 2.5" in dimensions and inside is a protective grill so things like fingers and toys and whatever else can't get in. At the top of the front is a small object looks like an LED but it's the infrared sensor of the remote.
On the right and left sides of the heater you'll find the handles so you can easily carry it from room to room if need be. The heater is lightweight at about 15lbs so you can easily move it with no issues. The heater is about 11.25" by 15" in length and width and it's about 9.5" high. It does feel well made and solid
The bottom of the heater is basically a metal plate nut there are four rubber textured feet there to keep the heater in place.
When you turn the heater on and it starts emitting heat it emit a reddish orange light from the front that's bright but not overly so. When I sleep I like it dark and I though this might bother me but it didn't.
I have other portable electric space heaters in my home, five of them actually (six now with the Unique Heat) and four of them are fan forced air and I have to say this is the quietest of them all. I like silence when I sleep, I'm a rather light sleeper and I can't sleep with the other heaters fans running but I can with this one which to me is a big bonus.
I've been using the heater in my living room where part of it is my office and I need the extra heat as I don't like the cold at all and this little heater put out out a lot of heat, the setting is from 0 to 20 and I tried it on 20 but it was a bit too hot for me so I used it on 10 and it was more comfortable.
One thing to note is that when your turn it off it doesn't actually go off, or at least the fan doesn't as it stays on to cool the heater down. This is just normal operation but it was surprising when it first happened.
The top control panel lights up white in the dark but after a few seconds it does turn off so as not to disturb your sleep. The power button does have a small red LED to indicate power. The remote does work fine to control the heater, it works as it should, no complaints there at all.
The one issue with this heater is the smell from it that lasts over a week when you first turn it on. This is common with basically all electric heaters though, it just happens and you live with it. The smell does dissipate over time, but it takes a while, two weeks later and there is still a slight smell, it's not all gone but it's much less than when I first turned it on for sure. Personally I don't mind it, it's not that bad to me, but my wife complained every time I turned it on, it seems she's more sensitive to the smell that I am I guess.
There is an optional HEPA air purifier that you can get for this heater which I think is a nice addition and would love to have but I couldn't find it for sale on Amazon, I'm guessing you have to buy it directly from them.
Speaking of electric heaters I was thinking about getting a hybrid water heater for my home, I'm wondering how well they work?
Conclusion
Overall I like the Unique Heat heater a lot, it works fine to keep you warm and the best part I think is that the fan is quiet, at least compared to other heaters I have anyway.
The included remote is a nice addition, I can sit at my desk and still adjust the heater to my needs.
The only issue is the smell from it, I don't mind I myself but my wife complained a lot about it and other people might not appreciate it either.
As far as price or value, I'm not sure as I've only had it and been using it for about two weeks now. The price may seem high to some but if this heater lasts for many years then it was well worth it, something like this I would base the value on its longevity and I can't say anything to that as of now. Some of the heaters I own are 4-5 years old and I'd say they were worth the cost at this point, so if I can get at least that from the Unique Heat heater I'll be very happy.
(edit: 2-18-19 – This heater is still working great, no problems, still nice and hot)
Pros:
+Quiet running
+Simple to use
+Includes remote
+Lots of heat
+Outside is cool to touch so safe for kids and pets
+Easily removable and washable air filter
+Optional air purifier
+Portable and well made
+Doesn't dry air
Cons:
-Strong chemical/burning smell on first use
| | |
| --- | --- |
| Grading | Scores Out of 10 |
| Overall | |
| Design / Aesthetic | |
| Value / Price | |
| Performance / Usage | |
To learn more about our review policy please visit this page HERE.