Today for review I've got another phone from our friends at Verizon Wireless, it's the LG Vortex running Android 2.2. The Vortex is small enough to fit right in your pocket comfortably and it offers all of the features you've grown accustomed to with Android phones. The phone though is a bit underpowered and there are a few things I'd improve upon, still though it's a decent entry level offering.

Let's start this off with the video unboxing: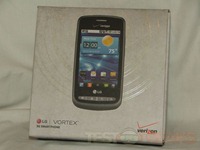 Included with the phone is a battery, charger and cable.
The LG Vortex is small with dimensions of 4.47″ (H) x 2.32″ (W) x 0.52″ (D) and a weight of 4.44 oz. The factor is what you would call candy bar and it has a 3.2" touch screen that take up most of the front. Below the screen are hardware buttons actually, and no the familiar touch style with many Android phones.
On the right side of the Vortex you'll find the volume keys, left side is just the microSD slot, on top you'll see the power button and audio port and then on the button is the microUSB port.
On the back is the speaker and the 3.2mp camera and no flash.
Specifications:
First time smartphone users aren't looking for the most elaborate phone on the market, they are looking for a phone that does what it should, and does it brilliantly. LG Vortex provides mobile features and easy functionality for the first time smartphone user. With intuitive Android 2.2, and Bing Search, they can find exactly what's on their mind; and with VZ Navigator they'll arrive exactly where they wanted to go. With a large touchscreen incorporating Swype, they wave goodbye to tired thumbs, and say hi to effortless touches. Meaning, from day one, they will be using and enjoying, not struggling through a frustrating learning process.
Camera:
* 3.2 megapixel
* Camera Resolution Settings: 2048×1536, 1600×1200, 1280×960, 640×480, and 320×240 pixels
* Color Effects: Off, Mono, Negative, Solarize, Sepia, Negative Sepia, or Blue
* White Balance: Auto, Incandescent, Sunny, Fluorescent, or Cloudy
* Shot Modes: Continuous Shot, Smile Shot, Beauty Shot, Art Shot, Panorama, Face Effect, and Cartoon
Video:
* Video Capture and Playback
* Video Resolution Settings: 640×480, 320×240, and 176×144 pixels
* DIVX support & Video Player for WMV, MP4, 3GP, and 3G2 formats
Specifications:
Dimensions: 4.47″ (H) x 2.32″ (W) x 0.52″ (D)
Weight: 4.44 oz.
Operating System: Android 2.2
Display:
* 3.2″ Touch screen
* HVGA 262K Color TFT LCD
Keyboard:
* Virtual QWERTY keyboard
* Candybar Form Factor
Battery:
* Standard Battery – 1500 mAh
* Usage time: up to 450 minutes OR
* Standby time: up to 500 hours
* SAR: Head – 1.2 W/kg; Body – 0.79 W/kg
Memory / Chipset
* Technology: CDMA
* Frequency: 1.9 GHz CDMA PCS, 800 MHz CDMA
* Chipset: MSM7627 600Mhz
* Data Transmission: EVDO Rev 0, EVDO Rev A, 1xRTT
* 2GB microSD preinstalled
Full Retail Price: $309.99
2-Year Contract: $179.99
Online Discount: -$100.00
PRICE: $79.99

The LG Vortex run Android 2.2, so you might expect it to be snappy and responsive, and for the most part it is. The phone has five home screen, two of which are blank and the others are filled for you, even the Twitter account was active with something. The screens are in order as they are on the phone with the Home screen in the center. You'll notice a couple Bing things there and Verizon branded as well. On the bottom you'll find the Phone, Contacts, Twitter and the Browser buttons.
Here's the Apps, you'll find plenty of Verizon stuff installed that you of course won't be able to uninstall.  Nothing really stands out to me as being unique though, just some normal stuff that would be nice if it could be uninstalled.
Here's a quick look at the Settings pages with the About page open:
I like hardware keyboards, but I've grown accustomed to typing on the touch screen. One of the biggest flaws of the LG Vortex is the keyboard. It does have Swype yes, but it doesn't help too much. The keys, either in portrait or landscape mode are just small, at least that's how they feel to me.
The browser is one that comes with every Android phone, but it's 2.2 and as such it should have flash capability right? Well it doesn't and I don't get that. The browser works fine though, and the Verizon network is nice and fast for me.
Call quality is actually very good, I was surprised, I really wasn't expecting much from such a small, under-powered phone. Calls were nice and clear and the volume gets loud.
There is a built-in in music player and video player, but you've got a 3.2" screen so videos aren't exactly great on it.
Gaming on the Vortex is hit or miss, you certainly won't be playing thing like racing or FPS games, it just can't handle it. Basic games work fine though, like Angry Birds.
Battery life is questionable, turn on GPS and Wi-Fi and you'll be charging it every day.
Another big drawback here is Bing, everything is Bing and no Google maps, apps or search really.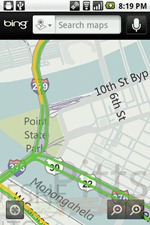 GTalk is installed, but there's also a Mobile IM program from Verizon installed as well for the other chat programs.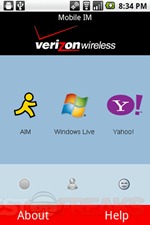 The camera is a decent 3.2mp, but the4re's no flash and honestly the pictures aren't that great. Here's the viewfinder with several options open. There's even a help page if you need it.
Here's the sample pictures, colors are very washed out and faded and the flash is greatly needed. The Macro mode works mostly, but you still can't get very close or take good pictures really.
Conclusion:
The LG Vortex for Verizon wireless is a great little entry level phone. It would be great for those just getting their feet wet with Android. Yes it doesn't have a powerful processor, but it's not exactly meant to me a smartphone in the full sense of it. It can however do most things that any other Android smartphone can if the user wishes.
The phone runs Android 2.2 but yet the browser doesn't support flash. The keyboard is also small, I've become accustomed to typing on-screen, but with the Vortex my typing speed dropped to the hunt-and-peck level. I tried typing fast and just made tons of mistakes, even Swype didn't help much in the typing accuracy area.
Pros:
+Small and well made
+Fights nicely in the pocket
+Simple to use
+Android 2.2 installed
Cons:
-Hardware buttons are sensitive, can be hit accidentally
-Screen resolution is low
-Verizon junk installed
-Typing can be frustrating
-Uses Bing
| | |
| --- | --- |
| Grades: | |
| Overall | |
| Design | |
| Performance | |
To learn more about our review policy please visit this page HERE.