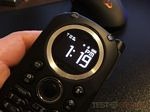 Cell phones today are expensive and really not very durable or rugged, most of them you drop once and it's over. Get a phone wet and you might as well throw it away, though there are exceptions and ways of trying to dry it out. For the most part though the majority of cell phones are delicate devices that aren't meant to be dropped and basically need to be babied and carefully handled. Why are more phones not made more durable? There really aren't many rugged phones on the market that can be used by people that like to be outdoors or for people that have rough and or dirty jobs.
Today for review I've got the Casio G'Zone Brigade from Verizon Wireless and I like it a lot. It's a rugged phone that's meant to take a beating, it's built and tested to military specifications. This phone is made to withstand extreme temperatures, drops, water, shock, vibration, dust, altitude and even solar radiation. This is one tough phone, but it's more than just rugged, it works well, it has decent battery life and good call quality. This a phone for people who like to work and play rough and like to take things to the extreme. If you're looking for a phone that can work and play with you and your active lifestyle then this in the phone you want.

So we'll start off with the video unboxing:
Then onto the still pictures for you.
It's a little box with pictures on it:
Not much comes with the phone, just the charger and the dock or cradle, along with documentation of course.
Here's the phone in the dock:
The Casio G'Zone Brigade is a phone that's very well made, yes it's heavy but I like that. It looks like a portable radio or walkie-talkie to be honest. It has a nice rugged military look and feel to it.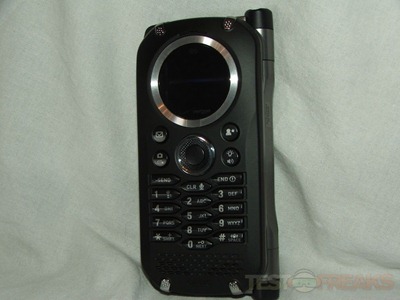 There's a display on the front with the number pad, navigation control and other controls.
There's not much to the back of the phone, the camera is there along with metal contacts for the charging cradle. There's also an LED for taking pictures, but the LED can also be turned on if you just need a flashlight without using the camera.
On the left side you'll find a big red button when pushed tells me 'Not Available',it's the PTT button, volume up and down and a button labeled Music.
There are also two doors on the left side as well, behind them are the USB port and the audio jack, these do have rubber gaskets on them to keep the phone watertight.
The G'Zone Brigade is sort of a flip phone, it opens to reveal a full QWERTY keyboard.
There's a navigation pad off to the right, and two buttons below the screen as well.
The back battery cover does lock into place, there is a slide lock on the side to unlock it. Opening it up is rather hard honestly, but once open you'll see that there's another rubber gasket to keep the battery from damage. You'll also find the microSD slot here are all.
Specifications:
Full Retail Price: $419.99
Price with 2yr contract: $299.99
The CASIO G'zOne Brigade appeals to a broader base with a QWERTY keyboard for texting and new refinements for urban and outdoor use. This phone is built to military specifications to survive extreme shock, water and dust environments. Push to Talk  gives you quick access to contacts to get the job done efficiently. Use the Brigade to talk, text, and share photos — wherever you are. Access your favorite entertainment features like the 3.2 Megapixel Camera with Flash, Visual Voice Mail, HTML Browser, V CAST Music with Rhapsody and V CAST Videos.
Design:
* Rugged Design with QWERTY Keyboard
* Meets Military Specifications 810F standards for Water, Shock & Dust Resistance, Immersion, Vibration, Salt Fog, Humidity, Solar Radiation, Altitude, Low and High Temperature Storage
Camera/Video
* 3.2 Megapixel Camera / Camcorder with Flash & Autofocus
* Best Shot Mode: Off/Person/Scenery/Night View/Sepia/Black & White/Negative
* Dedicated Camera/Video Key
* Resolution Adjustment: 2048×1536, 2048×1232, 1600×1200, 1280×960, 640×480
* Self Timer: Off, 3, 5 or 10 Seconds
* White Balance: Auto, Sunny, Shade, Tungsten and Fluorescent
* Multishot: On or Off
* Auto Focus: Off / Single Point AF / 9 Point AF / Face Focus
* Display Setting: Timeout or Always
* Shutter Sound: Shutter or Silent
* Video Capture & Playback
* Viewfinder: Main Display or Front Display
Services:
* Rev A Push to Talk Capable
* V CAST Music with Rhapsody (subscription, wireless and PC downloads)
* V CAST Videos
* HTML Browser
* VZ Navigator Capable
* Visual Voice Mail Capable
* Field Force Manager Capable
* Family Locator Capable
* Text, Picture, Video & Voice Messaging
* Media Center – Download Games, Ringtones, & More
* Mobile Email, Corporate Email, Mobile Web Mail, Mobile IM & Chat Capable
* City ID Capable
* Mobile Broadband Connect Capable
* Voicemail
* Device Software Update – Download Software Upgrades Over The Air
Specifications:
* All-Digital, 1X/EVDO/Rev A.
* Main: 2.9″ 400X240 TFT display w/up to 65K colors
* External: 1.2″ 128×96 Mono PM–OLED display
* Dimensions: 4.4″ (H) x 2.2″ (W) x 0.9″ (D)
* Weight: 6.0 ounces
* SAR: Head–0.813 W/kg, Body–0.752 W/kg
* Usage Time: Up to 360 minutes
* Standby Time: Up to 90 hours

The front display is nice and big, it shows the time, network information and battery status.
Let me say again that I love this phone, in my time with it I've truly grown to like it. Sure it's not exactly a smartphone and I really do miss the touch screen, but if I had to I could live without having the touch screen on this phone.
It can function similar to a smarthpone though in that you can access email accounts, IM, browse the web and even for navigation and viewing most Microsoft documents.
I can't tell you about the Navigation features as on my demo unit it wasn't enabled, I tried it and it said I needed to pay to use it.
Call quality is decent, it's clear and the phone can get very loud, but it's almost like talking through a radio. There's a faint hiss to it, but it's still clear and the people you talk to can be heard and understood just fine. The speaker is very loud, so using it as a speakerphone works very well. I'm in Pittsburgh and my reception was very good, better than other Verizon phones I've used, but your coverage will vary depending where you are of course.
Battery life is just amazing on this thing, I don't make a lot of calls, but for the 2+ weeks I've been using this phone I've only charged it once after the initial charging and that was with leaving Bluetooth on at all times. In total I've got 54 minutes and 23 seconds in call time, so yes I don't make a lot of long calls. I was also using the phone for browsing the web as well, so that was using battery life too. I used it almost every day to browse the web while I was picking up my kids waiting for them to come out of school. For some reason the data counter though says I used zero. I also used the camera quite a bit, or I should say my son used the camera quite a bit. So the phone got a lot of use on just one charge.
You can use the front display for messaging, viewing contacts and pairing bluetooth, it also functions as a display for taking pictures too.
I had no issues with Bluetooth, it works great. Once you pair your headset, the next time it pairs automatically for you in a few seconds.
The phone also talks which I have come to like. It will ring and then say "call from" then the number. It also accepts voice commands.
Music is not the best through the speaker but with headphones it's decent.
The Casio G'Zone Brigade is a very well made phone, it's tough and rugged. I did drop it a few times, not on purpose though, but I did stick it out in the rain on purpose. I wiped it off and it worked fine after being in the rain for about 15 minutes.
Yes it doesn't look like there's a lot of water on the phone in the picture, but my camera is not waterproof, and I really didn't want to stand in the rain. I took the picture then let it sit out there….
The screen is nice and big, and it's bright. You can customize it as I did in the picture below. I couldn't show it here, but the home screen is actually animated, and you can change it if you wish.
Navigation through the menus is a bit odd at first, I'm accustomed to smartphones, but it works well once you use it for a while.
Browsing the web is an interesting experience, the browser works, but it gives me errors. Like I'll type in our web address and it will tell me that's not a valid URL, but yet I know it is and it will ask me if I want to search for it, then it finds it and it's the exact same thing that I typed in. I don't get it.. The speed of web browsing was fine for me, it all depends on the service are you're in though.
Taking pictures is actually fun, the camera itself has many settings for it. I was expecting just a basic camera on this phone but you can change many settings and it even has a macro mode!
Taking pictures though is a different story, you must hold the phone very still especially for indoor pictures. Outdoors in bright light it works much better.
You can use the main big screen for pictures or you can use the front display to take pictures though it's in black and white and very pixellated.
There is an LED on the back that can be used for taking pictures or it can be used as a flashlight.
Speaking of pictures I don't know how to get them off of the phone. You can send as picture message and there's an option to transfer via Bluteooth but it wouldn't work for me. It does not come with a USB cable to transfer pictures, it doesn't come with a microSD card either. I could have put a microSD card in the phone, but again it doesn't come with one so why add a card when you should be able to transfer the pictures without the card. You can upload your pictures to your Verizon online web album and access them there though.The pictures overall aren't too bad, much better than I expected from a camera phone and the phone does video as well, but don't expect good quality.
Conclusion:
If you're looking for a rugged and reliable phone that has quite a few features then look no further than the Casio G'Zone Brigade. This is a phone that you won't have to worry about getting wet or dropping, it's a great phone for people who work outdoors or even for those that like to play outdoors. This is a phone for people who like to play rough, or for those that are rough on phones. It's not delicate like other phones, get it wet, no big deal, drop it, again no big deal it'll still keep working.
It's not a phone for everyone, it is big and bulky, personally though I like a phone with some weight to it so I like this phone.
Call quality is very good and it's a phone that is fairly easy to use as well once you get accustomed to the interface. Battery life is very good even with doing a variety of things.
Pros:
+Extremely well made, ruggged and durable
+Good call quality
+Great batery life
Cons:
-Can't transfer pictures via Bluetooth even though you have the option
-Issues with web browsing
-No USB Cable
| | |
| --- | --- |
| Grades: | |
| Overall | |
| Design | |
| Performance | |
To learn more about our review policy please visit this page HERE.