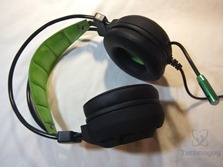 Headphones are a necessity in my house as we've got three kids and having all those computers and gaming systems running at the same time can get loud and just annoying. When I'm asked to review headphones I always say yes especially to the ones like I have today that are what I would consider flashy as they light up with LEDs. There are green dragons that light up on the earpieces and the tip of the microphone lights up as well. This headset is large, very large actually, the earpieces cover your entire ear and then some really. They look great and they're comfortable for the most part but there's one big issue, the microphone stopped working in less than a week so these really aren't that great as they're kind of useless now unless you just want to listen to music with them but that kind of deafest the purpose. Read on to learn more…

Specifications and Features
Vomach Vomachnreg; Dragon Green Over-Ear Wired Stereo Gaming Headset
HD stereo headphones: Provide exact & natural sound, adding more enjoyment to gaming experience. The closed ear cushion blocks noise for better comfort and promises splendid ambient noise isolation.
Tilting all-directional microphone with adjustable arm reduces background noise for clear voice pick up.
Super soft but solid 2-meter cord with USB 2.0 gold plated connector. In-line with volume control, microphone-mute control and LED light control. USB plug into to activate cool green LED light.
Extremely comfortable lightweight headset with professional ambient noise reduction and skin-friendly leatherette ear cups to enable a cozy and long-time wearing experience.
Compatible with PC, Mac, computer and most devices with 3.5mm connector. No setup or driver installation necessary.
Features:
-Unbelievably HD stereo brings clean bass, mid, treble;
-Flexible all-directional noise reduction microphone reduces background noise for clear voice pick up;
-Improved high elasticity self-adjusting headband with extreme durability;
-Skin-friendly and well fit leatherette ear cups designed with passive noise canceling features, ensuring a cozy and long-time wearing experience;
-Green LED light stimulates gaming battles and adventures.
Specifications:
-Sensitivity: -42dB
-Wire Length: 2.2m
-Frequency Response: 20Hz-20kHz
-Directivity: All-directional
-Impedance: 32O
-Net Weight: 415g
Price: $28.99 (from Amazon at time of review)
The Review
Let's start with a video unboxing and then move on:
The headphones come in a large and flashy looking box with a window on the side to see the headphones.
The headphones are green and black in color and rather large really, they do seem well made and they are lightweight.
The headphones have three connectors, one for audio and one for the microphone and then a USB connection for powering the headset.
The cables are nice and long, the wires are rubberized but they're sparkled which was surprising to me. There is an inline controller that controls volume, and can turn the microphone and lights on and off.
The headphones have a double band, a top supporting section which is two metal bars and then a green and black padded section that sits on top of your head. The band section is on springs actually so it automatically adjusts up and down to fit your head. The microphone boom arm is stiff but flexible and can move into position where you want it and it will stay there.
The earpieces are black and green, a very bright green actually, almost fluorescent really. There are dragons on the front and inside of the earpieces.
There are green LEDs in the backs of the earpieces that light up the dragons a bright green and a very bright LED in the end of the microphone.
Conclusion
These headphones are comfortable to wear and they look good if you like flashy, but flashy is what most gamers and kids like so it works.
The big issue of course is the fact that the microphone stopped working in less than a week, it just stopped, no warning, no nothing. I tried it in multiple computers and the microphone did not work in any of them. The light does come on but just no recording or sounds through the microphone.
So I basically have a flashy set of headphones that I can listen to music through but that's not why I would buy a headset like this and neither would anyone else.
These just aren't reliable as far as I can tell, they should have most certainly lasted longer than a week.
Pros:
+Look nice
+Seems well made overall
+Comfortable for long periods
+Long cable
Cons:
-Very large earpads
-Microphone stopped working in a week
Cons3
| | |
| --- | --- |
| Grading | Scores Out of 10 |
| Overall | |
| Design / Aesthetic | |
| Value / Price | |
| Performance / Usage | |
Disclosure: This product was given to me for review by the company for review purposes only for free or at a discounted price.
To learn more about our review policy please visit this page HERE.