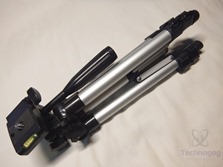 So I have a semi-decent Targus branded tripod and it broke, I sort of fixed it and it broke again in another place. It's just the leg hinges so I can still use it but it's not quite stable really, so I need a new one and when I was asked to review one of course I said yes. Today for review I've got an aluminum tripod from a company called NUTK and it features a special spring loaded clamp so you can use it with a cellphone or action camera. The tripod is inexpensive so I didn't expect too much from it, but let's just say that I still need a new tripod… Read on to learn more…

Specifications and Features
NUTK Portable iPhone Camera Tripod Stand Holder, Adjustable Rotatable Retractable Aluminum Tripods Smartphones Mount for iPhone7 7Plus 6s Plus 6 SE 5 5C Samsung Galaxy S6 S7
-High quality aluminum alloy material, high hardness, high mechanical strength, strong supporting force, exquisite workmanship. The strength and the proportion of more than a lot of alloy diamond texture, color flood incomparable
-Compatible with most video cameras, digital cameras, still cameras, GoPro devices, smartphone adapters ( included), and scopes. Mount fits all iphone and Andorid phone sizes and universal screw attaches to all tripods
-High quality rubber, making non slip .Strengthen stability, suitable for any environment. Remote handle lift knob tightening .A body strong as iron rock
-Using aluminum alloy material, weight about 318.5G .Foot tube using aluminum alloy to build, the use of imported parts of the environmental protection ABS raw materials manufacturing, environmental protection, and light, easy to operate.
-Three tripod adopts three section type design, close up very convenient, can start tall. shaft lifting, adjustable height.

Price: $14.99 (from Amazon at time of review)
The Review
Let's start with an unboxing and then move on:
The NUTK tripod comes in just white box with a label on it. Inside you'll find the tripod and mount in separate plastic bags. On Amazon it says it's supposed to come with a carrying bag but I didn't get one.
The tripod is aluminum and plastic making it fairly lightweight overall. The legs have three sections, two sections can extend out separately allowing the tripod to extend up to 20.5 inches. The tripod also has a section at the top that also extends up making the total height up to about 25.75 inches. If you don't look too close at the tripod it looks decent but if you look closely you'll see it's not finished very well at all, there's lots of pieces of plastic hanging off and sticking out from the seams, it's just not finished well at all. Sure I could trim it and sand it but I shouldn't have to.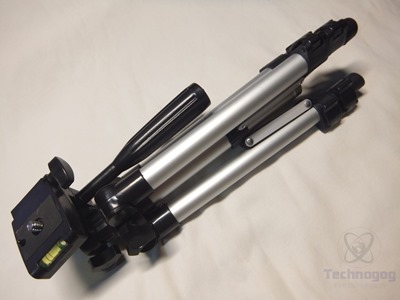 The head of the tripod is where you can attach your camera or the included mount and it does have a bubble style level built-in so you make sure you get a good picture. The head can rotate left and right and tilt up and down and the platform can tilt up and down as well. There are screw locks that you can loosen and tighten as needed to make adjustments.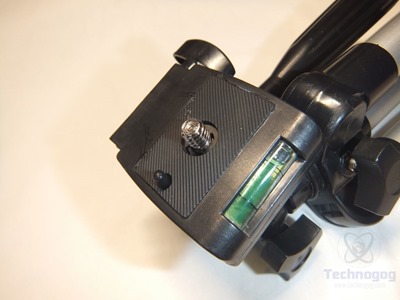 The phone mount is basically a spring loaded clamp with padded at the bottom and rubber at the top and a screw hole at the bottom to attach it to the tripod. The top has a just a rubber tab that you pull to open the clamp, not sure how long that will last and it's one piece with the rubber section at the top. The clamp is metal and plastic and it seems fine overall, but still not sure about the quality of it honestly. The clamp works, I used it with my Samsung Galaxy S6 and it just fits in the clamp but it holds it well.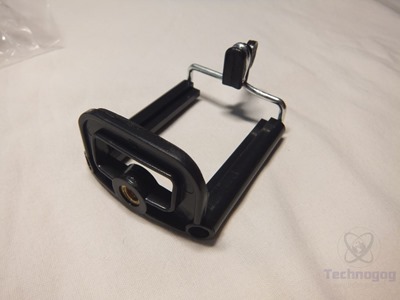 Conclusion
The NUTK tripod is ok I guess for the price. Right now it's on sale for $14.99, but regularly it's $29.99 and I wouldn't pay that at all, I might pay $10 for it though, $15 is pushing it I think.
Sadly I didn't get the carrying case that was supposed to come with it.
This tripod just really feels and looks cheaply made, it's something I'd avoid if I was in the market for one.
I'll keep it as a backup just in case, but other than that I'll probably never use it.
As a side note, check out tripodsdslr if you're in the market for a good tripod and a good deal on one!
Pros:
+Lightweight
+Clamp for most phone
+Simple to use
Cons:
-No carrying case included as was supposed to be
-Feels cheap
-Extra pieces of plastic
| | |
| --- | --- |
| Grading | Scores Out of 10 |
| Overall | |
| Design / Aesthetic | |
| Value / Price | |
| Performance / Usage | |
Disclosure: This product was given to me for review by the company for review purposes only for free or at a discounted price.
To learn more about our review policy please visit this page HERE.