If you're like me and pretty much everyone else these days then you've got several remotes for all of your entertainment devices. I'm also sure that you too have lost a remote or two in your time as I've done. Having all of these remotes can be complicated and honestly a bit annoying so the thing to do is go buy another remote, a universal one, but that's just adding another remote to your collection. many people have an iDevice like an iPad, iPod or iPhone these days so instead of buying another remote you can buy what I have today for review which is a small little attachment called the VooMote Zapper. This little gadget about the size of a quarter and just plug right into your iDevice and turns it into a full fledged universal remote. Does it work? Yes. Is it perfect? Almost.

As usual we start off with the packaging. The VooMote Zapper comes in a small plastic box.
On the back you'll find the specs and features listed in a fold out section.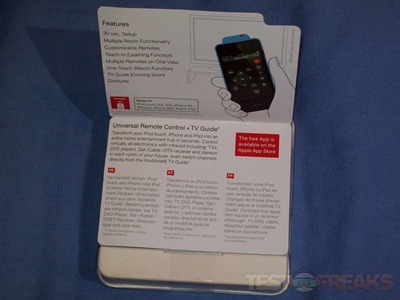 Inside you'll find a brief instruction manual and a QR Code to help you easily download the needed app.
The VooMote Zapper is just a very small device that attaches to your iPod or iPhone or even your iPad.
On the bottom you'll find the infrared LED array which includes four LEDs for range.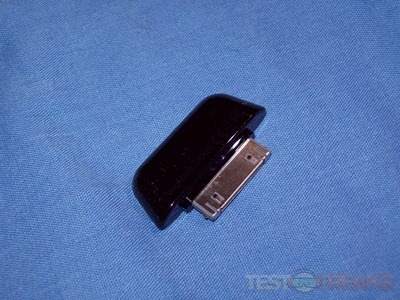 Specifications: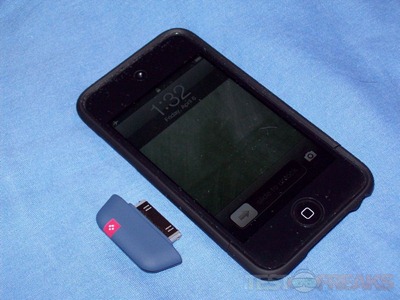 Here's my iPod with the VooMote Zapper attached to it. Yes you use your iPod upside down essentially when you're using the VooMote Zapper.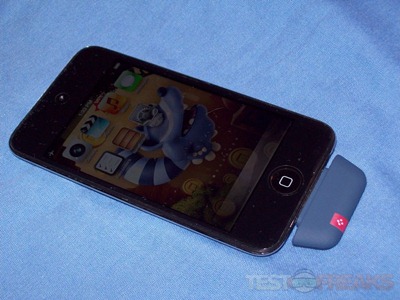 The main thing you'll need to do is download the app from the Appstore then you're pretty much ready to go.
When you first start the app up you'll be greeted with brief introductions to all of the features of the VooMote Zapper:
Once you've read all of that you can get started or you can take the tour which is kind of what I just showed you above. The next screen would be to choose the color of your Zapper, get Support if needed or you can rate the app.
On the first page you'll need to create a room, obviously I'd start with the Living Room. You can setup many rooms actually so you can take the VooMote Zapper with you wherever you go, you could even take it to your friends house if you want.
If you hit the help button a nice diagram or overlay comes up to help you out:
To get started the first thing I did was find a remote for my Vizio 47" HDTV which is the model SV470XVT. The first thing you'll need to do is pick the category of the device you want to use and then find the brand which is listed alphabetically.
The simplest way I found is to use the code scan feature. You turn the TV on then press the volume button until something happens.
Once it adjusts the volume on your TV you'll then be given choices as it might find multiple remotes for your device. In my case there was five of them and they all worked, but I had to figure out which one was closest to my original remote and all of its functions.
The remote isn't one page, depending on the remote it could be several pages to scroll through for all of the functions.  For my HDTV it was four pages to scroll through and it's not quite the same as my physical remote is, at least the layout isn't.  I think they changed the layouts a bit to make it easier to use where they put the most used functions first like power and volume control on the first page, then channel selection on the second page.
Once completed the TV appears in your 'room' and you're ready to setup the next device.
Here's what mine looks like with HDTV, Stereo, Blu-Ray and Cable Box ready to go. You just push what you want and you're ready to control it.
Here's my cable box remote, I have Verizon FIOS and the remote on the iPod is six pages that you've got to scroll through. Some of the options you see below are not on my Verizon remote and then there's some that are missing as well. It's not perfect but the most commonly used things are there I think, at least those I use the most.
Then there's my Blu-Ray player which is a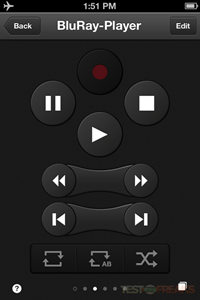 There's also a Gesture Mode that allows you to swipe, or double tap or tap and hold for certain functions. All of the remotes core functions are able to accessed this way. I guess it's nice to be able to do this, instead of looking down you'd just swipe or tap to do what you want to do.
Of course if your remote isn't in the database you can also teach the VooMote Zapper the functions of your remote, you do this by pointing the remotes at each other and basically following prompts and pushing buttons. It's fairly easy overall and it's nice for things that might not be in the database like an off-brand media player.
I should note that even with all of the remote choices, it doesn't seem like everything is there as would be on my physical remotes. The layouts also seem to be different. The majority of and most used functions are there though, at least that's what I found for my devices.
You can go to the room view and pick your device or you can go to a sort of overview view and scroll through your devices to pick one.
Of course if you're not happy with sliding through remotes and trying to find the right one you can create a custom remote that combines your remotes functions in what they call OneView. For example you could create one 'remote' that has the functions for your TV, Blu-ray player and cable box in one. It wouldn't be everything but it would be the things you use most from each of the devices.  For example I only really use the power, volume and device switching buttons on my audio system and don't need everything else. On HDTV I only use the power and device or input switching buttons, so I could create a remote that only has those buttons on it to make my life a bit simpler.
Another neat feature is OneTouch which allows you to chain button presses together. For example let's say I turn my HDTV on, switch to HDMI 1, then my stereo then my cable box. You can program that in as just one button press to make life a little bit easier.
The range seems good, I had no problems controlling my devices from across the room or even in the other room. It's infrared so of course it's line of sight
This is a neat little device that's for sure, and it might be something that I could use often but sadly the battery life on my iPod Touch 4th Gen is horrible, I only get about an hour from it and it's been that way since I got it. Not sure what the problem is but oh well, I'm accustomed to short battery life on devices as I think most of us are.
Conclusion:
The VooMote Zapper is one of those products that's just plain awesome in it's simplicity and design. It's very easy to use via the Setup Wizard and if you can't find what you want or need it can learn what it needs to. Essentially it's truly  a universal remotes in that it can control pretty much every device even if it isn't in the database. The product itself seems well made, it is just as small piece of plastic with a connector on it after all, not much too it really. I think anyone with any level of gadget knowledge can pick this up and stat using it quickly and easily. It does have plenty of other features that I think most people will appreciate, just little things to make your life a bit easier.
The remotes I found for my devices weren't an exact match, but they were close enough that I didn't miss anything. The one thing I think most people will notice the most is the layout, it's really nothing like the physical remotes are. I just know by feel on most of my remotes where the buttons are, with a touch screen there's nothing to feel and things are in different places. Some remotes can get very large, having to scroll through six pages to find the function your need can be slightly annoying at times.
Pros:
+Easy setup
+Small and unobtrusive
+Tons of features
+More features to come in the future via updates
+Has learning mode
Cons:
-Not all functions available on remotes
-Scanning through several pages of controls can be annoying
| | |
| --- | --- |
| Grades: |   |
| Overall | |
| Design | |
| Performance | |
To learn more about our review policy please visit this page HERE.