Technology is great but sometimes it just moves to fast I think. Most everything we have when it comes to video is HDMI, but some aren't for whatever reason. One of those devices is the Wii, hopefully the new Wii U will have HDMI but for now we're stuck with composite or component and a relatively low resolution on our HDTVs. I recently got a handy little device from a company called Sewell Direct that can let you use HDMI with your Wii and even upscale it to 1080P and it works for the most part, for me it upscaled to 720p, which is of course better than 480p. So read on…

Specifications:

Wii to HDMI Converter with 1080p Scaling
Mfg. Part Number: SW-29755
Features:
-Converts the Wii AV port to an HDMI port
-Includes additional 3.5mm stereo audio output
-Small size
-Scales Wii's Standard Definition 480i video up to an HD 1080p signal
Until now, Wii could not be connected to an HDTV via the HDMI port. This adapter not only converts your Wii's output to an HDMI port, but also scales the signal to a 1080p HD signal.
How This Works
The Wii HDMI adapter plugs directly into your Wii's cable port (the same port you use to connect the Wii video cable that is included with the Wii). After you have plugged it into this port, you will have an available HDMI port. You will also need to purchase an HDMI cable if you don't have one already.
Performance
This adapter creates a super-accurate, rich and vibrant 1080p reproduction of your Wii's video signal. For the best performance, make sure your Wii's video output setting is switched to 480i (not 480p) since we have tweaked the video reproduction to best enhance 480i.
Audio Break-out
The Wii to HDMI adapter includes an audio break-out port that allows you to send stereo audio to another audio device of your choice (like an audio receiver). The port is in the form of 3.5mm stereo port.
Handles Both Audio and Video through HDMI Too
Since HDMI is an audio/video signal, this device rises to the task and handles both through the HDMI port. This conveniently allows you to run a single cable to your TV unless you wish to break the audio out separately using the adapter's break-out 3.5mm port.
Price: $31.95
The box is very plain just white with a sticker and part numbers.
Inside the box you'll find the adapter in a plastic tray and that's it. No instructions but then again you don't need any.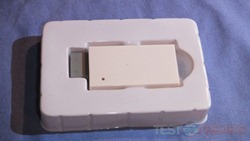 Here's the adapter, it's small and white, not really special looking at all.
To give you an idea of the size of the adapter, here it is with a regular SD card: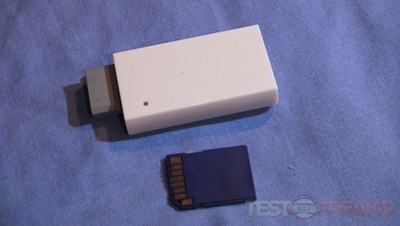 On the output end you'll find the female HDMI connection and an audio connection. You can separate the audio from the HDMI if you want or need to.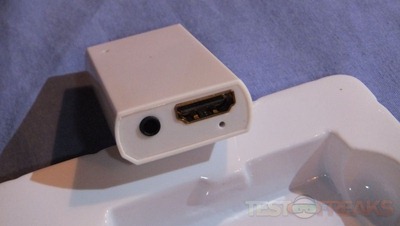 The other side of the adapter has a regular Wii style connector.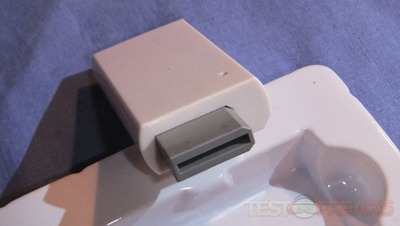 So to test I I hooked it up to my Wii, it goes into the video output on the Wii just like connecting the standard video cable.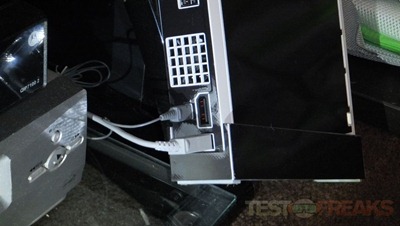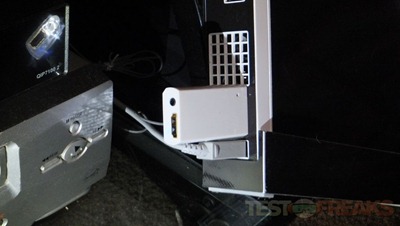 When the Wii is powered on there is a blue light in it.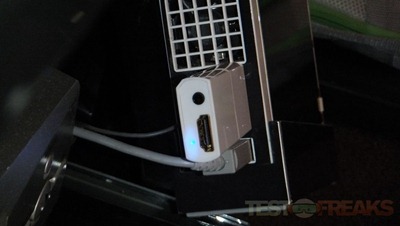 The next step is just to hook up a an HDMI cable and turn it on.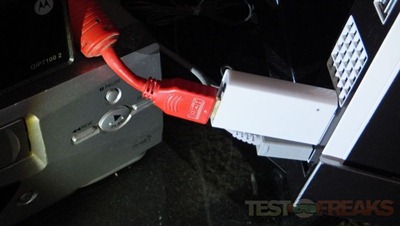 When I first turned my Wii on it said it was running at 1080p, so I figured great it works. The instructions on the web site say you should use 480i for the best quality picture and I was using 480p over component cables. I went into the Wii settings and changed it and reset the Wii. When I turned it back on my HDTV said it was running at 720p, which to me is fine.  The picture quality of the Wii seemed to be much improved over the 480P I was running, which of course is what you want.
Conclusion:
So there's not much really to the Wii to HDMI converter, it's simple and it works basically. I didn't get the advertised 1080p resolution from it, but I did get a constant 720p which is a nice improvement over the standard 480p of the Wii via component cable.
Sadly this product is discontinued, I got it recently from them fro review and now it's gone.  I don't know what to say to that, but I guess I'm happy I got one when I did.
It was selling for $32 which for that I think it's worth it for what it does.
Pros:
+Gives Wii and HDMI connection
+Upscales Wii to 720p/1080p
Pros2
Cons:
-Discontinued?!
| | |
| --- | --- |
| Grades: | |
| Overall | |
| Design | |
| Performance | |
To learn more about our review policy please visit this page HERE.