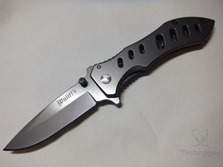 Up for review today I've got a very nice from a company called Wuliff, it would be great for any type of outdoor usage like camping and hiking or in your toolbox. The knife is inexpensive but yet it's very well made, really I'm impressed with the quality of it, but it's not perfect as it does have a couple small issues. Read on to learn more…
Specifications and Features
Wuliff Tactical Knife with Foldable Blade – 6 ½ Inch Overall Length, Stainless Steel Pocket Knife, Durable Lightweight Design, Secure Locking Mechanism, Rust Resistant, Ultra-Sharp Blade
Versatile and functional, the Wuliff Tactical Knife with Foldable Blade is the ideal multi-purpose folding pocketknife for personal protection,
tasks around the house, and enjoying outdoor recreation.
Ideal as a folding camping knife when fishing, boating and hunting to cut fishing line, trim braches, or debone fish.
When it comes to household tasks, this ultra-sharp knife easily cuts through cardboard and prunes shrubs without dulling the blade edge.
Ergonomically constructed for superior in-hand comfort and crafted of tough, rust and break resistant stainless steel.
The hard-wearing pivot pin allows you to open and close the knife repeatedly for years of continued use and precision cutting with no blade play.
Integrated locking mechanism keeps blade secure to reduce the risk of cuts or abrasions.
The compact design makes it easy to store in kitchen drawers, glove compartments, pants pockets, and backpacks.
Price: $11.95 (from Amazon at time of review)
The Review

Let's start with a video unboxing and mini review and then move on:
The knife ships in a plastic zip style bag with instructions in it. The knife itself is in a small white box and it's wrapped in plastic.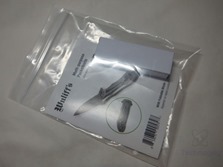 The Wuliff knife is made of stainless steel and it has a skeleton style handle with holes where with can see the blade through it. When closed the knife is only 3.75 inches long so it can easily fit in your pocket or bag or wherever you want to carry it. On the back of the knife is a very strong clip, I mean it's very strong, I could barely lift it up with my finger so it will hold the knife very securely wherever you put it.
When the knife is opened it's actually just slightly over 6.5 inches long. The knife does have a thumb stud on the blade to open the knife with just one hand, but it's very stiff and can be hard to open. It might be able to be loosened by using the screw on the back but I didn't try it. I also want to note that the knife blade seems to rub on the inside of the knife and it actually left faint scratches on the blade.
The knife is a liner lock style and the lock is very, very hard to release once the knife is open, it actually hurts my thumb I have to push so hard.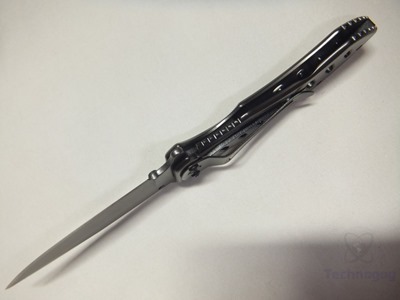 The blade of the knife, or the actual cutting surface, is about 2.75 inches and it's extremely sharp, razor sharp really.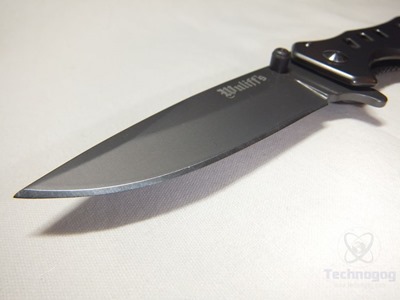 The handle of the knife is very nice looking and it's comfortable in your hand. The surfaces are finished perfectly, no rough edges or anything like that and it looks very nice really.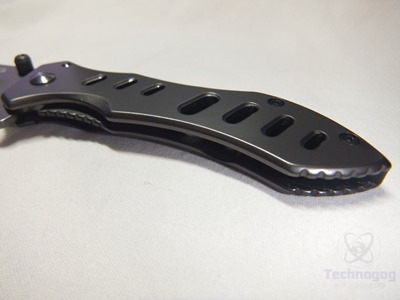 Conclusion
I like the Wuliff knife a lot actually, I'm very much impressed with the quality of it, it's made very well. The knife is inexpensive and for what it costs it's well worth it, I could easily see it costing more.
The knife is very sharp and it's small enough to you can fit it in your pocket or bag and it won't take up much space at all.
I do like this knife a lot honestly, I'm impressed by the quality for the price, but it's not perfect. The knife is a bit stiff and hard to open and it's even harder to close, but I'm hoping with time and usage that it will loosen up and be easier to use. I also noticed that the knife blade rubs on the inside of the knife and it's left faint scratches on the blade which isn't that big of an issue as I'm sure after time I'll scratch the blade myself surely.
Pros:
+Very well made knife
+Sharp
+Inexpensive
Cons:
-Stiff and sort of hard to open
-Knife blade rubs on liner lock
| | |
| --- | --- |
| Grading | Scores Out of 10 |
| Overall | |
| Design / Aesthetic | |
| Value / Price | |
| Performance / Usage | |
Disclosure: This product was given to me for review by the company for review purposes only for free or at a discounted price.
To learn more about our review policy please visit this page HERE.