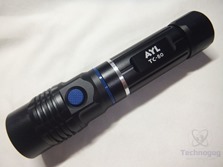 Today for review I've got another product from AYL or Accessorize Your Life and it's the TC80 LED flashlight. The TC80 has an adjustable beam on the front but it also has a section of the flashlight that expands to reveal and LED light bar that lights up white or blinks red. The light has a magnetic base to attach to a car and it seems fairly well made overall. Read on to learn more…

Specifications and Features
AYL TC80 4-In-1 LED Flashlight CREE – Tactical Emergency Nightlight – Telescoping Aluminum Body, Magnetized Base – Water Resistant Handheld Spotlight For Work, Auto, Camping, Garage – Battery Powered
Never let the dark keep you from having a clear vision of what's ahead, what's behind and what's to come—get the AYL TC80 CREE LED flashlight today!
When the lights go down or an emergency strikes you don't want to be stranded without a clear vision of what's out there, especially if you're camping, hunting or hiking through the mountains. The AYL TC80 4-in-1 Cree LED Flashlight is more than just your average regular flashlight; it offers a focused front beam, an extendable body for 180-degree cone lighting, a bright red blinking light for emergencies and a magnetic base to keep it stuck to metal surfaces so you can work hands free.
Multipurpose Versatility
From the extendable body with multiple light features and the magnetic base for convenient, hands-free operation, this unique mini lantern is great to keep in the glovebox of your car during long trips, your survival pack for camping, or even your kitchen drawer or bedroom side table should the power go out in the night.
If you live in areas particularly affected by tornados, storms or power outages, or you are an avid outdoors enthusiast, then you need to be prepared.Our flashlight's special red light blinking feature can help make your presence known to passerby, in the event of a car accident, flat tire, or loss of orientation while hiking, camping or climbing, or during a mass-scale natural disaster.
Product features:
CREE XP-E R3 LED + PMMA Front Light Lens
4-in-1 Telescoping Design
Aircraft Grade Anodized Aluminum
Front Point Light or Extend to 180-Degree Cone
Weather Safe, Water Resistant, Shock Resistant
Powered with AAA Batteries (Not Included)
Limited Life Time Guarantee
Price: $12.99 (from Amazon at time of review)
The Review
Let's start with a video unboxing and then move on:
The TC80 flashlight comes is a brown box with the AYL logo on it and some specs and features listed too for you. Inside of the box the flashlight is wrapped in bubble wrap for protection and on the side is a user manual.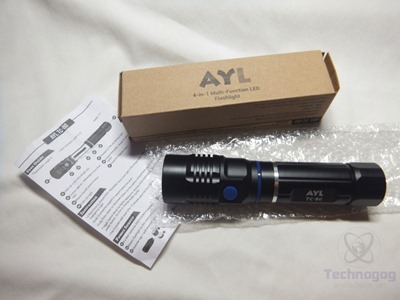 The TC80 flashlight feels very well made of aluminum and it's fairly heavy for its size. The flashlight is just slightly over 6.5 inches long and it's about 1.25 inches diameter at the back and about 1.5 inches diameter at the front. The specs mention the TC80 is water and shock resistant but that's about it. Towards the front of the light is a rubberized round blue button which is for the power and to change the modes of the light.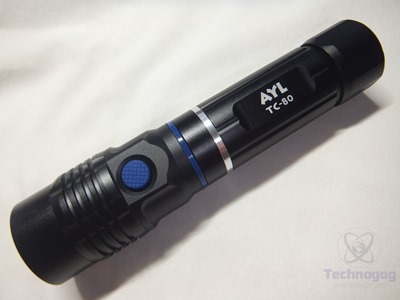 The front 1.75 inches of the flashlight slides up and down and is uses used to focus the light from spot to flood and in between. The front lens cover does screw off to clean it if need be but there is no rubber o-ring inside to keep the weather out and away from the LED.
The back of the flashlight has two caps actually, one of them is the magnetic base and the other inside is the actual battery cover. The outer cap does have a rubber o-ring to keep the weather out but the inner battery cover does not. The TC80 needs four AAA batteries for power and they're not included, personally I would have much rather seen rechargeable batteries included or at least the ability to use them. I guess you could get rechargeable AAA batteries if you wanted but really the size looks like you could fit a regular 18650 battery inside of it. The back section has a magnet so you could attach it to your car if it's metal to help you see better without having to hold the light. The magnet isn't very strong though, I tried mounting it horizontally and it barely stayed in place, if you just barely bump it or even bump the surface it's on it will come off.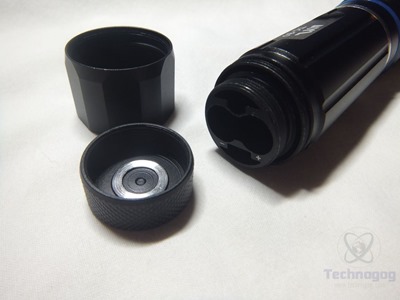 The TC80 is more than just a flashlight, the center section opens to reveal an LED light bar section that lights up white or blinks red. The light extends up to 9 inches when opened.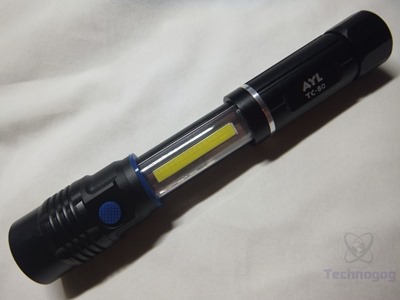 The power button is used to change modes but I've noticed an issue with it that I don't care for much. First click turns the main light on, second click turns it off, third is the white LED bar, fourth it off, fifth is the red blinking mode and then sixth is off. The issue I have is that even if the light is in the closed position the light bar will still turn on and you really can't see it turned on so you could accidentally leave the light on and drain thee battery if you're not paying attention.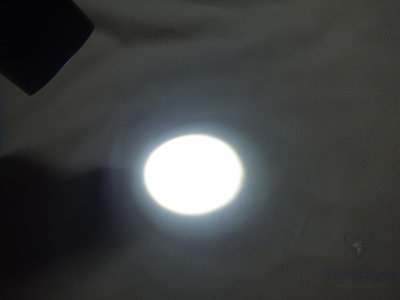 Conclusion
The AYL TC80 flashlight can be handy for sure, it does seem well made and durable. The TC80 can be used for any kinds of emergencies outdoors or around the house or it would be great for roadside uses as the flashing red light can indicate trouble and be used similar to a road flare.
I'm just not too sure about this light, there are some issues I have with it that can't be ignored. The magnet isn't very strong at all, you really can't mount it horizontally and expect it to stay in place, it just falls off very easily. The switch controls all the modes, which is fine, but the LED light bar can be left on accidentally if you aren't paying attention and your batteries will be drained which isn't good in an emergency. Another small issue is the regular batteries it uses and not rechargeable which would be more convenient and just better overall. I also don't like the missing o-rings especially when it claims to be water resistant.
Pros:
+Seems well made and durable
+Multiple uses
Cons:
-Non-rechargeable batteries
-Switch goes through all modes even when closed
| | |
| --- | --- |
| Grading | Scores Out of 10 |
| Overall | |
| Design / Aesthetic | |
| Value / Price | |
| Performance / Usage | |
Disclosure: This product was given to me for review by the company for review purposes only for free or at a discounted price.
To learn more about our review policy please visit this page HERE.