Today for review I've got an interesting little gadget from our friends at Mobile Fun. The product is called the  X-Power 3 in 1, it's a battery, speaker and a stand for basically any portable device that has a standard audio jack. I used it with my phone, tablet and of course my Mp3 player. I have to admit it's a handy little device and it makes sense to combine three most usable accessories into one portable gadget. So read on…

The box for the X-Power is actually plastic, it's a neat hologram style.
Inside you'll find the speaker, USB cable and the user manual. You'll notice the USB cable is double ended with a standard USB connection on both ends.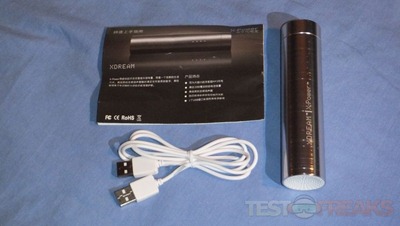 The X-Power speaker looks like a basic metal tube really and it's rather heavy, at least it feels heavier than it looks. It does fell well made though.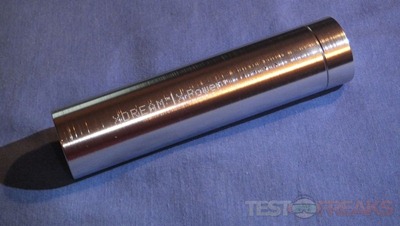 Looking closer you'll see a break in the tube along with four tiny LEDs that look like little pinholes.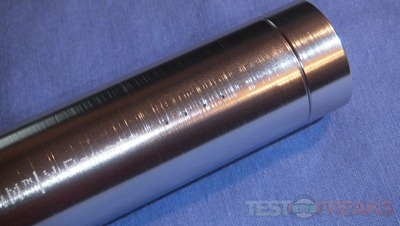 The bottom end has a speaker grill.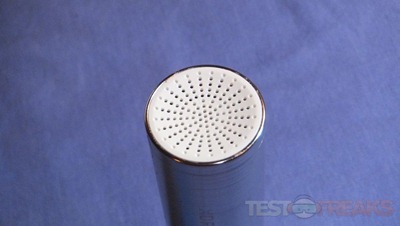 The top end, where the split is located is just plain white.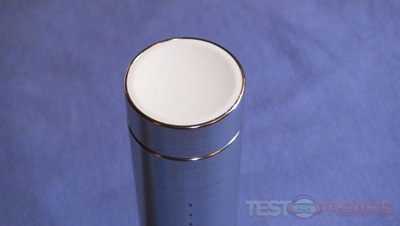 To open the split end you pull it out and rotate it to then reveal an audio connector.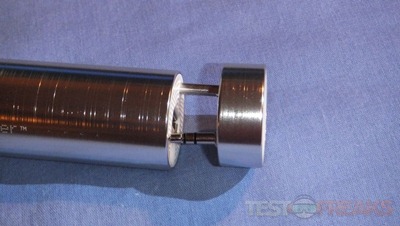 On that end you'll see a USB connection and a hole, the hole is the storage for the audio connection but  also the bass port. The X-Power has a regular speaker on one end and a woofer on the other. (at least that what it seems like to me)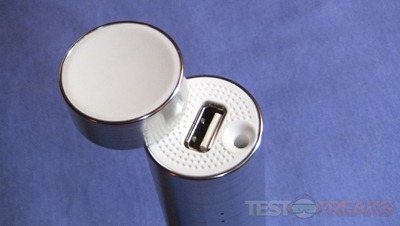 The USB connection is for charging the X-Power but it also works in reverse to charge your devices as well.
Specifications: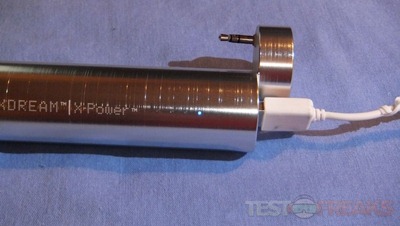 For testing I first used it with my Zune HD but I found I couldn't use it with the case on as it got in the way of a good connection.  To use it you just plug it in via the headphones jack, very simple and easy really.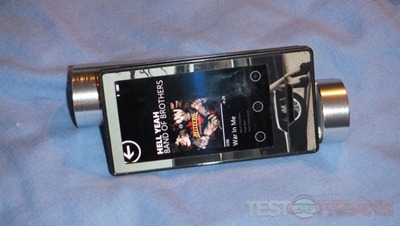 There is no on or off switch on the X-power, the device senses the audio signal and turns on then turns off when there's no signal.
Then I tested it with my Windows Phone, the HTC Titan and I found I could use it with the case on, but that's because the case is just on the back of the phone and it has cut-outs for the headphone jack. The idea of the X-Power is that it's also a stand and to use it you just lean your device back onto it. You'll need to do a bit of adjusting with the headphone jack section to get it correct with your device probably.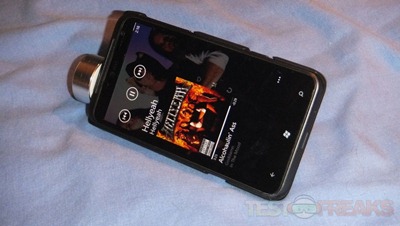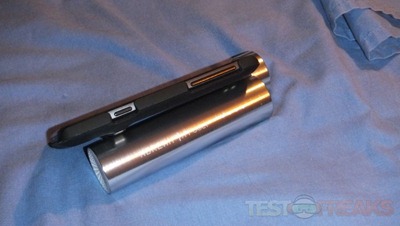 While you're using the X-Power the LEDs will light up to indicate battery power with each dot indicating 25% charge.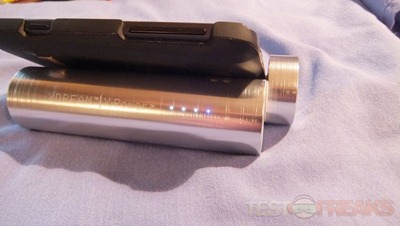 I found also that it works with some tablets, at least it works the best with tablet that have the audio jack on the side. My Le Pan has the audio jack on the top edge and it just doesn't quite work right having the speaker positioned that way. The one below is the 7" Kocaso Android tablet and as you can see it works well as the audio jack is on the side.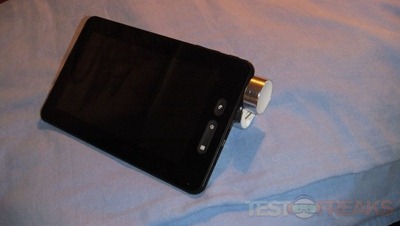 Ok its works for most devices, which is a good thing I think. The sound quality is very good and it can get very loud. I should note that it's only mono, but it sounds good. As I mentioned earlier the speaker is just on the one end and then the sub woofer is on the other.
I was really surprised by the good sound quality honestly, it works and works well and it's nice and clear. Raising the volume all the way up it's loud and it can get distorted but that's something you can expect from most speakers so it's not a surprise.
So the X-Power makes a great speaker and a stand but it's also an external power source. To charge you just plug in your devices USB cable and it starts charging automatically.
Conclusion:
I have to say this is one of the more unique and useful products I've reviews in a long time. I like the idea of coming things, but most combinations don't usually work out well but the X-Power 3-in-1 succeeds in combining three very common accessories that most of us use with our portable audio products. 
The X-Power works well for what it's supposed to do and I have to admit I like it a lot and I think I'll be getting a lot of use from it.
It's small and portable but yet it does the work of three separate devices that a lot of us would normally carry with us.
I can recommend the X-Power with all honesty as I think it's well worth it and it's just a very useful little gadget to have.
Pros:
+Well made device
+Works with most anything with an audio jack
+Simple to use
+Truly a 3-in-1 device
+Speaker and charger in one
+Can get very loud
Cons:
-Can get distorted at loud volumes
| | |
| --- | --- |
| Grades: |   |
| Overall | |
| Design | |
| Performance | |
To learn more about our review policy please visit this page HERE.